Exposed backsplash from replacing old range hood..
Hello all,
My kitchen is still decked out in 1968 fab appliances. The prior owner of the house left the original receipts.. so it was quite interesting finding out just how old the appliances are.. However, recently while cleaning my 1968 Swanson range hood I noticed the wires looked charred. I had an electrician come by and the sheathing literally came apart when he touched it. So.. it is time to get it replaced.
I have a replacement range hood, but it is about an inch shorter than the original hood. The old tiled backsplash looks to be tiled just to the bottom of the hood. Should I tile 1" of tiles under the hood or get it painted? Unfortunately, I have no extra funds now to retile the kitchen.. which will be a massive undertaking since everything is still in 1968.. Ideas?
Thanks in advance!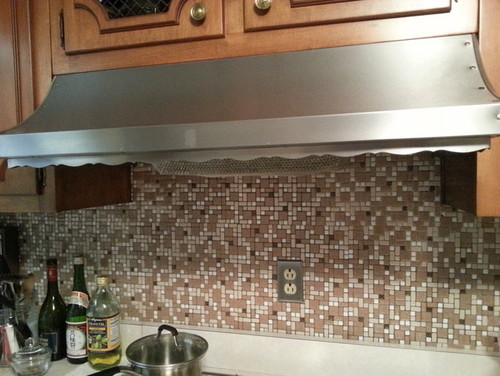 This post was edited by peeka73 on Mon, Oct 28, 13 at 19:12