Disappointed with new granite countertops
Granite countertops for our kitchen remodel were installed yesterday. We paid a premium for a higher-end granite we fell in love with and asked the fabricator for a 2.5" square mitered edge. A mitered edge results in a single, solid cut of granite along the face of the edge; creating the look of the countertop having been made from one very thick solid slab.
The fabricator suggested a laminated, built-up edge instead. The granite has some patches of crystal in it and he thought if any crystal chunks happened to end up at the corner intersection of the mitered joint, they might be too fragile and could easily break if impacted. (The material gets thinner at the corner of a mitered edge). We were further encouraged to go with a laminated, built-up edge when we were told the laminated layers "would blend well on our busy granite and really wouldn't be noticeable". Sounded like the better option so we went with it.
Unfortunately, not only is it quite noticeable, but with our extra tall edge the laminate took 3 layers of slab to create... so in some places the edge profile actually has two distinct horizontal lines (one between each laminated layer). In places where you can clearly see all three layers it looks like the edge profile has 3 distinct horizontal stripes. This really makes the countertops look cheap.
Of course the slabs are ruined and we can't start over. So I'm wondering if there is any fix for this.
Can granite be dyed or stained? I don't mean the whole slab... just wondering if I could minimize the impact by selectively hand-staining to blend some areas of the more aggressively contrasting spots; where the two slab colors are the most different from each other. If I could stain the lighter cream-color spots so they better match the immediately adjacent brown-grey of the crystal patches, I'm hoping we might end up with something not quite so embarrassing.
Has anyone ever heard of anything like this being done?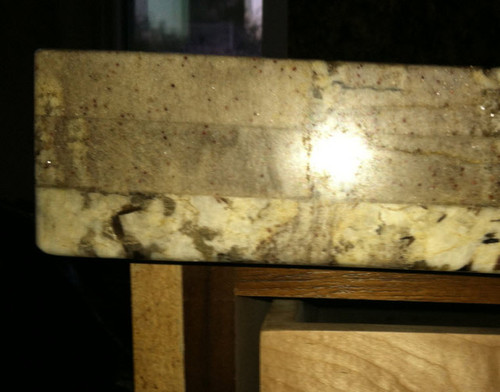 This post was edited by phxphun on Sat, Oct 12, 13 at 18:39