Start Date
I signed the contracts last week and this morning I got the email that our start date on our kitchen renovation is November 5th.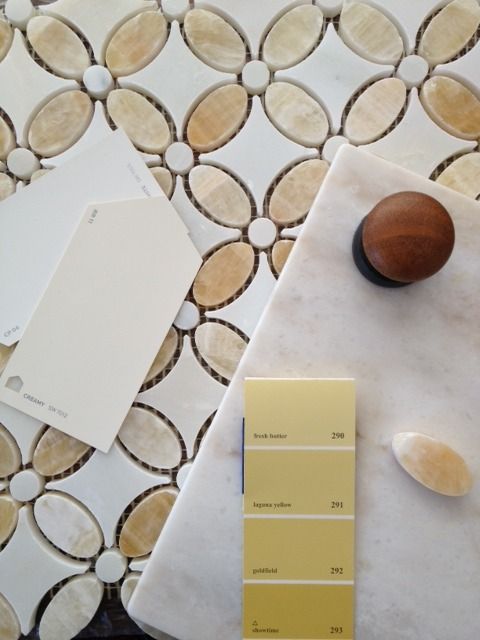 This is my materials board - we have planned for painted cabinets (Barker RTAs with Shaker panel) in Ben Moore Fresh Butter, a small bank of Shiloh inset in vintage cherry with a walnut-y finish they call "Sundance" (I think), Electrolux Icon appliances, Newport Brass faucets in uncoated brass, wooden knobs on the painted cabinets, and brass on the stained wood. Gasp now, Corian Witch Hazel for the countertops with 2" walnut on the wood toned cabinets. Silgranite main and prep sinks in biscuit...
All this is fine and great. I'm confident in my design and my materials and layout (a split U with separate cooking/prep and clean up zones). What has me nearly about to pass out is going back out into the wilds of a construction project. You see, I've *never* had a good result - even when I research, meet old clients, etc. Somehow, I'm always the client where the contractor's entire business falls apart. I don't know how to shake the fear. And I don't know how it is that I always pick these unskilled - or outright thieving- losers.
The new contractor is hearing impaired - and I don't mean in the usual contractor way, he's really hard of hearing :-) - so I already know that I have to write out what I want. Good. So I already have my Day One page drafted. A reminder of what exactly is to be demolished and what is not. What it to be saved/recycled. I remain nervous. I'm hoping this is good because on every other project I was super confident and ready to start slinging hammers. Today, I'm feeling cautious.
If anyone else has had a bad contractor experience and then actually had the nerves required to do another project, how did you manage your fears? Conduct yourself on the jobsite? Keep your expectation realistic? Not see disaster at every turn?
::bites fingernails, pours bourbon::
(and yes...I scheduled a kitchen renovation for Thanksgiving and yes, I do have people coming for dinner. The poor layout we currently have will make for a pretty sweet temporary kitchen. It just sucks as an everyday kitchen.)