New pics: help me decide border or no border with subway tiles!
fun2learn
October 13, 2012
Thanks to everyone who posted feedback on my earlier post (with photoshopped pictures) "Border or no border with ceramic subway tile backsplash" (here is a link: http://ths.gardenweb.com/forums/load/kitchbath/msg1012484018310.html
I found a new tile that I think will work much better color-wise and did some new photoshops. I would love your feedback! (And I would still love to see any of your photos, too!)
Many of you said on my earlier post that you prefered subway tiles without any border--at least in my busy kitchen, (which is open to both the dining room on one side and the family room on the other) and that reassured me that it might not be too plain without one and that should be a serious consideration. I wish I had an area for a pretty feature behind the range, but that is where we knocked down the wall! I was hoping to see pictures of some of YOUR ceramic subway tile backsplashes with borders, but no one posted any (only with 4 x 4's and stone subway tile with borders)--Should that tell me something?
One reason for a border down low is to be able to carry it around under the snack bar behind the range and avoid having a cut tile there.
The tile I am showing in the photoshops below is by Grazia--their 2.5" x 5" subway in their "landscape" series in the "seashore" color(very soft sandy,golden undertones) It has a satin finish with very subtle variations in shading and a "handmade" look.
I originally thought I wanted a glossy crackle in some sort of off-white, but it seems like you can only find white or bone/bisque, which just don't seem to do anything for my kitchen. (Maybe that is why I wanted some sort of border because the color was so "not special" ?)
Here are the photos: please give me your opinion (we may have to sell soon, too, so I am looking for something with mass appeal, as well as something I love in case we can stay!) I love simple, "casual" traditional styles (not fussy)that are classic and timeless.
My cabinets: 10 years old honey-spice maple
My Counter: 2 year old "harvest cream" granite (lots of cream and pale gold and gray streaks)
My Floor:oak hardwood soon to be refinished in a darker "gunstock"
Here is a recent photo from family room (the seashore tiles are on the counter bythe sliding glass door)The photo is reading darker than it really is for some reason(I tried to fix it, but it made it "grainy")
Here is the view from the dining room toward the family room Sorry the lighting is so bad--it shouldn't be so "yellowy"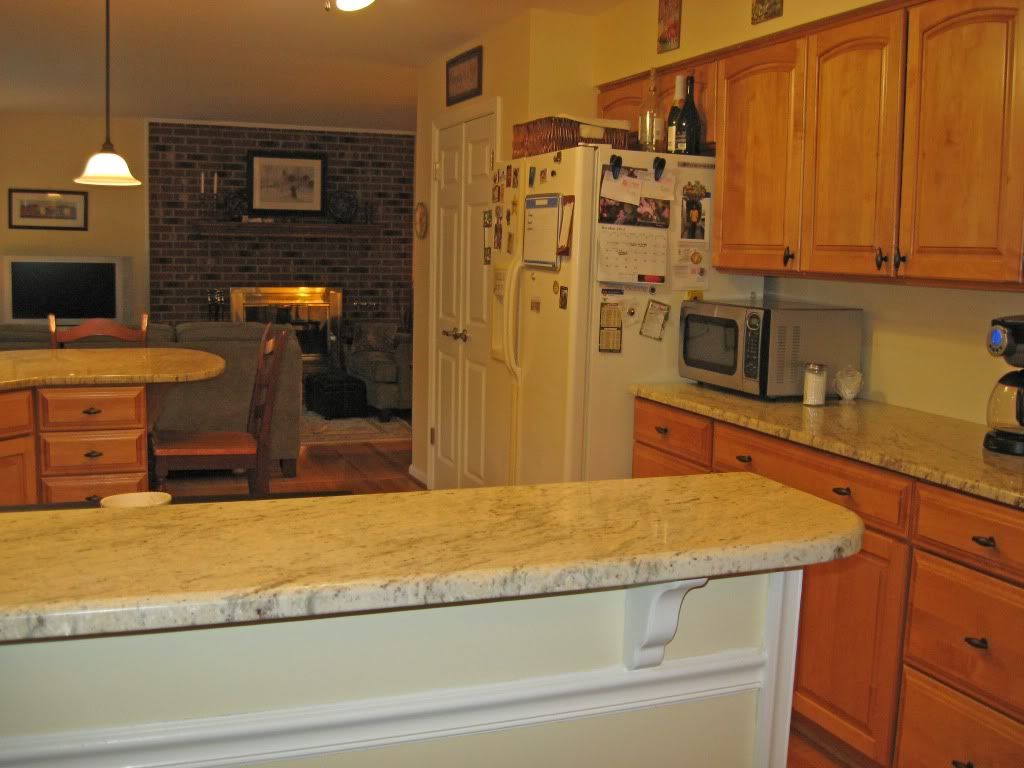 1. Here is the photoshop of the "plain" "seashore" subway tile without any border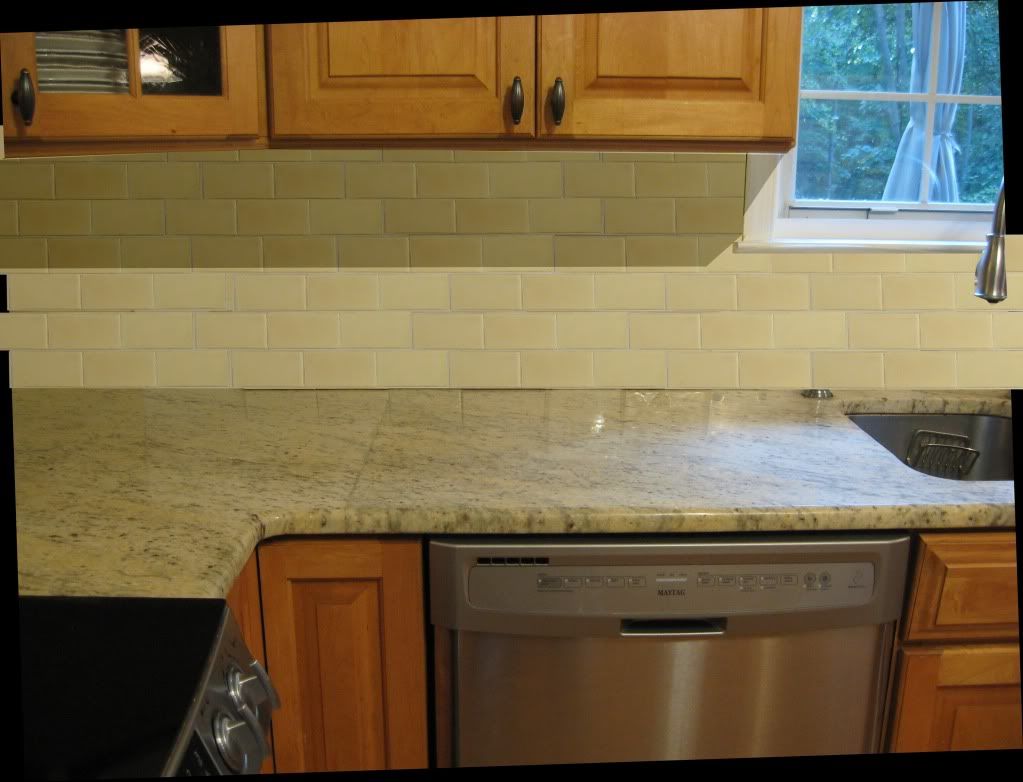 2.Here is a photoshop with a simple pencil border: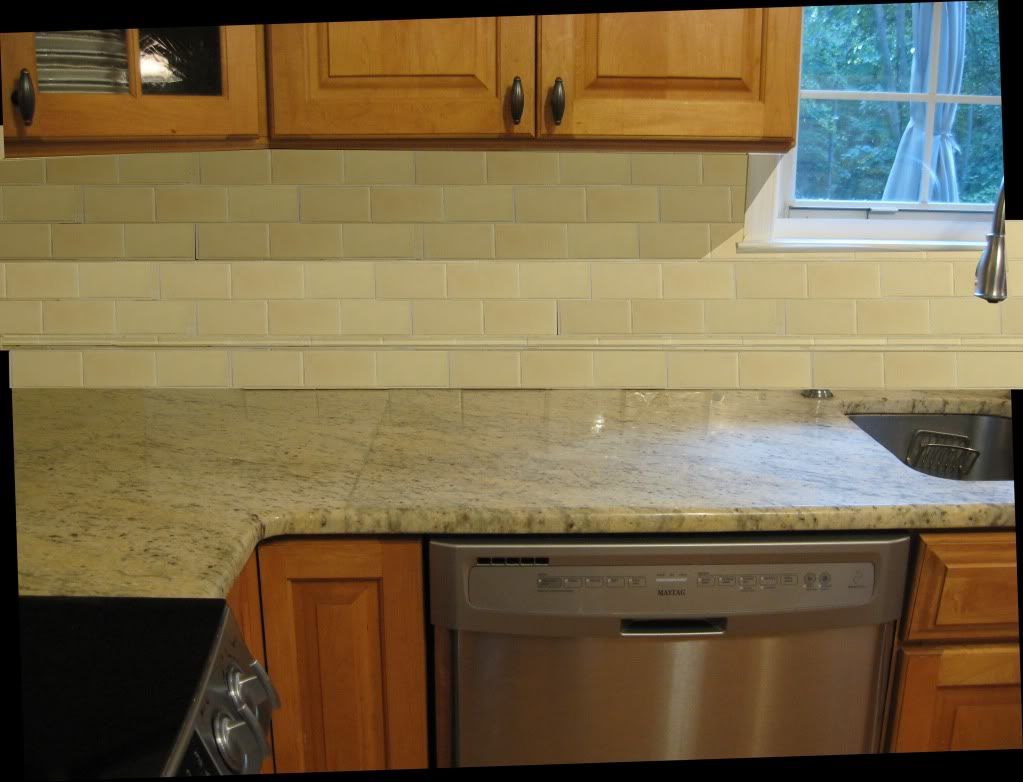 3. Here is just a row of mosaic tile (tile is really clearish with subtle variations of gold/sand colored specs throughout), but I am not sold on this particular mosaic
4. Here is a simple pencil border with a mosaic tile (Remember: Mosaic tile can be changed, just happened to have these)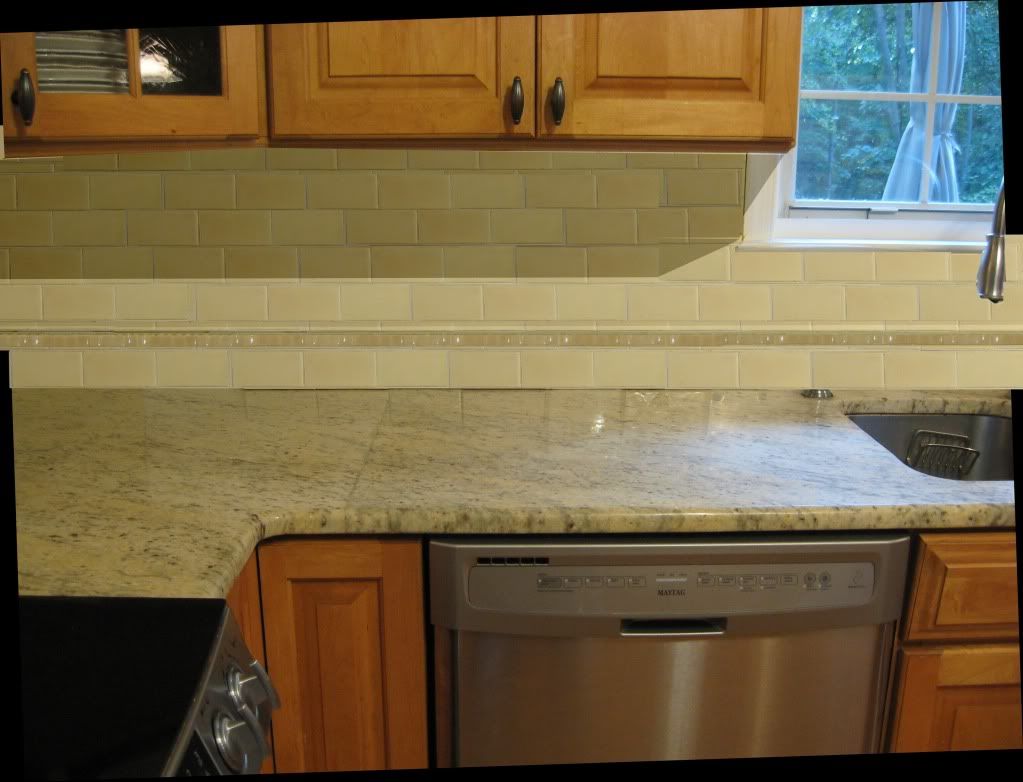 5..Here is a "dot" liner they make with the mosaic tile
6.. Here is just their dot liner: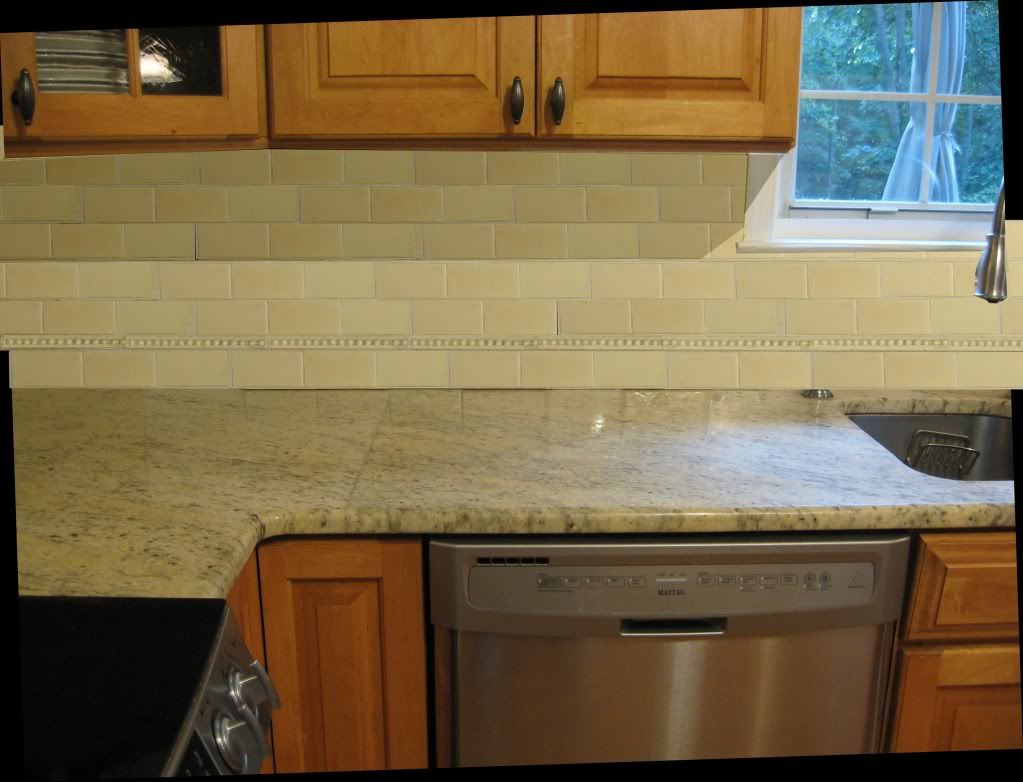 7.. Here is their "dot liner" in a slightly darker shade called "desert"
8.. Here is the dot liner and bottom row of tile in the darker shade (I tried to approx. shade of tile--it is much nicer in real life and looks lovely with my cabs)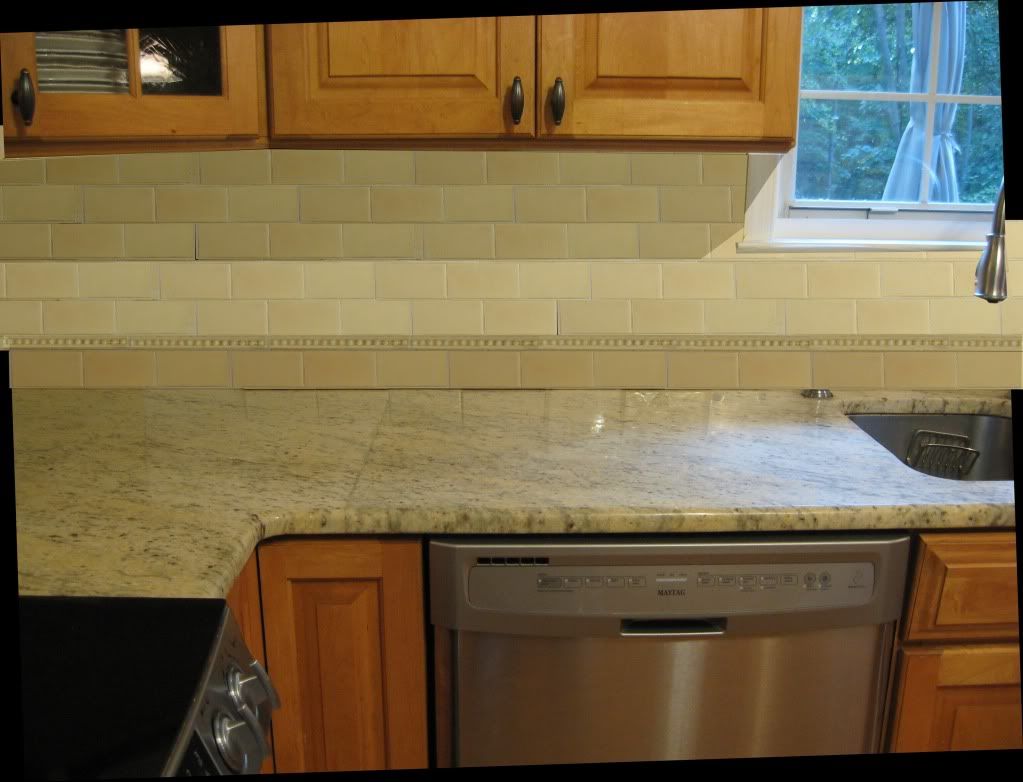 9. Here is the Horus cristalli "biscuit" subway tile that was my previous first choice, however, this color is a bit truer than my other photoshops from the earlier post. What do you all think? Would you agree that the "seashore" works better with my kitchen, or do you prefer something like this?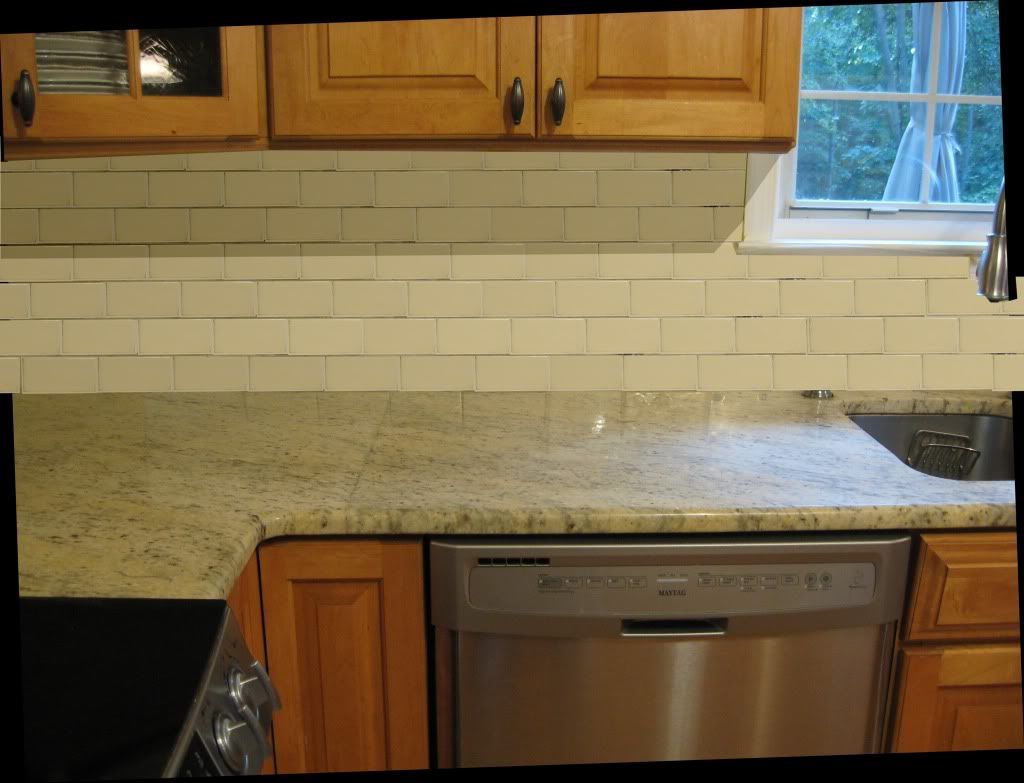 thanks for your opinion in advance, and thanks for looking!