Help choose a paint color for tiny galley kitchen
ChanaMasala
October 17, 2013
Hi everyone! I need some help picking out a paint color for my kitchen. It is a galley - well, more like a hallway - and though it is south-facing, there is a balcony outside the door/window, so it doesn't get much light.
I am a lucky renter with a flexible landlord. I recently stripped and repainted the cabinets, as they were hastily painted white (without primer!) by our landlord before we moved in. Ugh.
The cabinets are light grey and the countertops are white tile with a blue/gray glass tile border. The hardware is black and nickel and I'm going for modern black and white accents.
Any advice appreciated!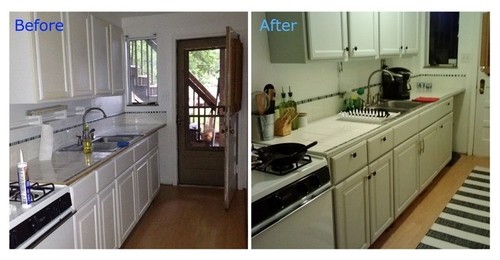 Here is a link that might be useful: Hardware (knobs)