DIY runnels in epoxy lab countertops--progress pics
mama goose_gw zn6OH
October 23, 2011
I'm getting closer to finishing my DIY, vintage, salvage, low budget, quirky kitchen. If you've seen pictures of my DIY barrel hood, you know I think outside the box, so you won't be surprised that I decided to do my own runnels in the epoxy resin lab tops that I'm using in the cooking/clean-up area.
Someone at a local monument showroom recommended using carbide router tips, so I ordered three 5/8" bits, thinking that would be plenty of back-up. Ha! The material chewed up every one of those bits, but I did end up with some decent-looking, short runnels. I'd have liked 15" runnels, but three $18.00 bits were enough of an investment for me. I've read that professionals charge between $350 and $500, even $1200(?!!) for runnels in marble, soapstone and granite, so I suppose that ap. $60.00 worth of bits and sandpaper isn't too bad. My father used some scrap lumber to make a jig to raise the router gradually, so that the runnels would be sloped and the ends tapered.
Mine are 10 1/2" long and 3/8" deep, polished to 600-grit to match the countertop surface. Can't wait to hook up the sink and wash my first stock pot!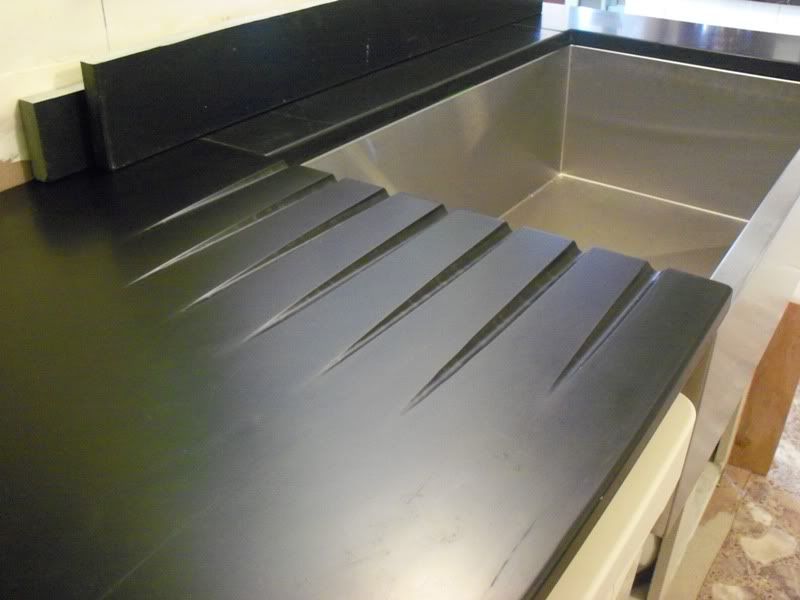 The slabs aren't secured, yet--the seams will be filled with epoxy putty. I'm trying to decide whether to use a scrap piece of slab for a short backsplash.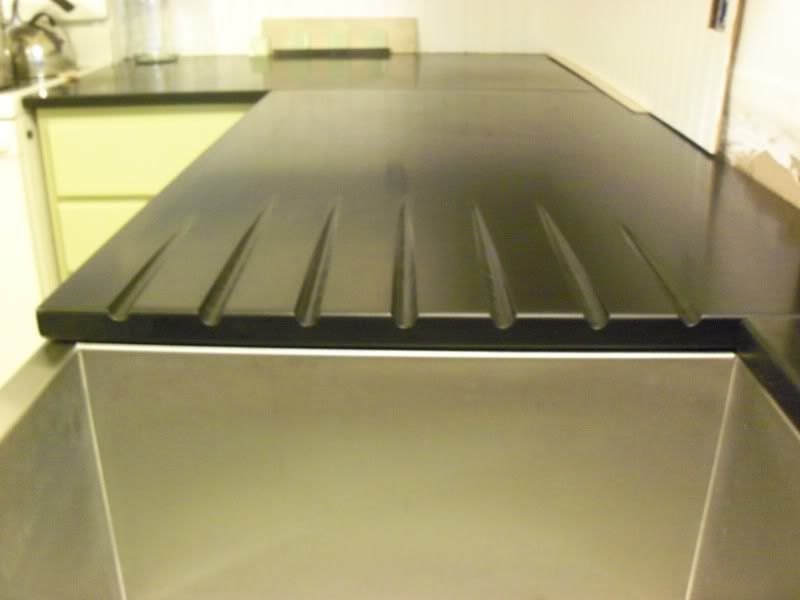 Sanding and polishing:
NOTE****If you cut or sand epoxy resin products, be sure to work outside, and wear eye protection and a dust mask!!
Here is a link that might be useful: Kitchen remodel thread in Smaller Homes