Does this tile work with my Bianco Antico?
Help! This is the honed version of the original 4x12 marble wooden beige that we fell in love with originally. Polished is no longer available, so we bought a box of honed to try it out.
I loved the lantern-shaped white ceramic from California Art, but DH maintains that he does not like it.
I've tentatively omitted the idea of adding pewter accents and just letting the BS be in the background and let the counter and hood be the star.
So, here are some pix with the honed tile, taken with in various lighting situations.
Tell me what you like, or don't like, about this please. I'm so exhausted from this renovation and just want to be done (although there is still SO MUCH left to do besides BS). I'm so tempted just to slap anything up there but I can't vent the hood or get inspections until BS is done, so I'm putting a lot of pressure on myself.
Thank you so much in advance for your help :-)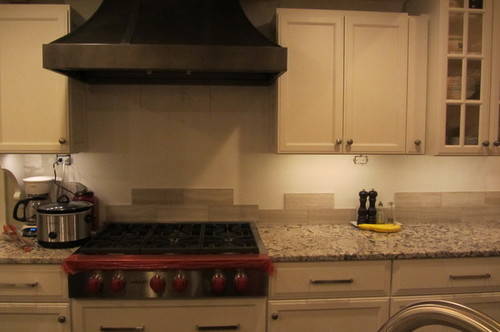 Here is a link that might be useful: More photos of tile laid out