Long overdue white kitchen photos & details
Hi all,
Way overdue...finally realized my kitchen would never look like something out of AD so just took the dang photos. Remodel completed 2011, backsplash 2012. Moved kitchen to new space, so had a blank slate. Received TONS of valuable help on this forum regarding layout, surfaces, and appliances. Thanks to all...especially Buehl, Rhome, and Breezy, whose layout is quite similar.
Full view: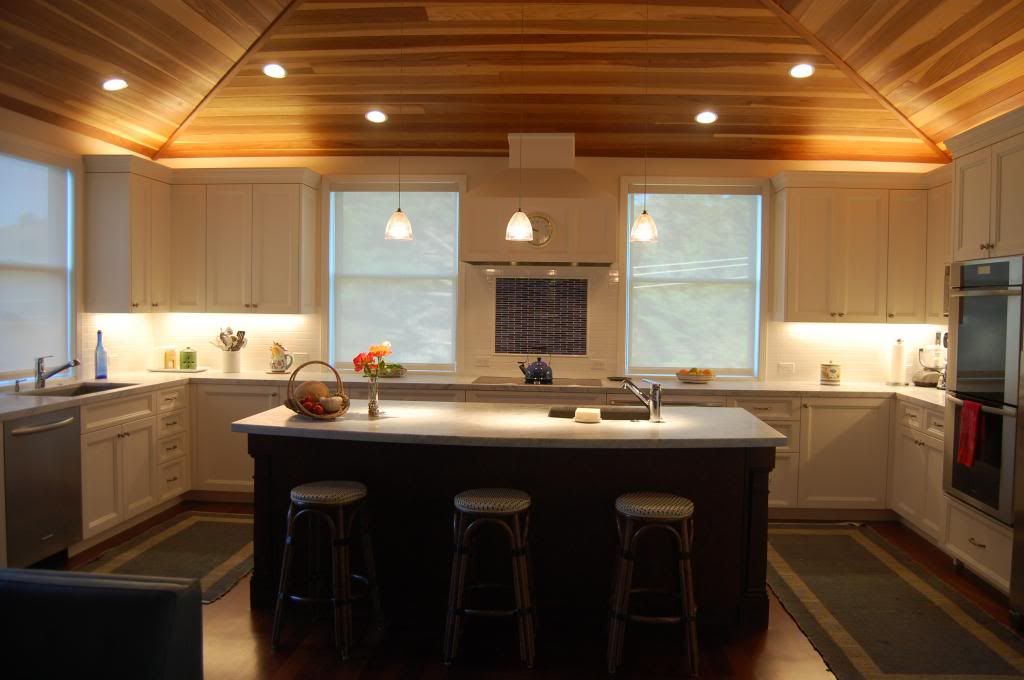 Left side:
Right side: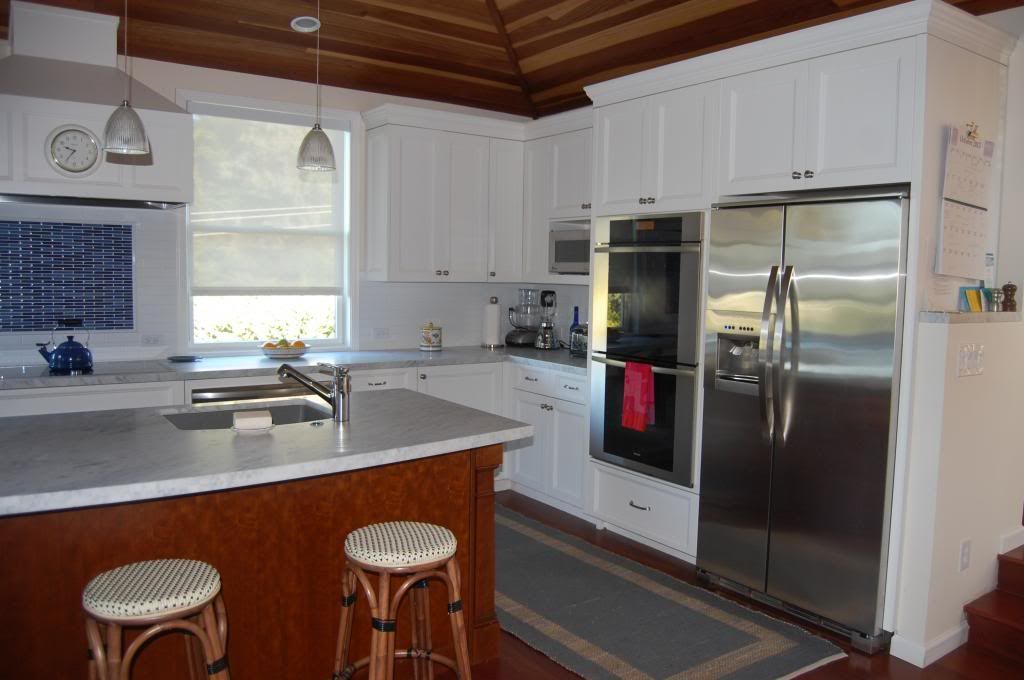 Non-built in microwave w/ nook for cookbooks & favorite cupboard with trays, cookie sheets, roaster pans, muffin tins, etc.
Love this knife block in drawer: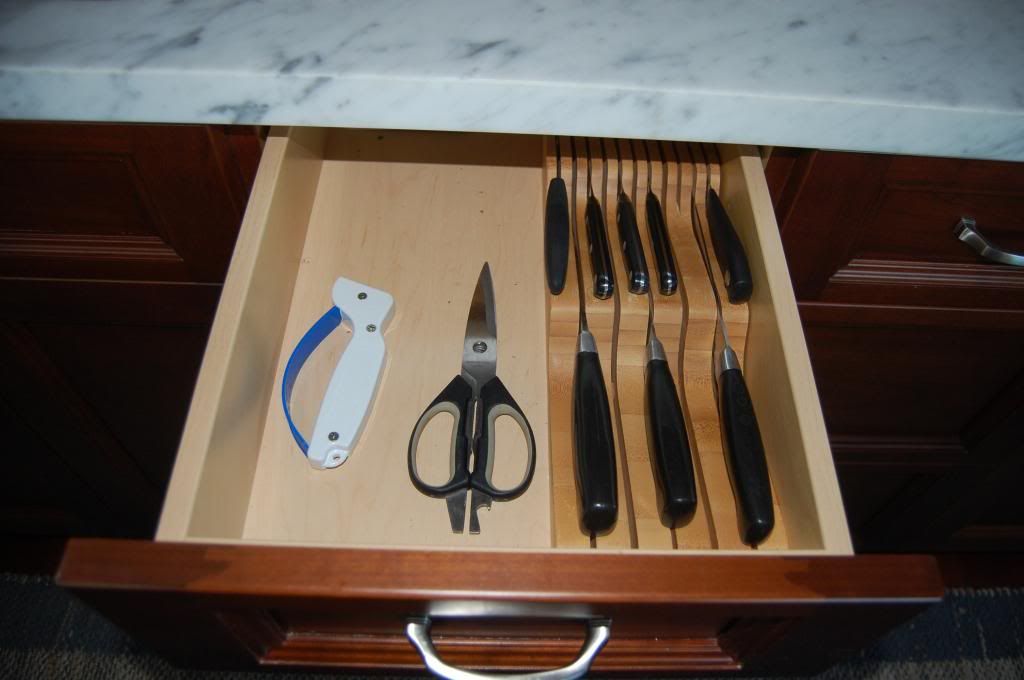 DIY Lee Valley cutlery drawer makes my silverware happy.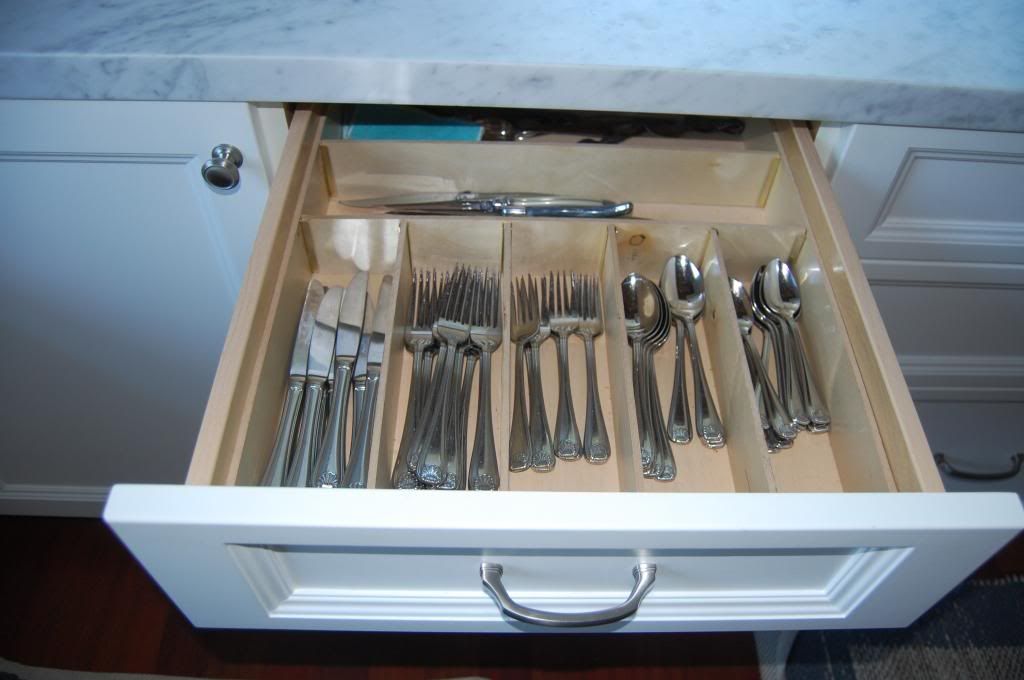 Custom cabs by Rhyne Design. Less than half of what I was quoted for semi-custom medium brand. Love them, but wish I had stood my ground on all drawers. Have ROTS for pots and pans below cooktop and pantry. White (BM Simply White) on perimeter, stained cherry on island.
Honed Carrera countertop. Yes, it etches, chips around sinks, and even has a few tiny stress fractures. I tried and tried to find something more durable that I loved as much with no luck. Don't baby it at all...and it shows, but that's fine with me. Basic narrow white subway backsplash with smaller varied blue glass subway tile behind cooktop.
Brazilian Cherry floors. Was worried about wood, but kitchen connects to family room and didn't want a divide. Wood has been no problem at all, thought my husband prefers the throw rugs we have down for comfort and protection.
Gaggenau induction 36" cooktop (relative bargain on ebay.) Love it. Pros: extra surface to put anything on, especially things for cooking prep, super easy to clean, looks cool, have my tea in a minute, use the timed hobs, consistent cooking levels. Cons: hockey puck control can be a little quirky, does click with certain and or less full pans, had to ditch a couple pots, miss my griddle--company warns against spanning two hobs with one griddle. Would do again.
Miele double ovens & warming drawer. Half price on Craig's List. Was a little worried, but works perfectly. Love this too, especially the autoroast. Really love warming drawer, and placement below counter next to cooktop is perfect.
KA dishwasher with third rack. It's fine, but I opted for this over basic Miele because of the heated dry...and I never use it, just run at night and things are dry in the morning. Do appreciate the cutlery rack, and once I started using the Finish Powerballs or the Cascade things, the cleaning is great.
Blanco Silgranit sinks in metallic gray. Love them. Have the grids too. Grohe faucets, GE microwave, Electrolux fridge.
Extremely happy with my kitchen. Random thoughts: Great for entertaining; Thanksgiving is so doable; island keeps people out of my cooking zone; lots of space to work; wood flooring & ceiling (a-grade redwood) warms up all the white; kids now cook (old kitchen the size of my Volvo)
Anyway, thanks to everyone who helped me create this!