Such a large sink cabinet! Do I have other options?
sergeantcuff
October 30, 2008
Hello again. I have not made any real progress, but the research I've done makes me feel better about my decisions. I've got to work with what I have and what I can afford. I have a few things I am still unsure about, though, and would appreciate any insight. Here's the layout I've got to stick with (needs tweaking though!)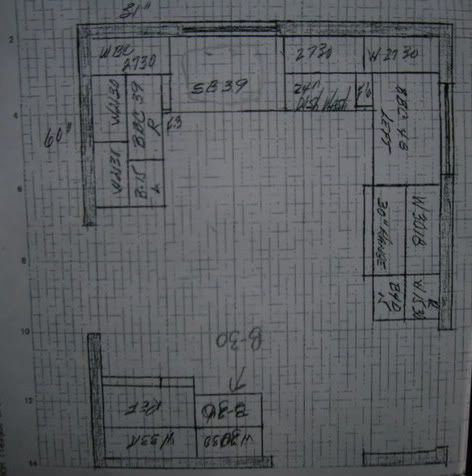 I am unsure about the 39" sink cabinet. That seems so big! I want the sink centered under the window, and a centered, but narrower cab only gives me a few more inches on the left, not enough for something like a trashcan pull-out. I don't even know what I'd keep in there - I don't use many different types of cleaners. I suppose the trash will go under there? Should I get a pull-out system under there?
I also don't like the 30" upper cabs - I wanted them to go to the ceiling. My ceiling is about 8 feet, I can't measure exactly as I am gaining over an inch at the flooring level (so many layers!) and may lose some space if he drywalls over the existing ceilings. The 42" cabs probably won't fit, and there'd be no room for moulding. The 36" cabs may leave too much space? I have seen kitchens here similar to mine with tall cabs but I am so dumb (never bought cabinets before) and don't know if the stuff up at the ceiling is part of the cabinets or if it is moulding. I have printed out pictures from GW to show my GC - the kitchens posted recently by mjsmama and vjrnts. Also wilsonb's kitchen from the FKB.
My GC dropped off the Wellborn cabinets specs and price guides so I could pick out exactly what I wanted. I was daunted by these large volumes but have figured some of it out. I am amazed at how much all the "extras" are - like pull-outs, susans, etc. The moulding section is especially confusing.
I also noticed that the DW panels seem inexpensive. But do these only work with the DW cabinet?