suggestions for achieving a warm space with white cabs?
illinigirl
October 3, 2013
I'm more than a little concerned about the 'putting everything together' part of designing a kitchen (and home). Since we are doing new construction and are going for a very open concept floor plan we need to take into account all of those spaces when considering the kitchen.
I know what I like on and individual level (cabinets, countertops, pendants, etc) but I'm afraid that putting it all together will yield a mish mash of styles that just won't work.
It seems that cool white/gray kitchens are easy to find, and those with warmer kitchens tend to have the stained cabs over white. But I'm sure that there must be a way with white cabinets.....and the thing is I don't want OFF WHITE cabinets.....a little creamy is ok, but not too much.
Can anyone give me some advice on achieving the warm space I so desire? These are the individual pieces I like so far:
white shaker full overlay frameless cabs (not true shaker, they have a quarter round moulding )
leathered or antiqued black countertops such as cambrian black
clean lined faucet like simplice
brushed nickel or similar hardware (was debating orb or black)
these pendants from RH: [img]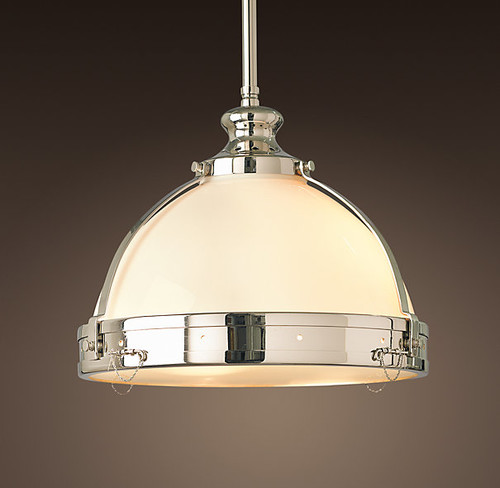 Other[/img]
warm medium toned wood floors throughout all the spaces (dining/kitchen/great room)
in the adjacent (open to the kitchen) great room there will be a stone fireplace going up the vaulted ceiling, with some rustic touches like beams in ceiling and mantle.
and I know paint comes last but I'm really envisioning a warm yellow tan color like BM Chestertown buff or similar.
I'm afraid the cabinets are too transitional, while the fireplace/beams are too rustic/traditional. Can I tie this theme together or do I need to make some significant design changes in the kitchen style wise?
here is a houzz pic that inspires me:
[img]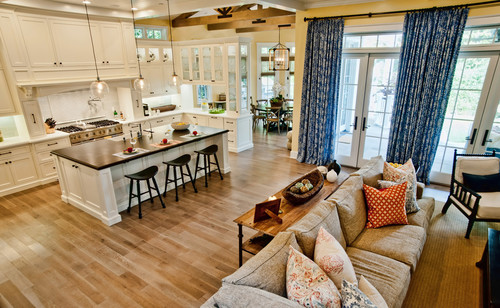 Traditional Kitchen by Calabasas Interior Designers & Decorators Jill Wolff Interior Design[/img]
however there are significant differences such as inset cabs here, and dark hardware.
help?