Was it Sandy or InSANDity?
CEFreeman
October 31, 2012
So.
You know how I Reuse center shop, right?
A while back I found some gorgeous, Craftsman, beaded inset cabinets, W1536. LOVE THEM. Love my beaded inset. There are also two base cabinets, a 6" spice and 6" cubby/wine thing.
Well, this last week I found these great plywood, cabs, one W364014 and the other W274014. They have full and absolute complete overlay hinges. No reveal whatsoever. I bought them for the hinges at (wait for it...) $2.00 a cabinet. Then I realized, being frameless cabs, I had options...
Here's a pic, although it's decorating my foyer and hard to get an angle. The W364018 has beautiful doors prepped for glass, but they're not my style. Just thought I'd try: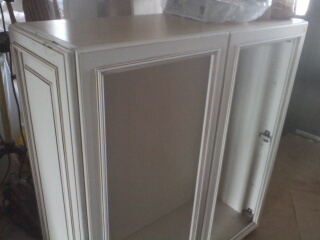 When Sandy hit and my work was closed for 2 days (God bless the weather weenies here in Washington, DC) I got a bug in my ear to make some changes.
The cabs from my kitchen into my dining room have come to look like this from the kitchen then from the DR: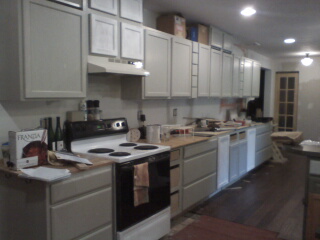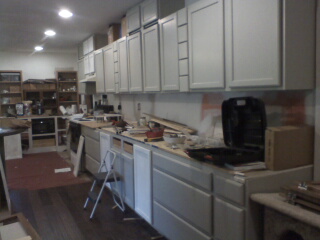 .
(Paint color change pending.)
I'd created stacked-look cabinets like this: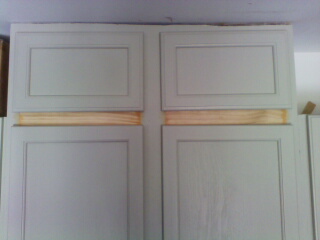 Pretty proud of that, although I couldn't figure out what to do about molding with them tight to the ceiling. I wanted molding.
So this is just a little bit of the changes I have made. I've put up my beloved beaded inset cabs.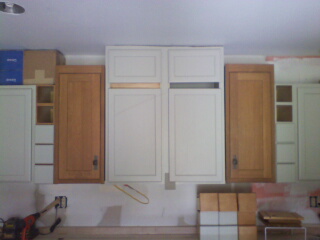 I like 'em, although now the center cab just has to go!
It will become the W364014, that at 40" rather than 42" tall, I'll be able to add some type of crown. I plan to take the doors off, use the hinges where I'd planned, and add a beaded frame to this one. Then I'll be well on my way towards totally beaded inset. I'll be mesmerized by my own kitchen.
So another long story longer. Someday I'll finish a project and fall over dead.
Another inSANDYity: I ran out of Reese's cups. Not wine or beer, thank goodness, but chocolate!?! O. M. G.