Border or no border with a ceramic subway tile back splash?
Hi everyone. What do you all think: decorative border or no border with a ceramic subway tile back splash? Most of the photos I see in magazines of ceramic subway tile back splashes do not have a decorative border of any kind, but I think I may want to do one along the bottom, just above the first row of tile, because I don't have any other place for a decorative feature wall, since we knocked down the top of the wall behind the range (we have a raised snack bar there) and there is a window above the sink. I am afraid it will be too boring if I don't do anything "extra" other than the plain tile. What do you all think? I'd love to see photos of your subway tile back splashes with and without borders. (See my photos below!)
After 2 years of looking at every possiblity for a backsplash tile (you may have seen my various posts here over the years!), I finally came back to the tile I liked best at the very first (until a salesman tried to convince me I needed to put in some sort of stone tile to improve my resale value--which led me on a fruitless 2-year search!) It is a subway tile with a very subtle crackle glaze in a warm, not-too gray, biscuit color that complements my light-colored, busy granite and honey-spice maple cabinets. Yipee! (It's Horus Art's "cristalli" 2.5" x 5", hand-made look subway tile.)
Now I just have to decide if I want to do some sort of decorative border with it: either a ceramic "liner" type listello or moulding in the same tile line, and/or a row or two of some sort of mosaic tile border. I would put it right above the first row of tile above the counter, so it would carry around the whole room, even under the raised snack bar area--and thus eliminate having to cut a tile to fit under there, as well. (I have a 4 3/4" clear wall space there underneath the snack bar.)
At the tile store, the sales lady cautioned me that mosaic tile borders that don't relate closely to the "field" tile can look out-of-place unless you do a tile listello or ceramic liner or pencil border with it. Those do get pricey $$$, however. (Horus' simple "dome" liner would be $7.75 for a 1" x 5" piece!--ouch!) Money is pretty tight right now, but I don't want to skimp only to regret it later.
If I go with a mosaic tile border, I was thinking about possibly some sort of tumbled onyx (white or honey?) to complement the soft gold tones in my granite and honey maple cabinets, but am open to any options. I like simple traditional, classic looks (I don't want either too formal and ornate or too contemporary). My kitchen is open on one side to the dining room (where we knocked down the upper part of the wall)and the family room on the other side, with a large brick fireplace. It is a busy, not too big space, with a lot going on, so I do need to keep it somewhat simple, but don't want boring!!
Here is an photo from the family room looking towards the kitchen (we have since replaced the chandelier with oil-rubbed bronze pendants over the penninsula)The floor will eventually be refinished in a darker gun-stock color, to add some needed contrast, too.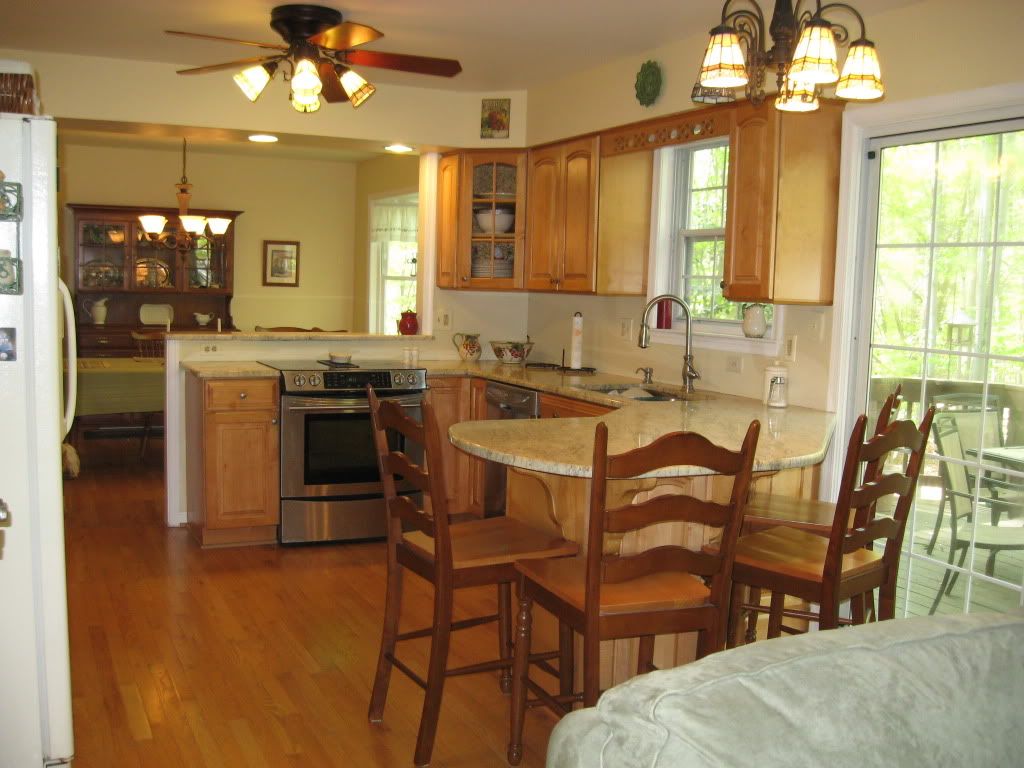 Here is a photo looking the other way, toward the family room with the brick fireplace. The family room is only about 12 feet wide, so it feels almost in the same room as the kitchen.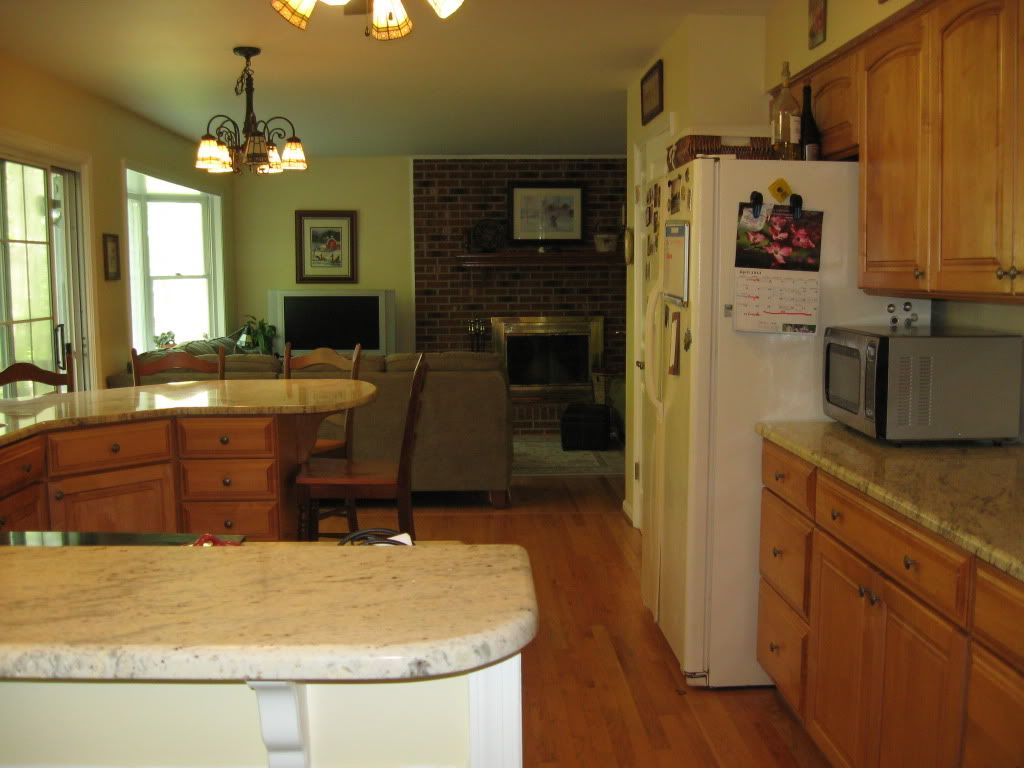 Here is a close up of the Horus tiles. The bisquit color I like is the one on the far right. The mosaic tile on the top of the samples is a glass one that I don't think I like too well- but it gives an idea of where I was thinking of a border.(The lighting makes the granite and tiles a bit darker than it is in real life. Also, ignore the greenish cast from the lighting in the corner!)
Here is a very rough photoshop attemptmade from the above photo from just the one tile sample(looks ungrouted, which it is of course!) Ignore the greenish cast in the corner--not a true representation at all!) I don't like that particular mosaic, but it gives an idea. In real life, the tile and the granite don't really appear than dark, but my camera isn't very good I guess!
Thanks for any help you can give me!