Backslash - Am I being unreasonable?
When I ordered this backsplash, I was made aware that since it was handglazed, "some variations in color were to be expected". I specifically asked if I would get some blue tiles as most of the tiles are silver/grey. I was told yes and also that some of the blue could be darker/more saturated with color and to order extra tile in case I didn't like the darker blue tiles.
My tiles arrived, not one tile with even a hint of blue. The tile is pretty but what really drew me to this choice was the occassional blue tile. I think it is kind of blah without it. The tile girl says it is very unusual not to get any blue but both she and my KD are "no guarantee on color range."
I want some blue tiles. My KD offered to see what the return policy is, return these tiles and place a custom color order, which I know will be much more expensive. These tiles were expensive to begin with. If I hadn't specifically asked about the blue before placing the order, I could see where a custom order would be my only alternative.
I'm even wondering if I should order a different color to make sure I get more color.
Edit: there are two blue tiles on this board. The middle one in the second row and the one on the left in the 5th row. They don't look blue in this picture but they are adding interest to the overall look because they are a different color.
The tiles I received are all generally the same color and look boring.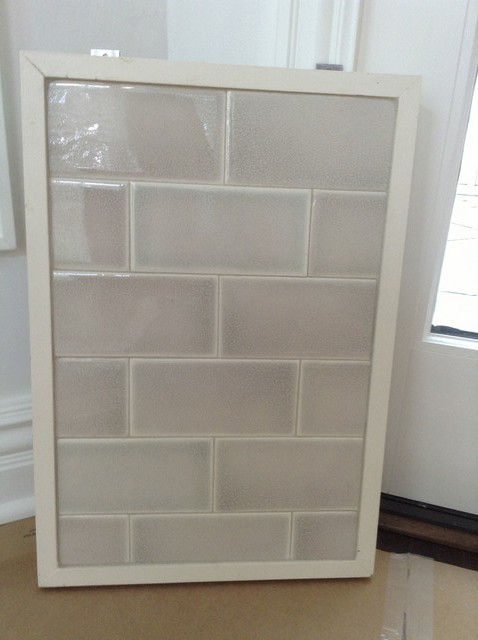 This post was edited by romy718 on Sat, Oct 26, 13 at 13:49