Can you help me pick a faucet?
chesters_house_gw
October 10, 2013
We're seeing the light at the end of the tunnel here -- at the point, as the pictures indicate, where sea salt, linseed oil, ladders, and tomatoes are jumbled together.
We had planned to stick with the faucet we had been using - a KWC Purejet. But somewhere in the course of the demo, it's begun to drip from the filtered side. I can try a repair, but it's been discontinued and I wonder how long the filters will be sold.
So maybe it's time for a new one. I can't go with a bridge, since there's a center hole drilled. I can add new holes. There's a riot of possible cues - brass/weathered, stainless, porcelain/milk glass.
I'm stuck. Ideal would be an 8 inch or so reach, looks good but doesn't wave its arms for attention. I want a pullout or a pull down. Here's where we are, with a cat standing guard and a new use for old restaurant butter pat dishes: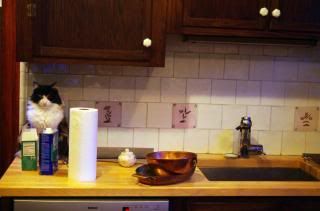 And a longer view:

Two ideas:
Sorry this image is no longer available.
Sorry this image is no longer available.
Appreciate any suggestions!