My big box countertop experience
chrissyb2411
October 6, 2013
So, I figured since we hear a lot about negative experience with big box stores I would share my good experience!
We initially were going with solid surfacing from lowes. After templeting there were lots of hidden charges and up charges that were not explained prior that almost doubled the cost! We cancelled that order. I priced out quartz at a local fabricator and Home Depot. Home Depot came in at about 75% less for the same exact LG quartz product, I was nervous but it was a big savings.
The guy came out to template, he was very quiet, but answered all my questions and spent about an hour and a half at the house doing his thing with all his fancy lasers and computers. Install was scheduled for a Friday. At 3:30 the afternoon before I got a call from the installer, they had finished their day early, would I like them to come tonight. Yes!!!
They said it would take a couple hours. They were friendly, came in, did the job very quickly (about an hour), explained everything, and in general were fantastic. We have one seam that is nearly invisible, and the tops fit into their spaces like a glove. The installers commented on what a fantastic template it must have been to fit so well. Quite a feet considering how uneven our walls are.
We talked to the installers for a bit. The company fabricates for 33 Home Depots throughout New England, they are located in northern Vermont and the fabrication shop is located in Canada. So, for anyone in NH, Ma, Vt I would highly reccomend Granite Design, and HD for counters. Here's a few pics
LG Viatera quartz in juniper trail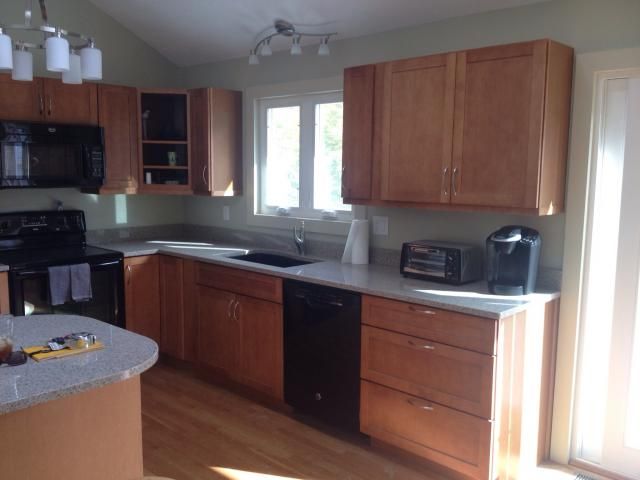 The curve of the island was done to match the curve of the bookcase, and it's perfect!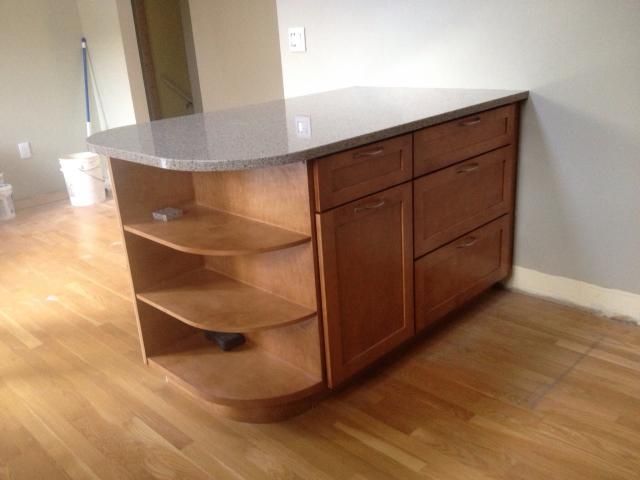 The seam, starts at my fingertip, jogs in then straight up
The fit against the range is fantastic!