Yes, it's time. The tile is UP and Grouted.
beekeeperswife
October 18, 2012
Don't scroll down and skip the story.
As you know I ended up choosing to repeat my beveled arabesque tiles in the new kitchen. I found every tile I brought home I would compare to the arabesque. I wanted to do something different though. I had so much help from all of your suggestions, I even did try a gray arabesque tile, but it was too dark. Some of you suggested I ask if it could be made a lighter gray. I did. And guess what? They are making a lighter gray. But I had a deadline and could not wait. So, I ended up back at square one. The white beveled arabesque tile. It is the tile that was in my head when I designed this kitchen.
With the desire to do something different still in my heart, I did a sample board with gray grout. It was lovely. Most of you expressed your opinion that I should do gray. As we all know this was not an episode of "Run My Renovation" and it was not an actual vote to determine the grout choice. I like to think of all your feedback as an opportunity to hear from you why you liked gray or why you thought white would be best. And there were powerful arguments for both sides.
However, none of you were here to experience the light in my kitchen, and the overall look of the counters, which are busy. As we often say to each other, "only you as the homeowner really know what looks right and what looks wrong". So, ultimately, the decision had to be made based on how the tile looked in this kitchen.
Corgimum was so kind to do various photoshop mock-ups for me. They were very helpful. I loved the way the gray emphasized the bevel and the shadow.
I did make a decision that I was 99% confident would be the right decision. But I still wanted to wait to see the first part of the wall done to make a final decision. After seeing the tile without grout and having the darker shadows my decision was finalized.
It's not what you might be thinking.
I went white. Again. My dh didn't care for the gray from the first time he saw it. And I was so scared that with the gray the first thing you would see was the tile when you walked into the room. It was actually distracting, and it didn't enhance as I had hoped. I needed the bs to read as "one" vs a sea of tiles. Another factor that came into play was the tile looks brighter with the white grout. It had a creamy look without grout. But when I added the white grout, it brightened up.
I did change one thing though. I went with unsanded grout. The joints were tight enough to do this, and I was able to have very small grout lines compared to last time. I actually think there are more shadows this time.
It took 2 full days to install the tile. It took me about 10 or so hours to grout it, which I spread over 3 days. My fingers are cut up and very sore. I still need to caulk, but I don't have any finger tips left to do the apply the caulk. I'll wait for Mr. Bee to return to the hive...he's off at a conference in Florida.
I just want to thank you all for your opinions. I do value all of them, and I hope this won't turn into a case of "why do we even give you our opinions if you do the opposite". I was so torn about which way to go, but in my heart, I know this is the right decision.
Without further adieu...
A template was made from styrofoam to be able to cut the tiles in 1/2 perfectly. Once we realized that there was going to be 76 tiles that had to be cut in 1/2....the time to design and cut out a template was well worth it.
This wall took about 3 hours.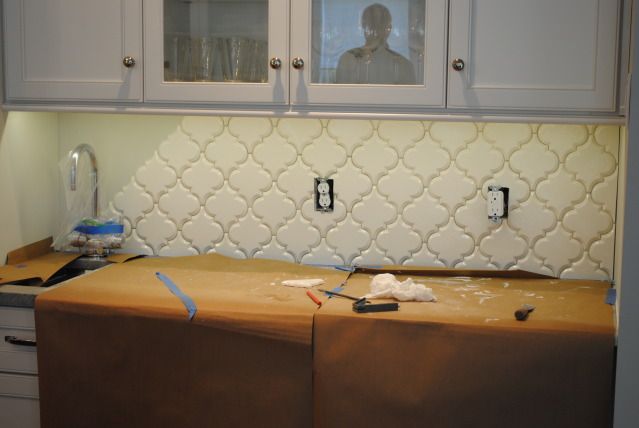 ungrouted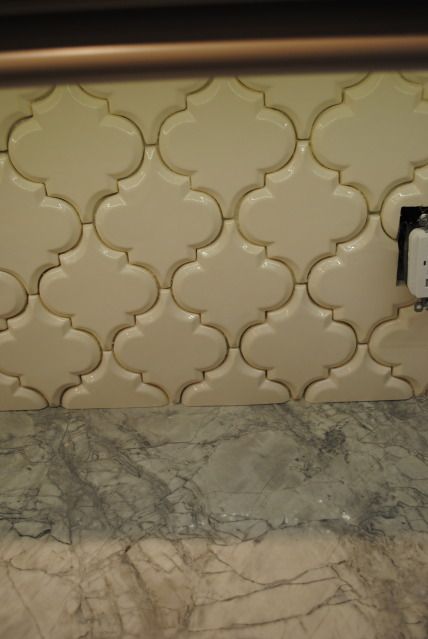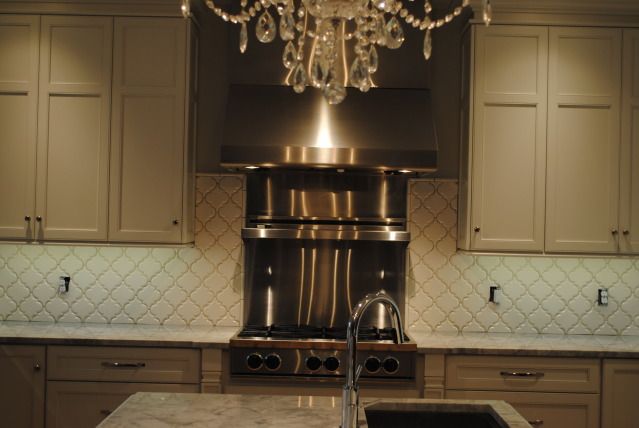 grout on right, no grout on left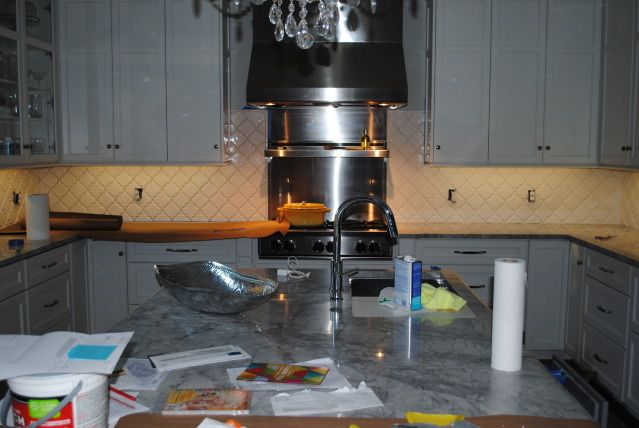 closeup
Last night I cleaned up all the icky grout supplies. I started to play with ideas for styling the kitchen for the photo shoot. Here is a quick vignette. I'll be playing around with the kitchen to figure out the right look. It's going to be a January magazine. So, I'm thinking the story will be "prepping for a dinner party" Colors will be yellow and blue. Ben Moore's color of the year is a yellow, and we have been seeing lots of of blue too.