My turn for backsplash advice!
fouramblues
October 9, 2012
OK, so here I am. Not finished with the kitchen, but we're getting there, and I still have no idea what I want for the backsplash, except for the budget: $10/sqft or less. (I know, I'm making it tough!)
This whole reno I've been guided by this principle: clean, simple lines, but traditional finishes. And here's where we are today (refined farmhouse style, as my DD calls it):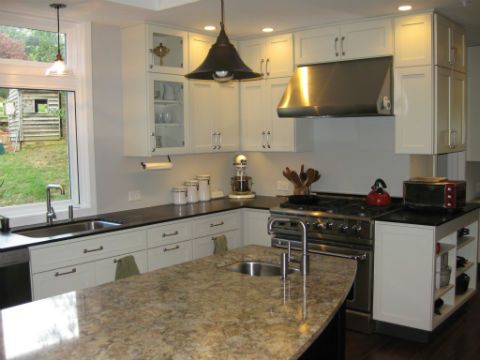 I love it, but it needs a little something. So it's time to turn to the backsplash. I picked out a 3x6 subway that exactly matches my paint color (BM Stonington Gray), which I love, and which is somewhat darker than in the photos. I think that might be too boring, though. So I'd like to dress it up a bit, either with color or with shape.
If I go with color, I'd like subway tile with a whisper of teal or turquoise. Any recommendations? I've seen plenty that I love, but all are expensive. Here is Glazzio Ice Mist matte:
If I go with shape, I love the Merola lantern grey tile at Home Depot. spanish1929 used this tile in white, and it's lovely. But does this snazz up my space, or just look silly with my "clean, simple lines"? I'm not even sure it's the right color grey, but I can buy only by the box from HD, so I don't want to order unless I have a pretty good idea the style will work. (I can return it if the color's not right.)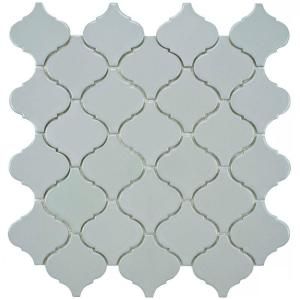 Note: the trim throughout the house is white. (Yes, just 'white'.) The cabs are ivory cream. I'd originally chosen honed travertine 3x6s for the backsplash to tie those two colors together, but am afraid that the travertine is just too traditional for my space.
Also note that I'm making Roman shades out of this fabric (Iman Home Samoan Plantation), which has dusty teal in it. It doesn't look right with the lantern tile here, but that might just be the color representation.