What stools should I choose for my island
dreamojean
October 15, 2013
I'm stumped at what stools to choose for my kitchen island and would love suggestions. This is for an open kitchen/dining room in an old brownstone in a city. We will need 3 to 4 stools depending on which stools we choose.
In a perfect world we will have stools with a swivel function as well as a comfortable back (The back function is the more important one and it doesn't have to be a full back but it does have to give some kind of back support).
I've already been through a number of possible stools at places like Ikea but none of them quite work. They are either too modern or too bulky. And we liked a metal and clear-seat stool from cb2 but it was too low and deep and the price was too high for the comfort level so we returned it. Right now we have a cute restoration hardware metal stool in white but it is huge for the space and if we kept it I'd swap it for a metallic one to match the fridge - but we wouldn't have a swivel function if we go that route. It is mid range in price.
I've been eyeing the metal and white stool at the store called Room and Board, and it seems very nice but it's over $300 per stool. I've also been eyeing similar stools that are significantly less but don't look as sturdy or long-lasting. I'm not above splurging on the stool in question so long as it really works in our kitchen and is comfortable. So the question is does the stool work?
I think our price range is $50 to $325 per stool. I'd prefer $75 per stool but with the time this is taking, getting settled is worth a higher price. I love some of the design within reach stools but for $700 per stool, ha ha.
I've attached a link to pics of our kitchen and some of the stools we are considering. And here is one pic of the kitchen. I will post a reply with a pic of the room and board stool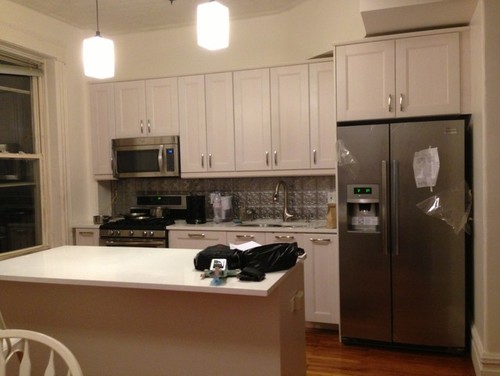 Here is a link that might be useful: Kitchen pics