Help with deciding a small kitchen layout
After many yrs of lurking and lusting after the gorgeous kitchens here, I am finally getting started with the process of designing the kitchen layout! I have read many threads asking for layout help and so many of you are so generous with your time and suggestions. So let me thank you all in advance for going through this and thinking about my problem.
I went through the questionnaire on the layout thread(Thanks Buehl-it's an invaluable resource!) and am posting some info that should address the questions raised during layout design.
Background : Family of 4 with two kids 7 and 1.5 in a modest house in an labor expensive area of Long Island, NY. I am the major cook, DH helps ocassionally. DH and DS make salad/sides. Cook dinner almost every day-mostly fresh food. Lunch is usually leftovers or frozen TJ's wraps. Bake ocassionally-mostly on special ocassions. Use the oven for dinner maybe once a week. Casual parties once a month or so-mostly buffet style.
Goals : Open the layout to LR and Dining area. Increase counterspace from the current 2ft on top of DW. Increase storage and accessibility for pantry items and small appliances (currently on or under the kitchen table) . Replace OTR microwave with a powerful range hood to vent out smells from indian cooking. Increase size of DW from current 18 to 24". Have a pleasing view from the front door(not the sink!)
Structural Considerations : Wall between current kitchen and LR/DR likely to be load-bearing. We want to keep costs downs-so not feasible to replace the columns with steel beam. Garden Window in Kitchen too low for counters-open to replacing it with a smaller window. Not feasible to move the outside side door. We do have a finished basement downstairs. There are three openings into/from the kitchen. I am not sure any of them can be eliminated.
Appliances : We love our relatively new Samsung standard depth FD refridgerator-so we will keep that. All other appliances have to be replaced-most likely to be a gas range, vent hood, 24' DW and a drawer MW. Maybe interested in an advantium or a oven/microwave combo depending on budget and space.
This is the current layout.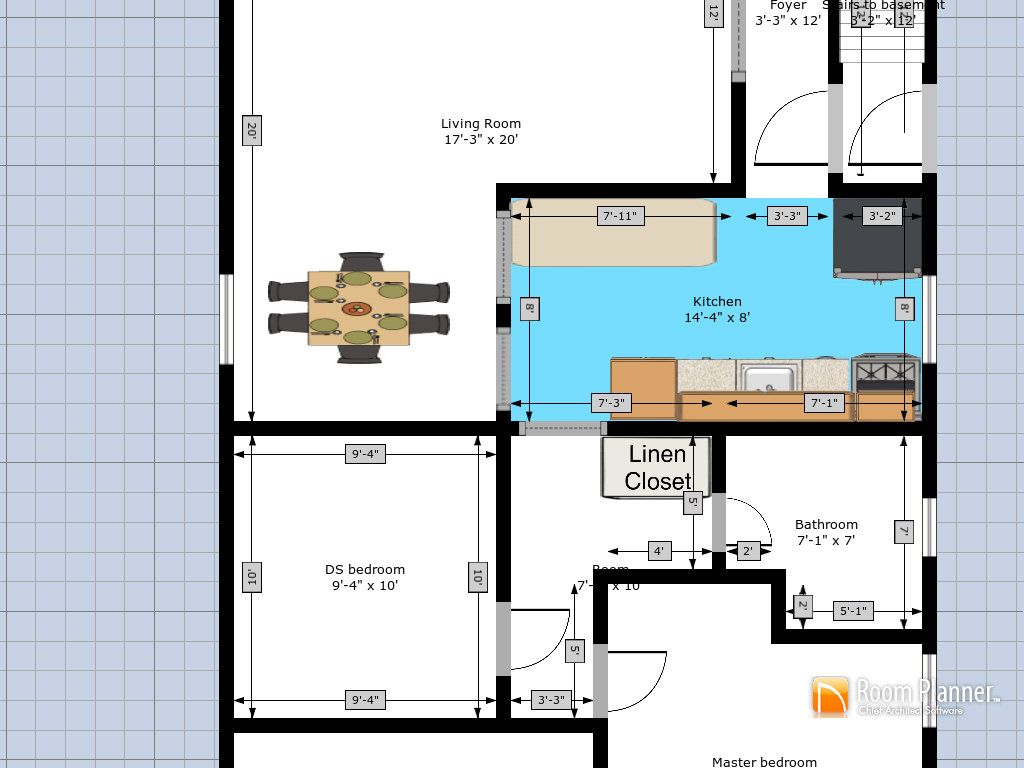 Layout 1: Note the black box on island is supposed to depict a drawer microwave. The program I am using has limited functionality! Both the new layouts have the fridge set into the wall behind to make it look counter depth.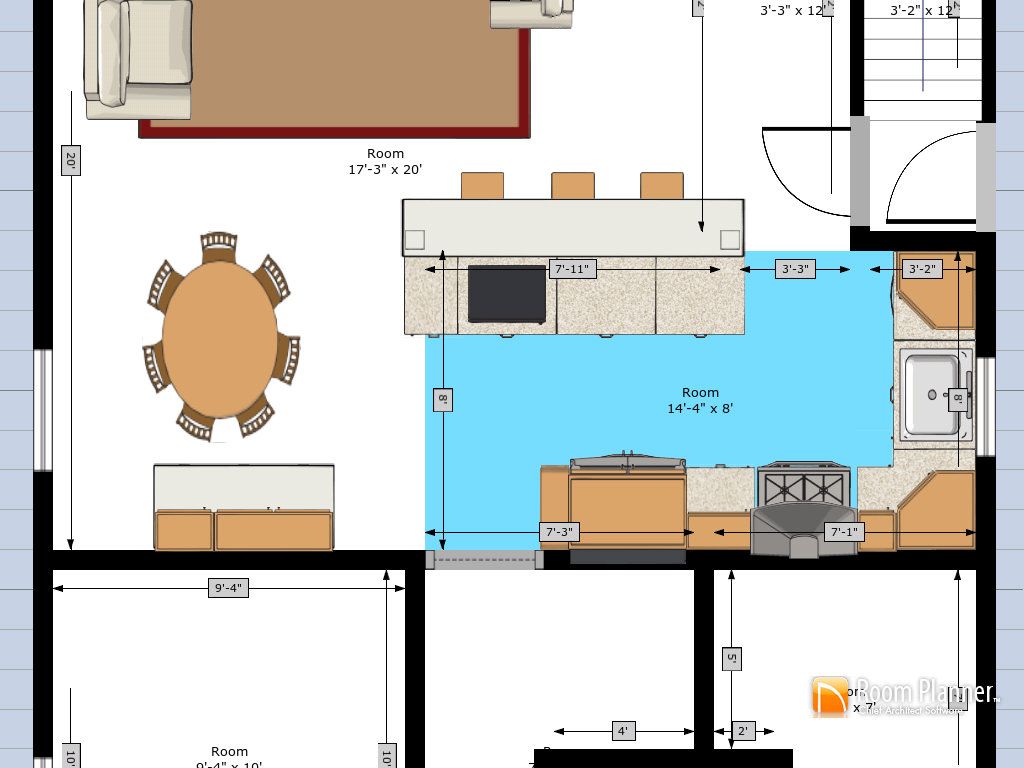 Pros: Lots of counterspace, plumbing will not have to move too far. Open island(?) for spreading out hw and parties etc. Prep next to range.
Cons: No pantry cabinet-will the island cabinets be enough? Additional cost to move up Window. How useful will the Corner cabinets be? Cleanup zone far from Dining area.
Layout 2: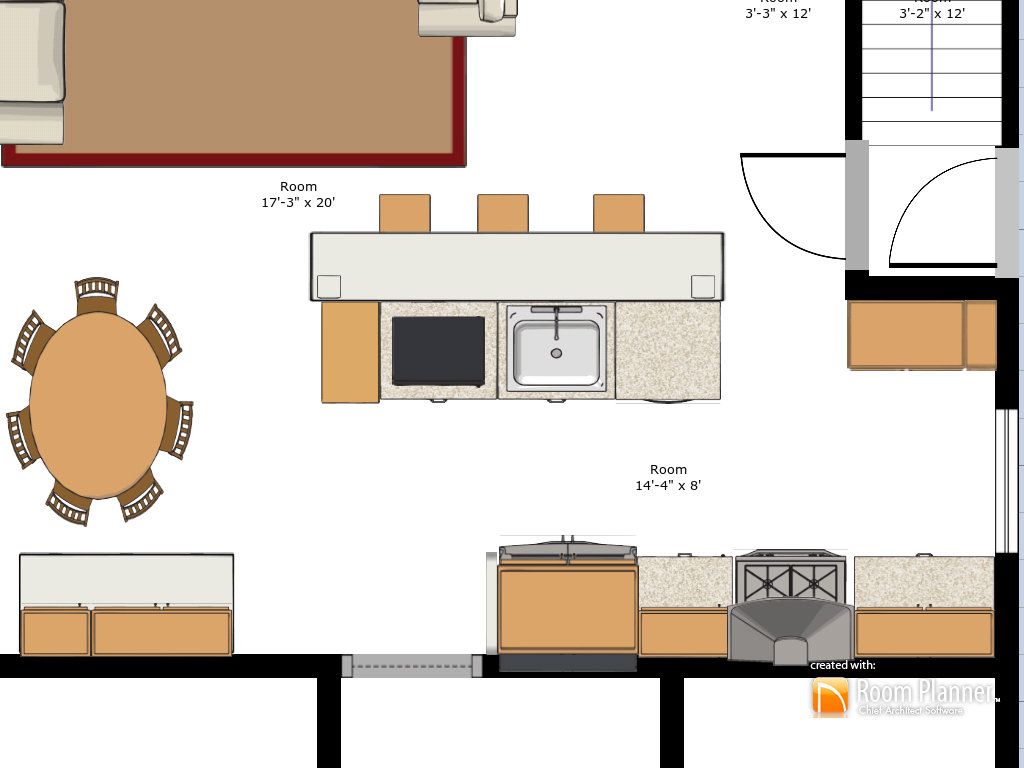 Pros: Well separated zones, clean up/snack zone away from range. Full size cabinets for pantry. No corner cabinets.
Cons: Not that much counter space. Sink highly visible. Will have to move plumbing across the floor. Will have to pivot
across aisle between sink and range.
Thanks for reading this long message. Let me know if there are more questions. I would love any feedback you have on both the layouts or any alternative arrangements I should consider.