Farmhouse Kitchen round 1
redheadeddaughter
September 28, 2013
I'm doing somersaults... just so excited to post here finally! And I'm hoping for some real nitty gritty critiques if you don't mind sharing your time and wisdom. This is only the 2nd plan back from the designer but really the first one that I had input on. This is pretty much the "space" we have to work with given the box shapes of the rest of the house (does that make sense)... so trying to make it fit within those confines... which (to me) are pretty generous.
A little about us: We are a family of 5 (3 kids 10, 7 & 3) building a new house in rural California. We have tons of cousins and family that live out of town and will be staying with us for extended periods of time. That includes a handicapped grandmother and lots of young 'uns running around!
Kitchen requirements: Eastern morning light, and lots of it. Watch the kids in the backyard and see the pool. I like a little privacy in the cooktop area and am not a fan of having traffic there... it just feels safer. But I don't like peninsulas. I know huge islands aren't very popular here, but I've had them (and not) and strongly prefer them and find them hugely useful for large groups of people. My husband wanted 10'+! I think it ended up being 8 x8 or something. We homeschool and host events when we can, so I'm cooking 3 meals a day (usually the stovetop only for dinner) and lots of snacks in between... this will be a well used kitchen! I'm also a visual person and a messy cooker. I've worked on this for 20 years and I've only gotten a bit better. ;) So a pantry that allows me to see everything without opening a cabinet is awesome. Plus its my favorite part of the farmhouse. Bread rising, pies cooling... that sort of thing. And the door from the herb garden (a dutch door!) will open right up into that pantry. So it needs to be purdy. :) Or at least spiffied up. Again, would like a counterdepth fridge so I can see everything... and we will also have a freezer in the laundry room and a beverage fridge (a smeg if I can pull that one off with my husband!) in the mudroom for drinks and ice cream. The layout is not the perfect triangle.... I know that island would get in the way for most people. But I'm trying to work in "zones" so 3+ people can be working in there and not get in each others way. Baking zone, clean up zone, prep zone, breakfast zone, plating zone... or something like that. I requested the windows flanking the range, though I know most people would do cabinets there... I just crave sunlight! Maybe that's a bad tradeoff? I originally wanted windows on 3 sides! :) Any weird layout issues were likely my own ideas and not the designers - so don't blame him. Should I do cabinets up to the ceiling? It will be 10' high with no fancy treatment. White shaker (inset if I have my way... but that's another thread) wood floors (had them before, love them), honed car. marble on the perimeter and butcher block on that big old island. I love patina and don't give a bing bang about scratches and etching. And I'm in the market for the perfect farmhouse sink, and a good dupe for that gorgeous Perrin and Rowe gooseneck faucet. And we are going to make the island a bit narrower to make the aisles all 4ft wide. Okay. That's way too much information. Have at it kitchen gurus (pretty please? :))... I promise not to take offense!
PS La Canache 55" ish W range/stove might be going in that back wall. I think. It's all GW's fault about the La Canache. But I won't be needing a wall oven or a warming drawer anywhere.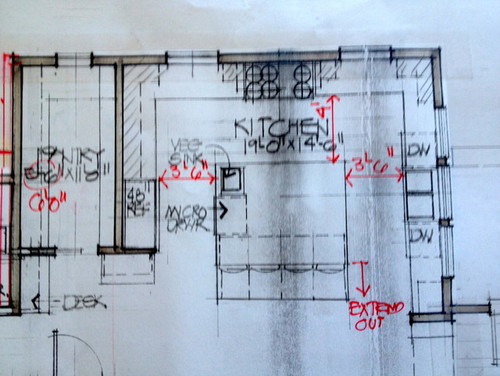 Here is a link that might be useful: kitchen in context
This post was edited by redheadeddaughter on Sat, Sep 28, 13 at 21:02