Need help with a 10x20 Galley Kitchen Design
redphoenix2k1
September 1, 2014
Hello how is everyone? This is my first post here but I am not a stranger to Garden Web!
We moved into this house last year and we have been tired of the kitchen from day 1. The kitchen from an outside view looks OK. However the cabinet bases are broken inside and original (early 80s). It has a Corian counter top however its warped with exposed plywood, etc. Also the "peninsula" was an after though and exposed 2x4s are distasteful.
Basically, the idea is to take the 10x20 area and start completely fresh. It has 8ft ceilings through out.
Here is what we do not like about this layout:
-No vented range hood
-Too many lower cabinets and not enough drawers instead
-Waste of area on the stove side
-Peninsula design is weak and awkward for 2 side by side
-no intermediate lower counter next to peninsula, hard for entertaining I think
-exposed fridge
-terrible sink
-lack of back splash
-shoe corner looks bad (our bad habit but we have no mud room)
-bad lighting
-exposed trash cans
-exposed animal stuff
-upper cabinets allow cats to jump up to top
What we do like about this setup:
-lots of counter space (although I feel we badly utilize it with the coffee junk and dish rack)
-lots of room
-large pantry in back
What I want to do:
-The appliances, although generic, are 1 year old (came with house) so I want to use these but hopefully upgrade soon after. The only one I may not mind upgrading immediately is the stove and going to a double oven with range top due to counter installation.
-The microwave I want hidden or at least semi-hidden in a cabinet.
-Shoe corner to become organized and hidden.. maybe integrate cat/dog food area there
-trash hidden. We also recycle but that is outside and is a pita.
-Keep a peninsula for entertainment but have 2+ bar stools and not have an awkward feel to it.
-Add a range vent. Attic is above the kitchen and plenty of room to do what I need to do.
-Semi-Hide fridge
-Maybe some glassed upper cabinets?
-Upper cabinets go to the ceiling.
-Better/modern lighting, no CFL tubes.
I am not opposed to moving stuff around. I thought about maybe doing a cook top by the peninsula. I want to keep the fridge where it is (wife says so...).
I attached some good rough dimensions and a link to the photo album.
http://smg.photobucket.com/user/redphoenix/library/House/Kitchen
I am an extremely handy mechanical engineer. I plan on doing nearly all of this myself. I am not a stranger to installation of kitchen cabinets, I am a stranger to getting the correct stuff for a good price.
What I am looking for is some design help on making the best of my area and any insight on some good places to buy what I need. I am after quality stuff. I would like to skip melamine/mdf as much as possible, but not opposed to it. I however do want finger joint or dove tail construction on the drawers.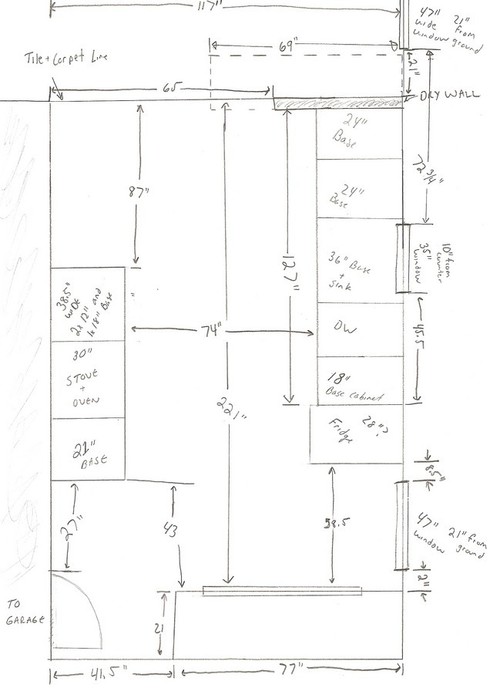 Here is a link that might be useful: Kitchen Gallery
This post was edited by redphoenix2k1 on Mon, Sep 1, 14 at 21:50