Sneak Peak - 1924 Yellow Kitchen 85% Finished
equest17
September 6, 2012
I've been waiting to post my reveal until the kitchen is finished; but I realize as a DIY, it may never be fully completed! It's been functional for over six months, so progress on the details has really slowed down. I have to turn my attention to our bathroom addition, so I'm posting my photos to date. Maybe in a few months I'll be able to debut a truly completed kitchen.
Instead of "all but backsplash", my major unfinished item is the cabinet doors. But it's so convenient to have open shelving everywhere, I'm really not in a big hurry. I found a local cabinet shop that will make all the doors in a paint-grade Shaker style for under $1000, so when I get the time to measure, paint, drill, and hang all those big doors, I've got my plan in place. Also, I have the matching Thermador venthood, but we have to run ductwork and electrical for it, so that will be done with the attic renovation.
For a little background, this 1924 brick bungalow farmhouse had been in the same family for three generations before we bought it about a year ago. The whole house had been badly neglected and abused by a relation of the heir, but it had lots of potential. The first room I saw was the kitchen, and it sold me on the house (well, second only to the charming exterior and country setting). But the 10 foot ceilings with cabinets all the way to the top finalized the infatuation. The kitchen as I saw it was done in the '50's, but no one in the family could remember what it looked like before that (I'm guessing it was truly an unfitted kitchen, as we saw no evidence of a cabinet footprint).
We wanted to work with the house's assets (from a preservation mode as well as a cost savings standpoint), so I aimed for a vintage look that had been updated through the decades. Everything was DIY with the exception of adding a gas line and some small electrical and plumbing changes to move the fridge location. We're living in and working on major restoration throughout the house, so I had to keep it simple and stick to my $2,500 budget ($5,500 total if you include the used appliances we bought on Craigslist before we closed on the house).
Here are the details:
- Cabinets: original cabs, painted BM Vellum with ADVANCE paint (new doors to be purchased later)
- Counters: Formica Basalt Slate
- Backsplash: beadboard panels from Home Depot painted BM Linen White
- Appliances: Thermador 30" dual fuel range and vent hood (not yet installed); SubZero 700 series fridge; Kitchenaid dishdrawers
- Sink: Ikea Domsjo double basin sink
- Faucet: Kraus 1602 Pre-Rinse Commercial faucet
- Pulls: Belwith Studio pulls (discontinued Venetian Bronze finish from eBay, spray painted in Rustoleum Carbon Mist)
- Island: clearance JCPenney foyer table, topped with butcherblock remnant
- Lighting: 4 light chandelier from Overstock; undercabinet waterproof LED strip lights (SMD5050) from HitLights
- Paint: BM Bennington Gray walls, BM Linen White trim and ceiling
- Floors: original quartersawn heart pine floors; sanded and finished with four coats of Original Waterlox
- Windowseat: original 1920's seed box found in the attic
- Breakfast bar: Ikea EKBY desk (added Craigslist brackets and painted everything BM Vellum), with JCPenney clearance saddle stools
Before purchase (the previous resident left it trashed):
After:
Breakfast bar: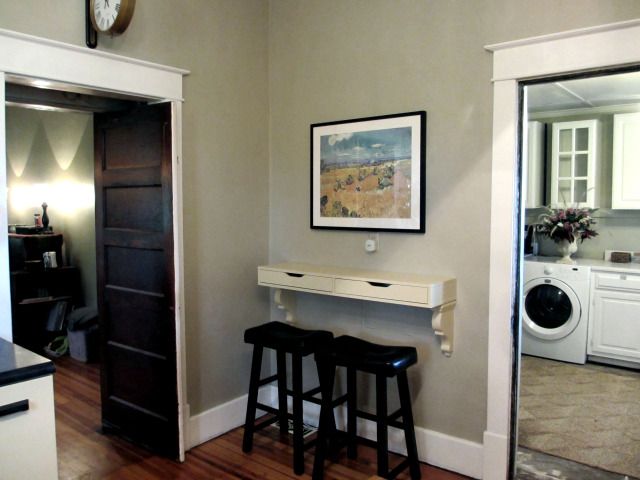 Seedbox windowseat: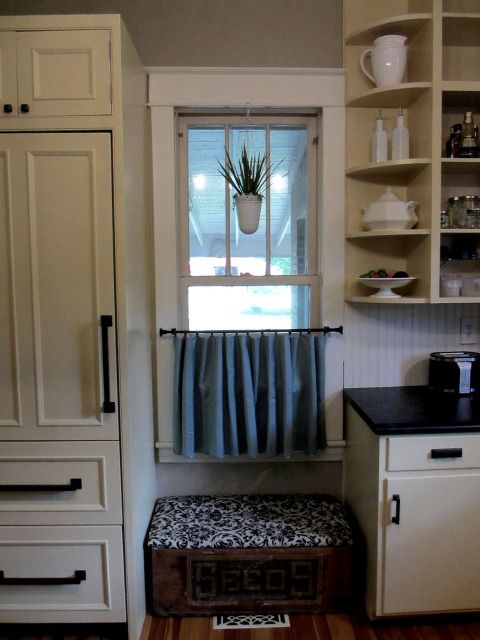 Sink view before and after:
Range view before and after: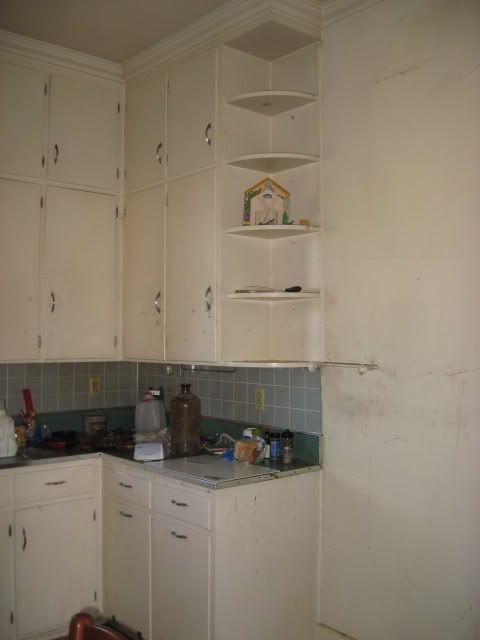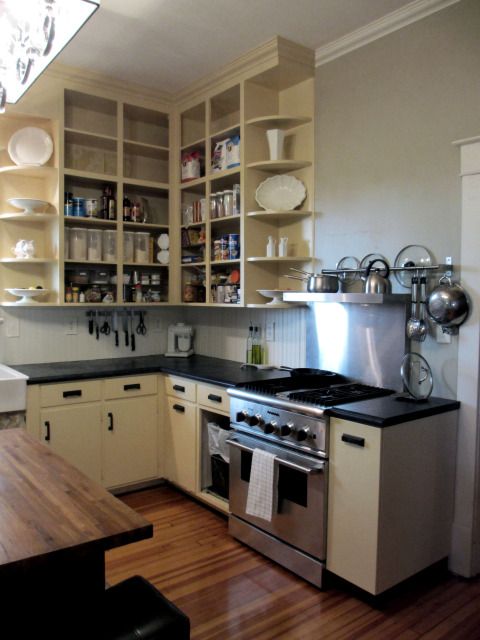 Dishwasher view before and after:
Fridge view before and after: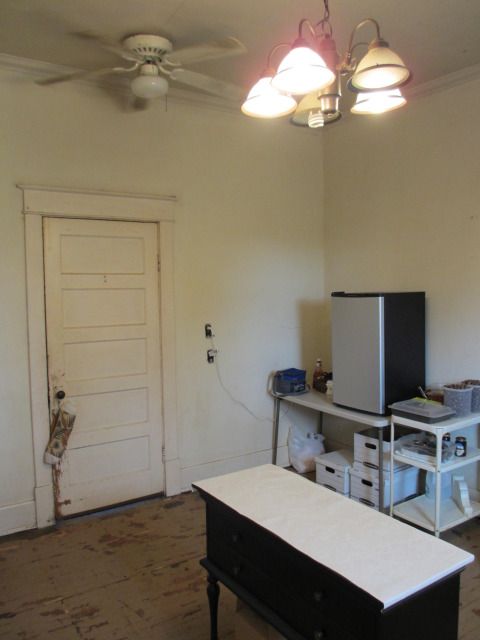 Floor (after stripping three layers of vinyl tile and lino; and after sanding and Waterlox); and yes, the color does seem to match our dog!