Updating 90s honey oak kitchen for resale
leightx
September 20, 2011
Hello all!
Longtime lurker, first time poster here. I've been so inspired by all of the fabulous kitchen redos that we've decided to tackle a project of our own. Here's our situation.
We moved into this house 11 years ago, and have been stuck with honey oak cabinets, white laminate, and greyish white ceramic tile the entire time. We haven't really had the extra cash to remodel, and now we're looking to move to a different area entirely. We're trying to play that delicate balancing game between updating the kitchen for resale, and not spending more than is absolutely necessary.
Originally we thought we'd restain the cabinets ourselves, and look at slightly better laminate, along with cheap tile. After looking at the big box stores, we can put in granite for just a few hundred more, and I think that might be worth it.
There is an argument to be made that we won't get our money back on these updates, and I'm not sure that we will. We're competing with brand new builds (all dark wood cabinets and granite) and slightly better schools less than a mile away. Our house is also large for our neighborhood. Very few people will have updated kitchens in our neighborhood, but we're hoping to compete more with the new homes down the road (ours will be priced much lower per square foot ~ $70 vs $100). But with white laminate, honey oak, and cracked ceramic tile, these are updates that I'm worried potential buyers won't be able to get past.
Current kitchen is about 300 square feet of tile, and 72 square feet of counter top.
So, here's the plan:
Cabinets: we're currently experimenting with the General Gel Stain in Java, using Celticmoon's directions (thank you!!). I think this alone is going to be a huge improvement. We'll probably add very inexpensive brushed chrome (nickel?) knobs and pulls.
Granite: it seems like we can expect to spend about $38 / sf of level 1 granite, installed, usually with a new undermount sink thrown in. We were leaning towards New Venetian Gold, St. Cecilia, or White San Francisco. Any thoughts as to which would be the best for resale? WSF doesn't seem all that popular but I think it would look great with the cabinets - here's a pic which is fairly accurate (more greys than the golds in NVG or SC).
Backsplash, tile - we may do the backsplash ourselves, but will hire out the floor so we might avoid getting a divorce. Here's are a couple of options we looked at at the tile store (with our java gel-stained cabinet door for reference)- Travertine tile for floor on the left ($4/sf), White San Fran Granite in middle, Java gel stained cabinet door on right, and travertine subway backsplash ($6.50/sf) under that. The travertine floor tile looks darker and pinker in the pic than it does IRL - it more closely matches the color of the backsplash.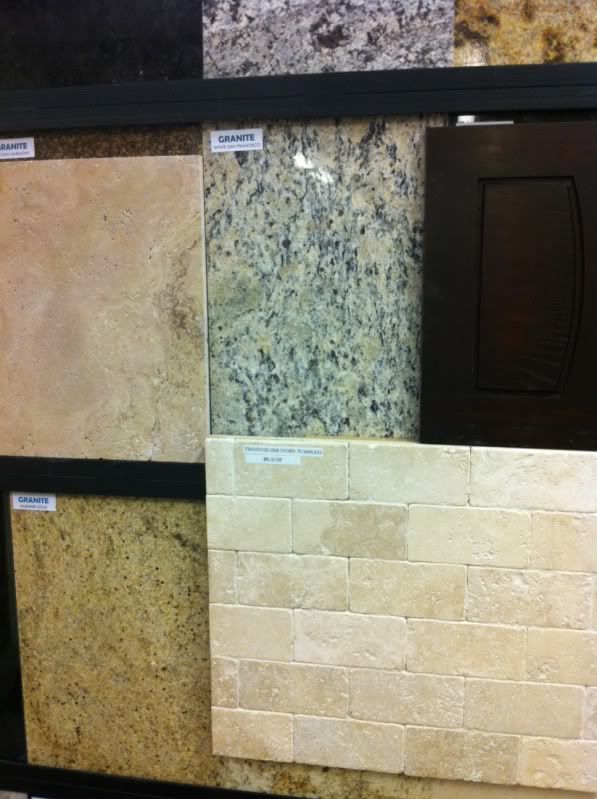 So...my question to all of you! Is this combination something that will be worth doing? Is it neutral enough for resale? Could we get away with spending less? Thoughts on color schemes, granite, or tile choices? We'll also be updating the lights to get rid of the nasty fluorescent boxes - any ideas? Simple cans?
Thanks!
Leigh