Please help me choose a counter (I am really waffling!)
Okay, I have the cabinets in, and although the floor isn't stained yet, it will be a medium walnut. The house is a plain and simple, small, 2 story colonial in a "starter" neighborhood. Seventy+ years old. My vision was based on my love for the rooms in the actual shaker settlement near where I grew up: airy, light, simple and clean. So, I was thinking the classic light cabs with dark counter. But, as I looked and looked at choices, I thought that I really wouldn't want a black counter.
My cabinet paint color didn't turn out quite as I planned, it is much more beige than the warm grey it was supposed to be, but I think that I can work with it.
I really love greenish soapstone /slate and have spent several weeks trying to figure how to get it within my budget(plus, there really is only 1 slab, black, available in my town right now! I would have to order it from Texeira)
I've pretty much narrowed it down to either River White (or a Bianco Romano that is very similar in color & feel), or steel grey. If I could find the steel grey in a honed finish I might like it more. It is the economy choice which is a factor too.
How do you vote? The pictures show various paint colors that I am thinking about too -- it will be a pale blue or green. I threw in a pictures of grey-green slate too, it is not totally off my list!
The overall kitchen view (the cabs are not as pink as they appear here!:

Against a door, with various paint chips

Slate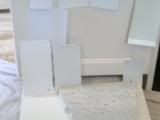 River White granite

Steel Grey granite
I think River White is very pretty, but wonder if it is a little too "blingy" for this space, or if a full counter will have too much of the garnet color in the background even if I am careful to find a slab that doesn't look like it.
I also worry that the grey will be too dull, and that if I find a way to get the slate in, that it will scratch up too much!
I just keep going round and round! Help me, please!