HELP -my soapstone "etched"
muskokascp
September 4, 2013
I say "etched" because that is what it looks like, even though I know soapstone does not etch. I am not sure what happened and not sure exactly how to fix it.
About 5 weeks ago a funny blotch showed up on the stone that was dull and easily seen especially when the light hit it just the right way - looks just like an etch on marble. The blotch was irregular and suggestive of a liquid of some sort. I tried cleaning it with soap and water - no luck.
Last weekend more of these areas showed up on the island. I can only narrow it down to I think either Mr Clean or Mr Clean Magic Eraser. I have not really used these products much but I did use the Magic eraser last Sat while I was washing walls. I used the Magic eraser on one of the areas thinking maybe it would remove whatever the product was that was marring my beautiful island. Instead I have a circular area that is now dull and looks similar, although not exactly the same as the other areas.
I did not oil my soapstone with mineral oil when it was installed because the supplier uses the wax provided by The Greenmountain soapstone company. So I thought maybe the cleaner just removed the wax and it needed to be reapplied. Tried that - no luck. Then I got out the mineral oil and used that -waited 36 hours before removing the excess. The marks are still visible.
Short of resanding the island , I don't quite know what to do and how to prevent it from happening again. I wish I knew for certain what caused the problem to begin with. I am quite surprised that something actually changed the soapstone to make it look etched.
Here are the pictures I took this morning - this after both the waxing and mineral oil. Does anyone have any ideas?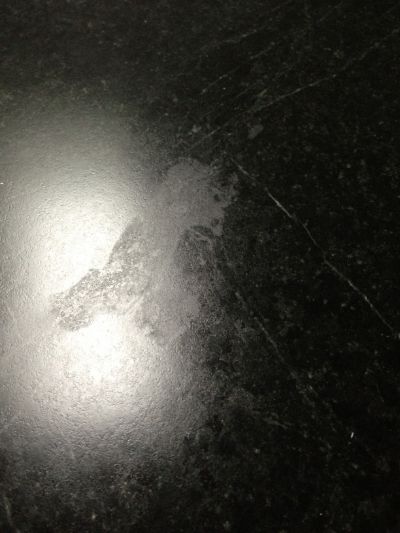 This is the same area further away - you can see another smaller one below it to the right and up towards the top edge of the island there are more that the light is just sort of catching.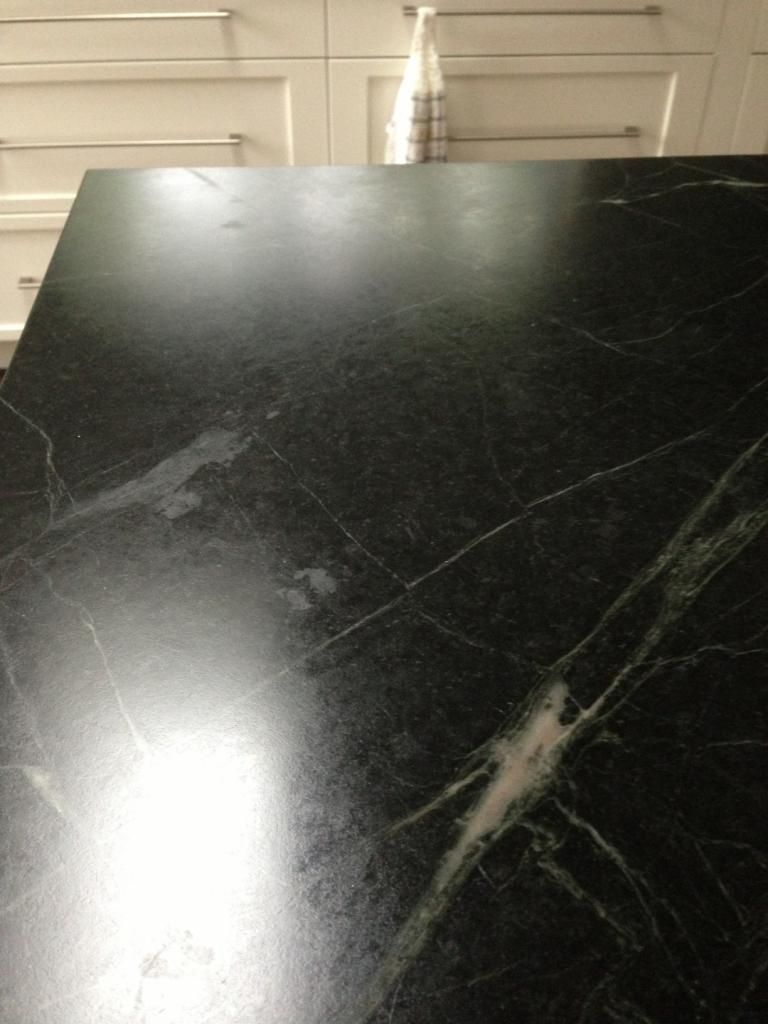 The whole highlighted area below is not the spot I am referring too - this is a reflection from the patio door, but you can clearly see the two spots in the center of this area that are dull.