Marble with Clearstone pic
romy718
September 21, 2013
5 different finishes on the two pieces, high polished to honed. After I talk to the applicator on Monday, I'll do some etching experiments.
My one concern is the edge of my ogee. I told him that I wouldn't want to be able to see the layer of coating and he said he would work the edges so it wouldn't be visible. I'm not sure because I don't remember exactly what this ogee edge looked like before the coating was applied but the edge does not appear as sharp as my countertop edge. I have to talk to him about that. Even with the polished areas, you have to bend down to see the coating edge. I have to find out if he can "work" the edges less and keep them sharp.
Srosen is a Clearstone applicator, so I am hoping he will see this & give me his opinion.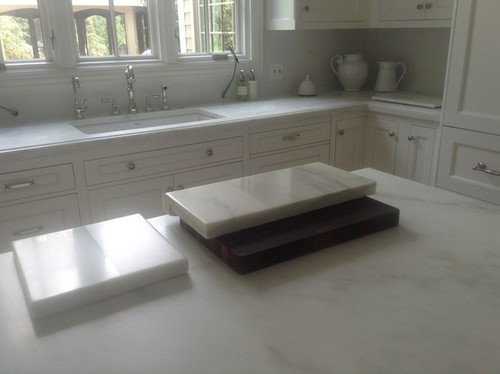 This post was edited by romy718 on Sat, Sep 21, 13 at 20:01