I got my marble samples with Clearstone coating
romy718
September 21, 2013
I just happened to buy my backsplash tile from the one company in my area that applys Clearstone. Someone posted about it a few months ago but noone on the forum had seen it or used it. It is a coating that protects marble from etching & staining, with a 15 year warranty that includes ETCHING!
I gave them a sample of my Imperial Danby marble and a sample of another Danby marble that has the ogee edge that I used for my countertops.
This is one of the samples with the coating applied. One side has a honed finish, the other side has a high honed finish, although it looks polished to me. I really like the honed finish. It looks almost exactly like my honed marble, except a little smoother to touch. I will post a few more pics. Sorry, i havn't mastered more than one pic at a time.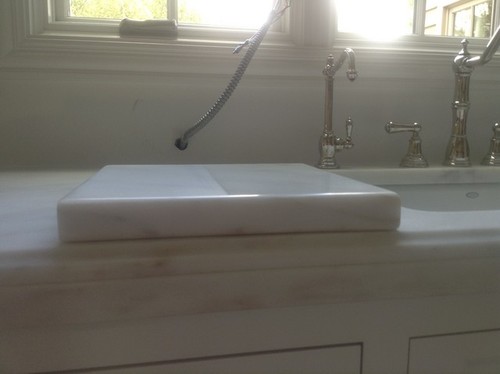 This post was edited by romy718 on Sun, Sep 22, 13 at 1:59