Kitchen Reveal - Brown Painted Kitchen
jennsbabysky
September 28, 2012
Long time lurker, feeling guilty for enjoying everyone's advice and beautiful kitchens and not posting my own, so I'm changing my pattern! Unfortunately, I started really visiting this site when my own kitchen remodel was over, I'd love to make some modification!
We've lived in our house for 9+ years and have been gradually tweaking the kitchen, so the kitchen has been evolving over the years.
When I designed the kitchen, I planned for a white/cream paint. My husband really wanted color and preferred a dark brown. I googled images of brown painted kitchens and found few results, but one in particular I fell in love with, hence our kitchen was painted dark brown. Most of our wood is walnut, but to keep costs down, we kept the original frames and granite. Our original kitchen was too small, had no pantry, and only one oven. We remodeled to fix these issues. I "borrowed" our current kitchen photos from our previous real estate listing. We listed our house on the market early this year and then decided we'd rather stay. I've been planning to take new pictures, but after 9 months and no pictures, I'm thinking that is one item on my to-do list that might never get done!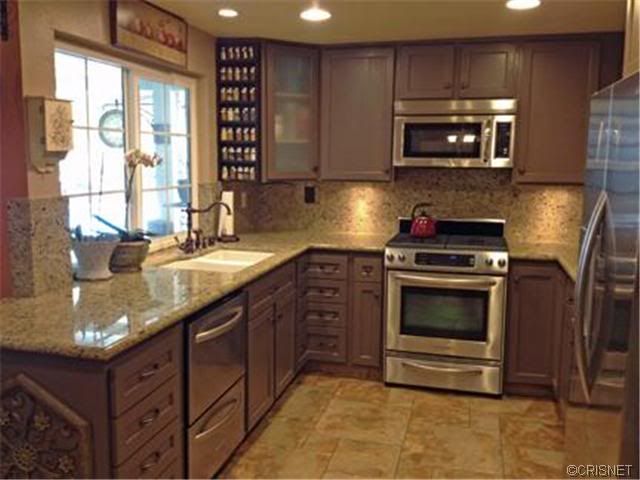 You can see our new pantry on the right of the photo, we used frosted glass panels. Hind sight being 20/20, I would have the roll out shelves recessed a few inches back from the door so that the frame wouldn't be so visible. The pantry area was previously our eat in kitchen.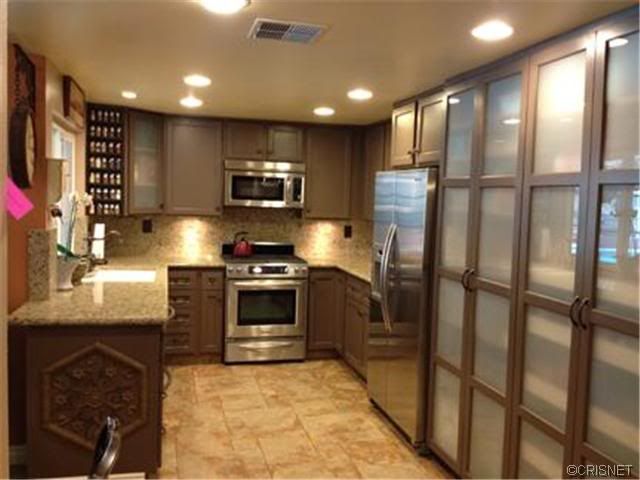 We added this "entertaining" area below to our former dining area and knocked down the wall between kitchen and dining space. This allowed us to add the second oven and much needed storage. I considered making this a beverage center (it makes more sense with the space, but we have a refrigerator in the garage and a small one outside).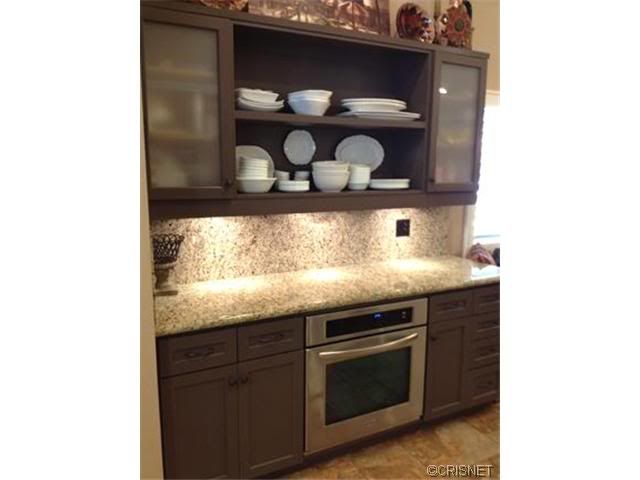 New dining area (formerly the never used living room). It was unplanned, but we were able to reuse our existing built-in banquette. Our cabinet guy just made a large second extension so that it would fit the space. Lots of storage for infrequently used items. And easy to cram people in for holidays.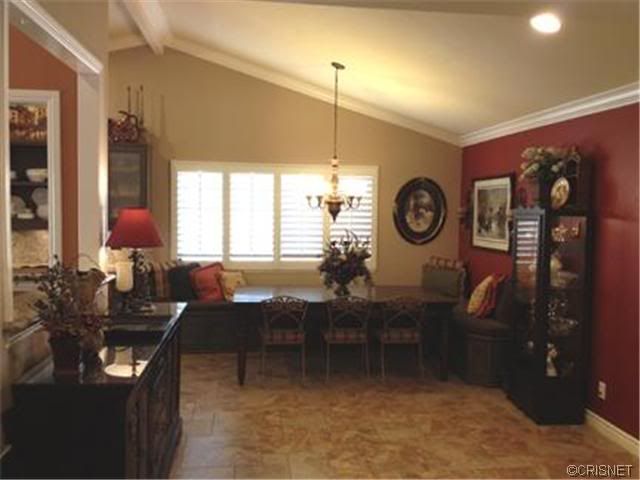 Another view into the kitchen/dining space: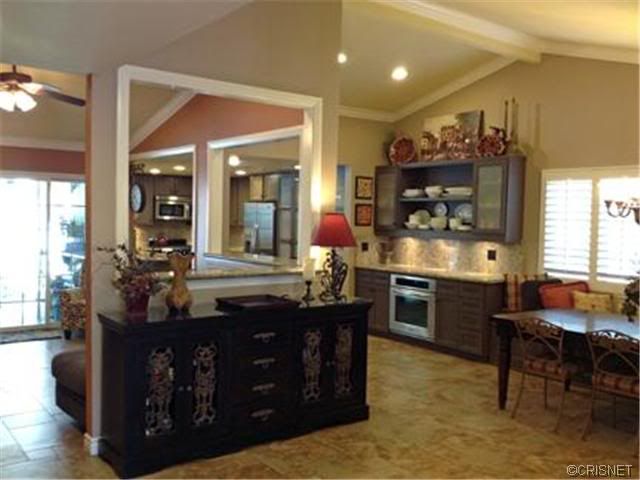 View from family room to kitchen: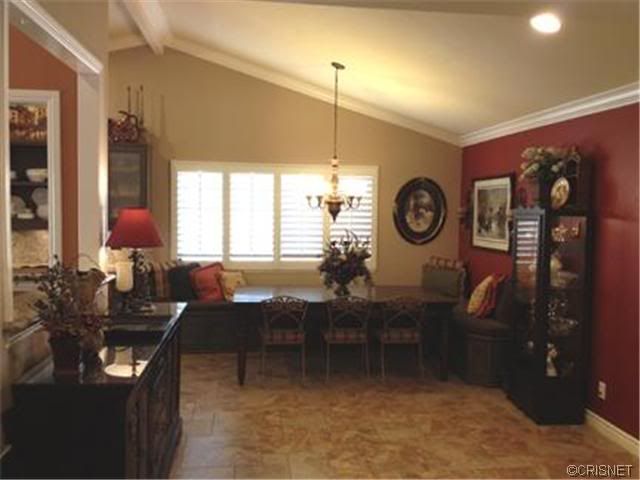 And for those interested, I'm posting pictures of my kitchen evolution below.
Picture of kitchen when we were doing our inspection to buy the house, I don't have a good picture of the overall kitchen, we were focusing on changing the light fictures/flooring/removing popcorn ceiling: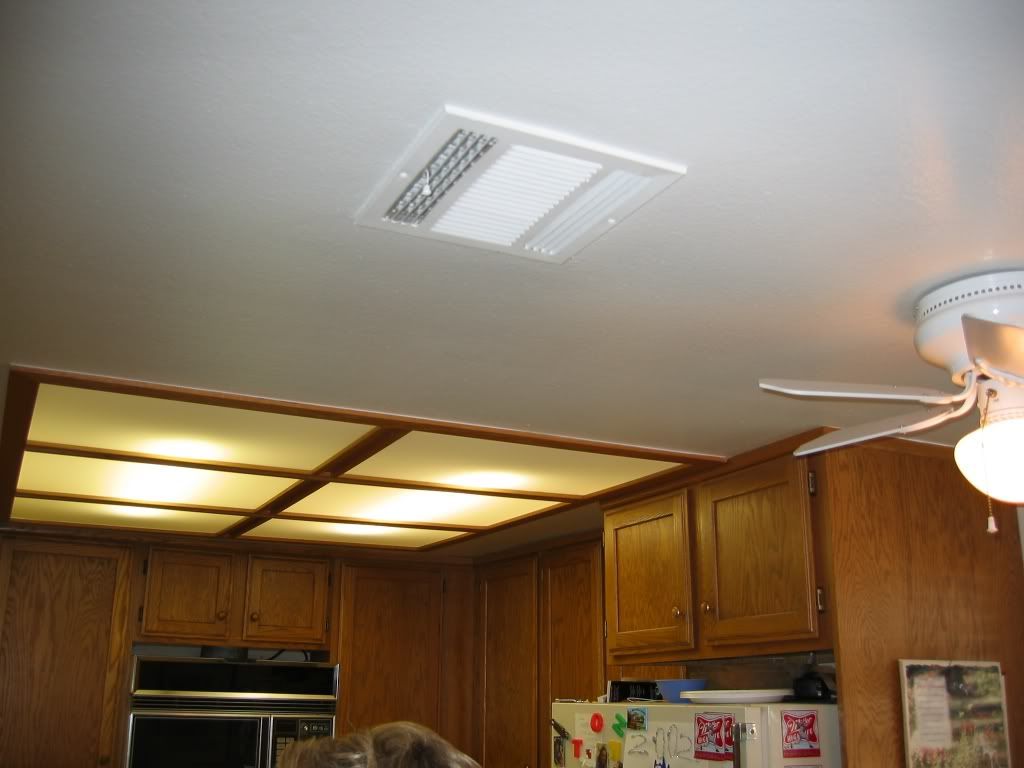 And original dining space:
After 1st two rounds of modifications. First we painted cabinets white, added granite, replaced appliances, lights, and floor.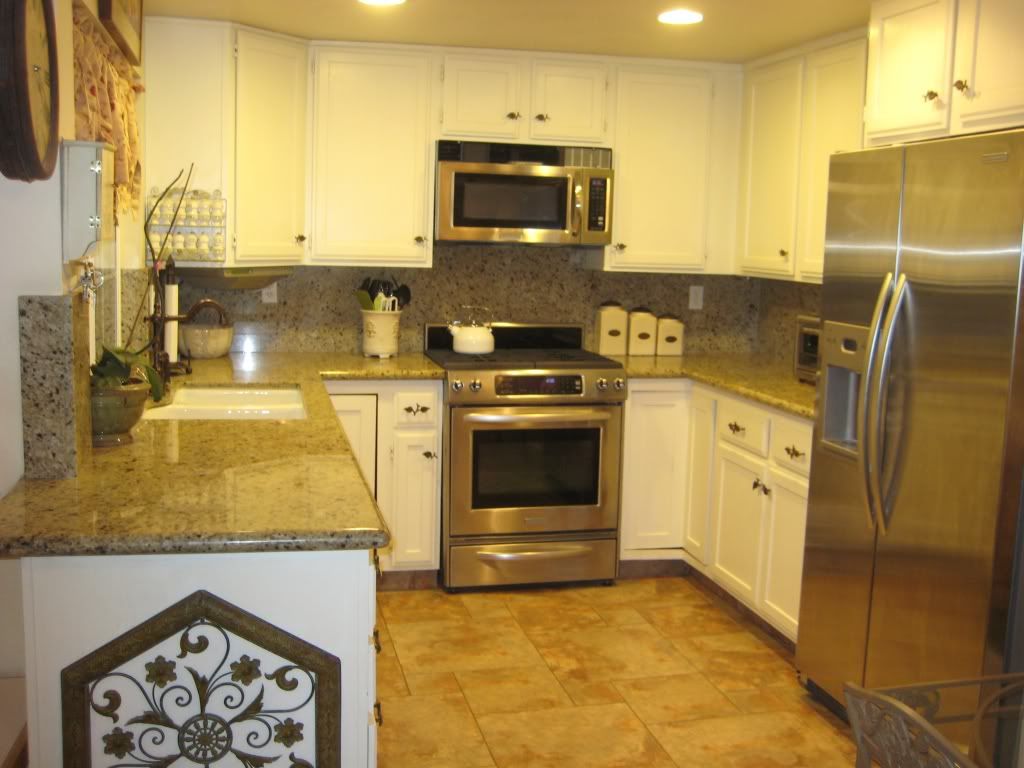 View from family room. Notice the wall on the right. We cut a huge window in that soon.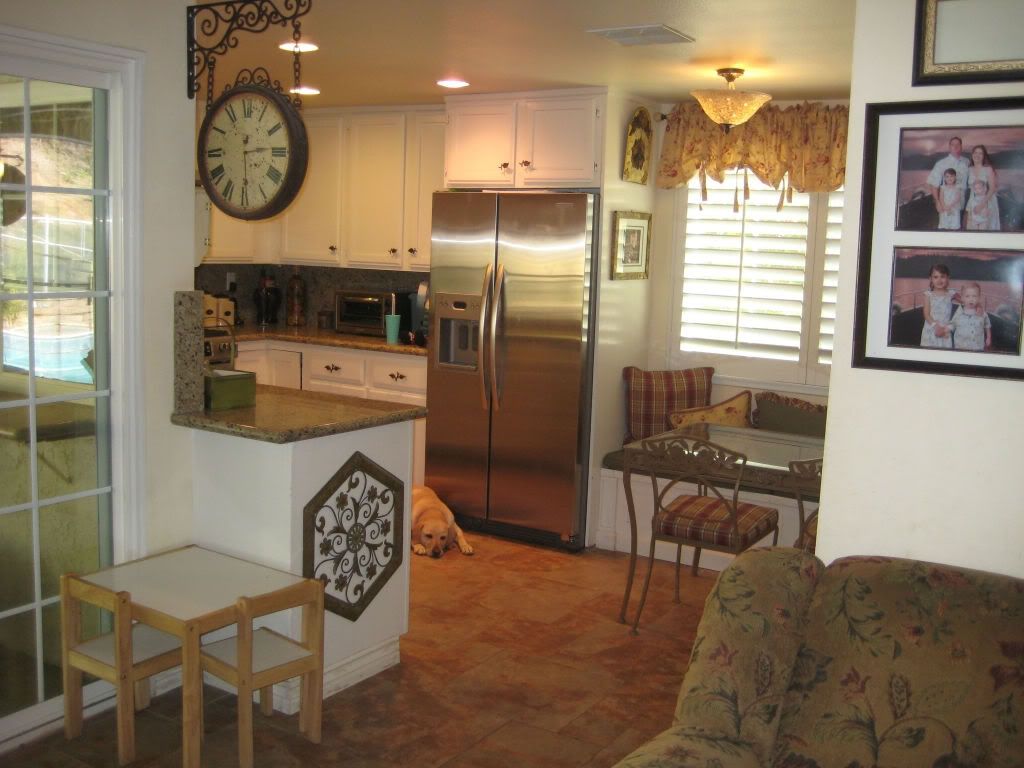 After the wall is opened.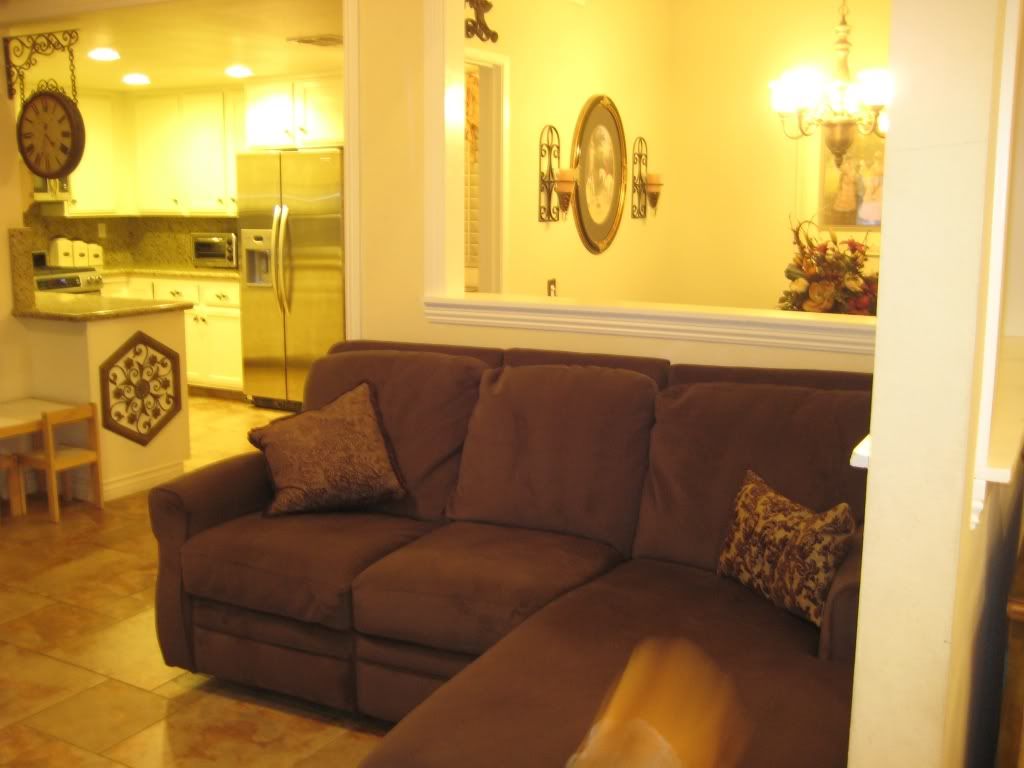 Original dining room. The wall with the oval picture is removed. I reused this banquette.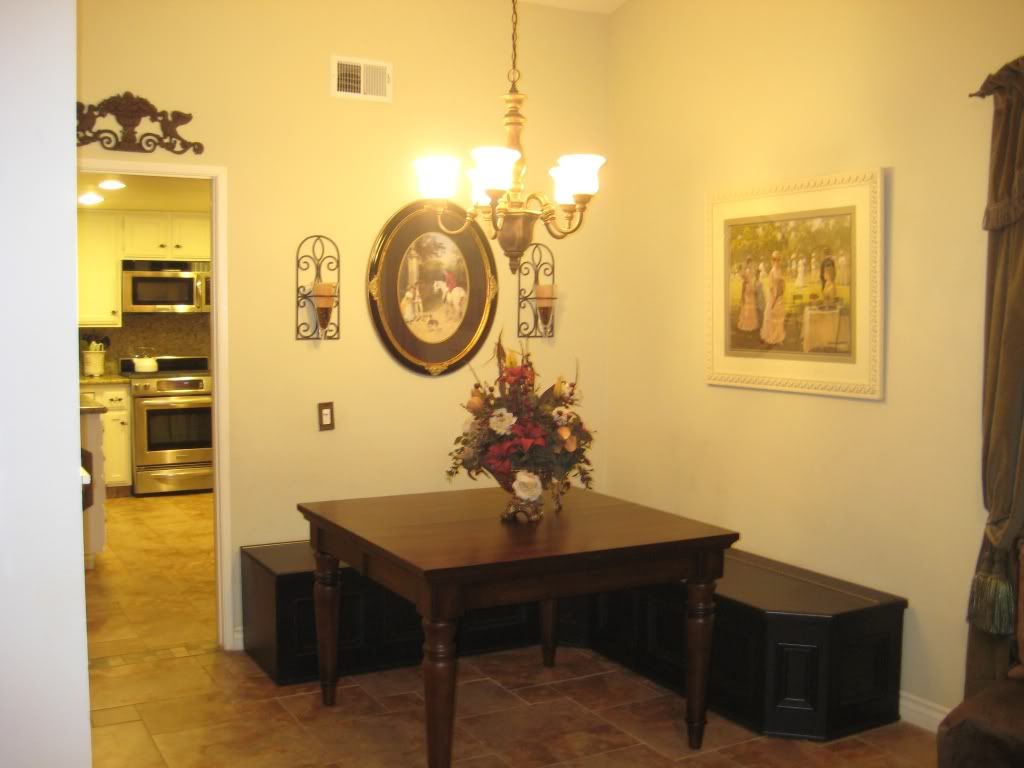 Details:
Venetian Gold Granite
Appliances: KitchenAid
Custom cabinets/refacing
9 years in transition (and probably still not done)
I originally did the full spash of granite because my kitchen was tiny. I kept the full splash because we didn't want to redo the existing backspash.
Thanks for letting me live vicariously through your remodels!
Jennifer