Need to move a recessed ceiling light - where to put it?
rjkidwiler
September 12, 2013
We realized today that the position of one of our recessed lights is not going to work when they put the trim up on our cabinets. This should have been caught before the lights were put up (when they were looking at the plans) but it was not. We currently have 3 lights evenly distributed on one side of the kitchen and 2 lights on the other side in between. (see pic). The light closest to the doorway needs to be moved. The question is - should we leave it in the same location (so that the three lights are still evenly distributed) but just move it out on the ceiling, or should we move it out but also center it in front of the refrigerator cabinets?
Do you think it would make a difference visually/aesthetically or functionally either way? Also how far 'out' should we move it - to the center of the doorway?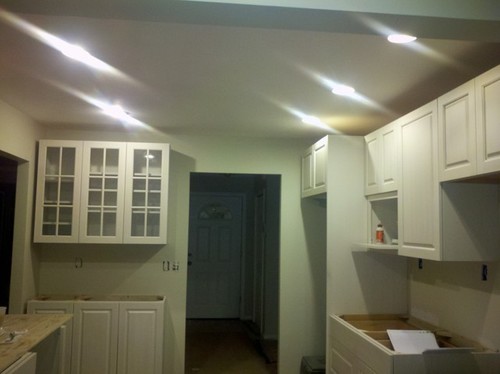 This post was edited by rjkidwiler on Thu, Sep 12, 13 at 12:45