Glass cabinet insert(s) in this kitchen?
Hello again, gw gurus! Now that the granite countertops are in, our budget kitchen facelift is moving along to its next phase: painting the kitchen cabinets. I know many here will find them hopelessly outdated even with a paint facelift, but we are happy with their functionality and really could not justify new despite the lack of drawers, etc.
I got some great advice here on paint colors and was hoping some of you might give input on whether replacing some of the upper insets with glass might help alleviate the oppressive, heavy feel somewhat? It's such a small space, and there are just so darned many of them, but I do love the storage. My thought was to replace the center 2 doors (on the bank to your right, in this photo) with glass, but friends thought that would look disjointed. Not sure I would like the look of the entire center row in glass, either. Here is a picture of the kitchen from the adjoining nook. Hard to get a straight shot into this small space: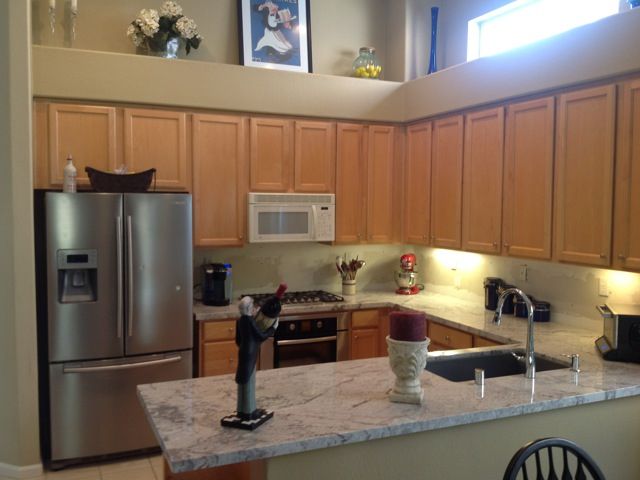 Cabs will be painted SW repose gray. Hardware will be Amerock Rochdale pulls in graphite. Floors will be medium cherry, bs plain white subway, and ss vent hood soon to replace OTR microwave and cabinets above.
Would adding glass be the equivalent to putting lipstick on a pig in this kitchen? Your thoughts and ideas are greatly appreciated!