Countertops are in! Can you help with cab color & bs?
I am grateful for the help I have received so far from GWers on my budget kitchen facelift. Thank you! Now that the countertops are in, I am ready to choose cabinet paint and go through the dreaded bs decision process:) I am hoping that some of you might share your design expertise on these choices and let me know if what I am envisioning will work in this small space.
The kitchen itself is tiny (10x6), but in an open floor plan connected to a nook and family room. I find it functional and chose not to change the cabs because they are in good shape, just orangey maple. Here is what it looks like with the new river white granite (love!), silgranite metallic grey sink (double love) and new oven and cooktop. The horrible OTR micro and cabinet above is being replaced by a SS chimney style vent hood (in transit). Floors will be medium cherry wood (not reddish in tone). Here is a pic looking into kitchen from the nook. My apologies for the poor photo quality and state of dissaray: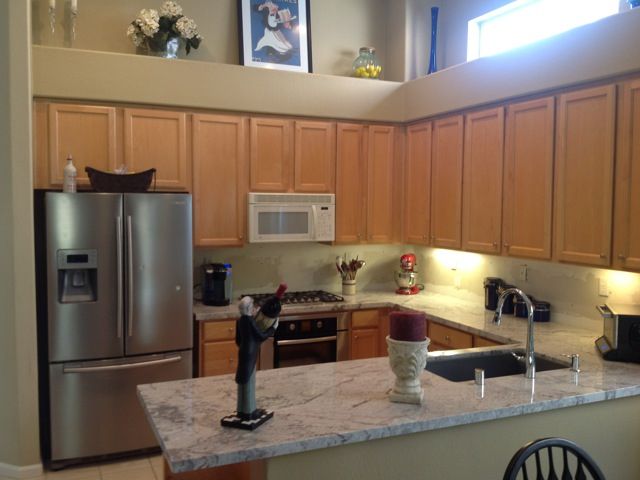 A close up of the river white: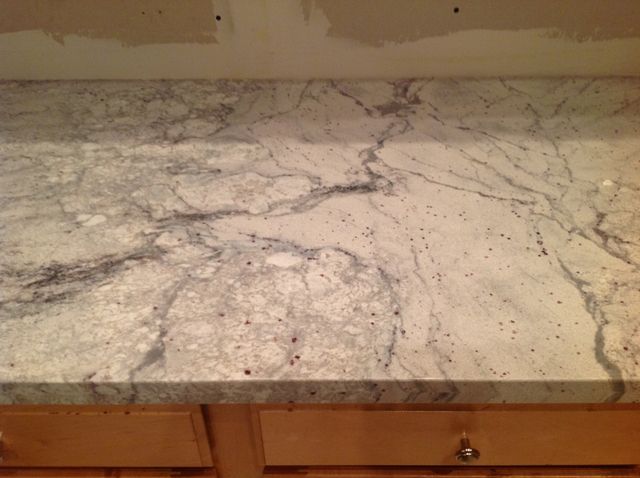 I would like to have a grey kitchen, and am considering painting the uppers lighter than the lower bank. I am not terribly concerned about darkening the kitchen as it gets a lot of light from upper rectory windows and the adjoining rooms, but I do want to avoid a cave effect. I painted 3 large swatches of board with BM whites, but the effect was stark next to the wall color in the space (BM HC-23). So, I'm thinking about this combo:BM revere pewter or sea pearl uppers, and Chelsea grey lowers. I like this true white, plain subway tile, but could be persuaded otherwise:)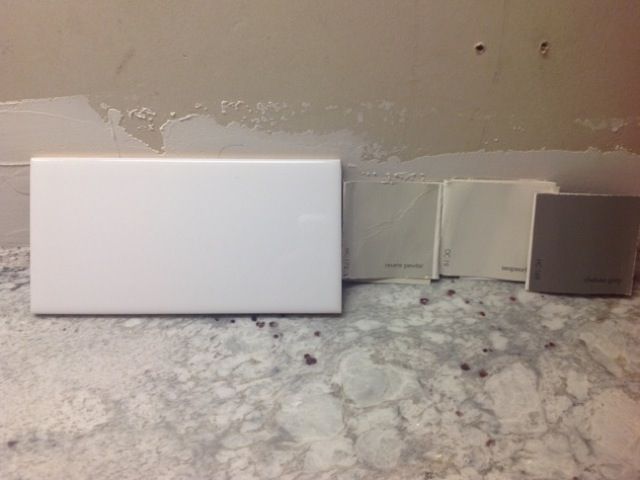 Am I going too contrasty/dark? Are there other greys that might look nicer and still coordinate with the current room color? I realize that I will need to see the colors in my space, but would like to at least narrow the choices down before spending $$$ on paint.
Thanks in advance for any input or ideas you might have!