Sinking Dreams - Redoing my 1930's Kitchen
sergeantcuff
September 24, 2008
I'm sure everyone goes through this. Don't we all start dreaming before we start looking at the prices? I love so many of the kitchens I see here - much more so than in the magazines. But I have an extremely practical DH who loves to cook - but sees the kitchen as a workplace. I don't know if I can justify the expense of what I really want, especially if it involves borrowing money.
I've posted these pics before (sorry) and I got many great ideas. Now we are getting an idea of what we can and cannot do, so I am looking for more input from you great people.
This mish-mosh was started in my 1930's center hall colonial. It has very nice features but is not large.
These cabinets cannot be reused for several reasons (18" depth in places, giant radiator in there). It is KILLING me to have to replace these with modern cabinets, because I prefer a vintage look, but just can't afford the custom made, or a semi-custom line that offers inset or partial overlay with exposed hinges. These pictures make the cabs look much better than they really do.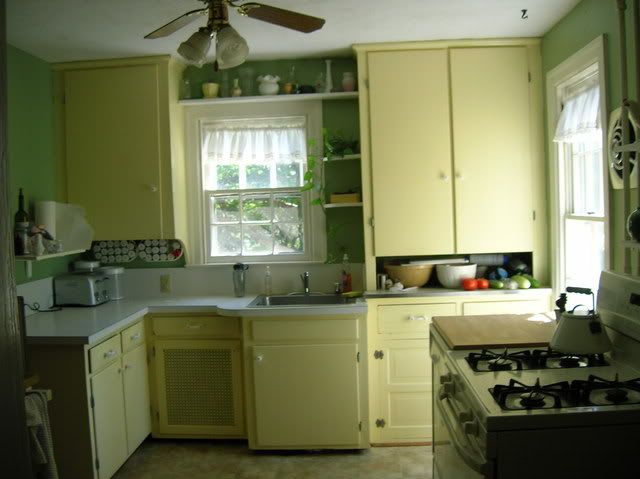 We must move the radiator (asbestos issues), enclose pipes, replace the large window with a smaller one, drywall the ceiling, remove layers of flooring and refinish original pine floor, and repair plaster walls. This doesn't leave a ton of money for beautiful cabinets, etc.
Our Layout: I think we will have to basically stick with this, as I want gas range on outside wall and sink under window: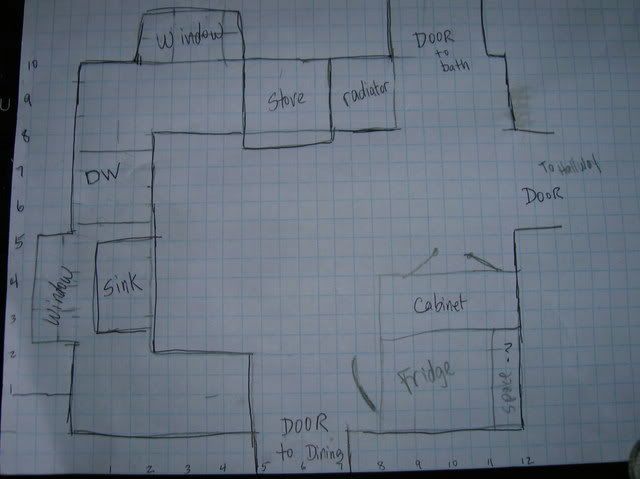 Here are my questions:
Cabinets: I still want painted cabinets. I prefer that look, especially with a wood floor. My contractor (who specializes in historic restorations) is suggesting Merillat - saying you get a good product for the price. They offer a painted finish in 2 whites and a cream. The trim throughout my house is white. I've read Sayde's recent post about whites, it's rather bewildering! Also I am worried that I will spend the extra money for these lower-quality painted cabinets and they will feel like laminate? Is that a waste of money? Is full overlay shaker style the best among my limited choices? (see link)
Appliances: We may have to keep our old ones (bisque). I think stainless is too modern for this house (not all old houses, I think just this space). But if we got new white ones (I've been looking at the Kenmore Elite series), would white appliances go with cream cabinets?
Sink and Countertops: I would love to have soapstone (maybe with some butcherblock) and a drop-in fireclay sink. Again, I can't have these if I spend too much on the cabinets!
Microwave: I want a hood above the stove, but I don't think I like the look of the above-range microwave. I don't use it that much,so i don't want it in my face. Where's a good place to put it? (I love those in-counter ones, but am sure it's pricey).
Thank you for reading!
Maureen