Layout Help: No Idea How to Make This Functional
gsleader
September 24, 2013
Browsing the site I am amazed by the ideas and the helpfulness of GW members. I am so out of my element with this kitchen, any help would be appreciated. We have no idea how to redo this kitchen to make it functional.
We are a family of four (2 adults and 2 teens). I am the primary cook, although daughters occasionally help out.
My main goals in the kitchen are to improve work flow, put storage near where it is used, get rid of the clutter collector/desk, and get ventilation over the stove. I am not wild with the sink and stove in the island.
We cannot move doorways, but we can move appliances. We rarely entertain, but when we do it is informal. We are a casual/comfortable family.
On the scale drawing each square is 3".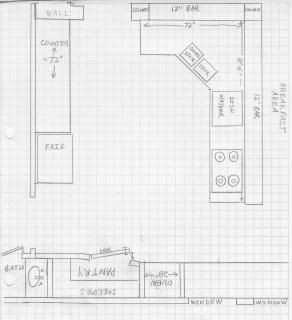 And a very rough sketch of the rooms surrounding the kitchen:
I do have a kitchen designer coming by the house, but I would like some ideas before he comes.
Thanks