Do appliances have to "match"
OK, it is 4am and the only thing that would clear my mind so I can go back to sleep is to post here for advice. We are building a new home and it is time for me to decide on these appliances.
Here is my dilemma. DH and I fell in love with the Fridgidaire full size fridge and freezer pair, and kitchen cabinet gal managed to incorporate them into our L shaped kitchen layout. I also want a single wall oven with an Advantium oven above.
Now I am panicked that the fridge/freezer will look terrible next to the Advantium (240 oven) and what I guess has to be the GE Profile oven. Please give me your opinions on these questions or come up with a new ideas!
1) Do I give up the Advantium for an oven/microwave stack? The Advantium is expensive, but I had one in San Fran and loved it.
2)Do I go for a different double oven that looks better next to the fridge/freezer and find a home in the layout for a microwave? 2nd oven won't be used that often, but I feel is needed for resale (if we have to)
3)Am I married to the GE Profile Oven if I go with the Advantium?
4)Should I consider something crazy, like stainless fridge/freezer with black or white Advantium and oven combo? If I did that, would I stick with stainless dishwasher?
We have worked and worked with this layout, so it can't really change. I am going to post separately for help with the corner cooktop hood....
I can only figure out how to insert on shot of the layout. Hope this one helps!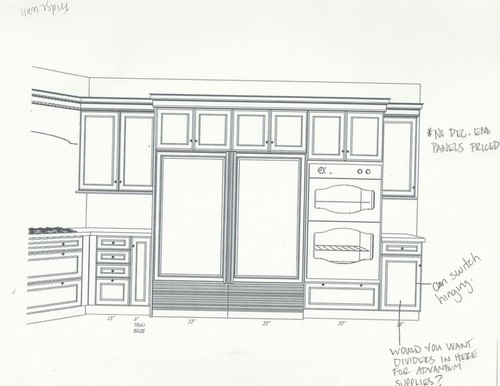 Here is a link that might be useful: Advanitum