Cabinet hardware
Hi,
My husband and I are not very handy, but we are trying to do some updating to our house this summer. We have replaced a few light fixtures, done a little painting. So far big improvements. I think we may have a small problem though. Want to get your opinions. I cleaned all the cabinets, and shined them up. We picked out new knobs and pulls, not really thinking about the hinges, and got them all on. However, they don't match the hinges. He thinks it looks fine, but I'm not so sure. What do you think? Do you think the hinges are dark enough to blend in, and not be very noticeable? Or do they look funny? If so, what are our options? We still have the old hardware, so I guess putting it back is an option, but I hate to do that. That means changing hinges??! What did I get myself into?
See more pics below.
Thanks for any advice.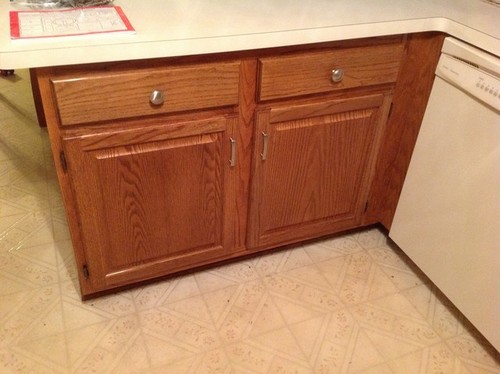 Here is a link that might be useful: Additional photos, and before photos