Herringbone BS underway...sudden impulse(pics)
...So I was all set to install my mosaic tile that I picked out and purchased several months ago. Lansdale Carrara marble from The Tile Shop. Creamy with golds. No veining, slight mottling. I chose this tile because I liked the subtle variations and the petite size.
I got the space all prepped ready to tile on Saturday. This is an earlier version of my sink wall. I now have beautiful casing up around the window and doorways painted to match the wall color.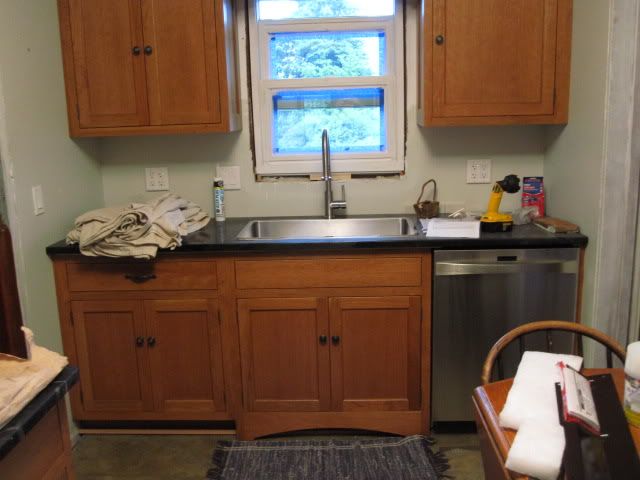 So I have been thinking herringbone all these months and each time I bring the topic up with friends I am told to just put up the sheets of mosaic, that it would be too much trouble. I would always agree as I've never tiled before. On Saturday I was looking at my plain running bond pattern then did an internet search on herringbone tile. I saw many beautiful examples, used in all kinds of places with all kinds of materials. On an impulse I started cutting the sheets up and installing herringbone. Here is my beginning:
It has taken me about 8 hours to get to this point. Kinda pretty, don't ya think? When I get done with this I have the stove wall to do.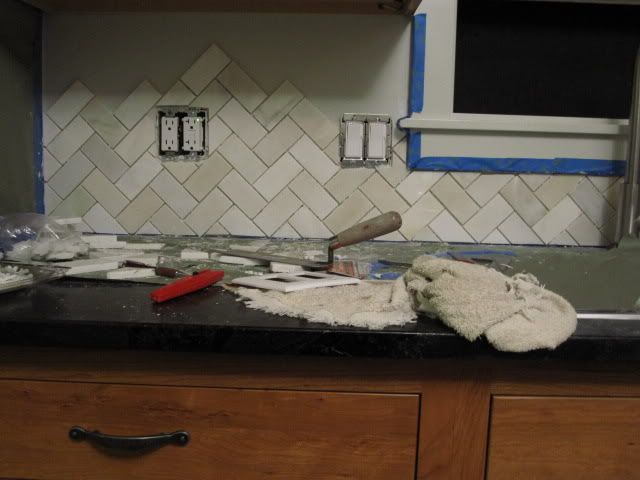 Boxerpups, would you be so kind as to post a selection of herringbone backsplashs to help me share my enthusiasm for herringbone! You always have such wonderful images and have helped so many people with their vision.