Color- pulling it all together with two toned cabinetry.
The decision I have been dreading the most is upon me. I have to decide on the color of the cabinets. I have several people who have a good eye for color who have provided input but I am hesitating to pull the trigger. Would love some GW honest feedback - please take a look and comment..
Long galley kitchen open at both ends. This view is looking to the landing. The paint color in the landing will be BM barley in matte finish
Cabinets on the sheetrock wall to the right
The other wall is adobe but most of the brick will be covered by cabinetry and backsplash except for a tiny bit to the right of the window
The cabinets on this wall
The window seat banquette at the other end. The brick here will be left as is. The seat itself will have seat cushions and back cushions.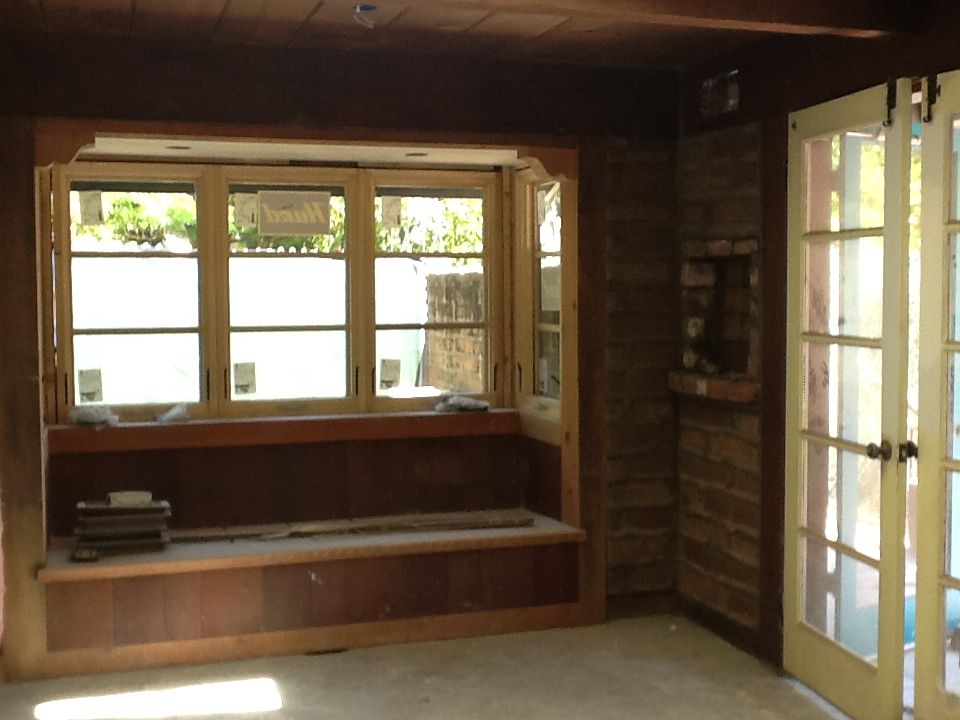 The vintage tile I am planning to reuse as a panel behind the cooktop and some tales here and there. I am thinking to use a 4in off-white tile as a field tile laid out diagonally.. But not decided yet
The hood will be a massive 57" barrel hood (modernaire PS26)with polished stainless lip and bands. The color will be a kind of a dark burgundy to pick up the burgundy color in the vintage tile. I have a 36in induction and a 12in gas wok top under it.
The countertop is belvedere soapstone.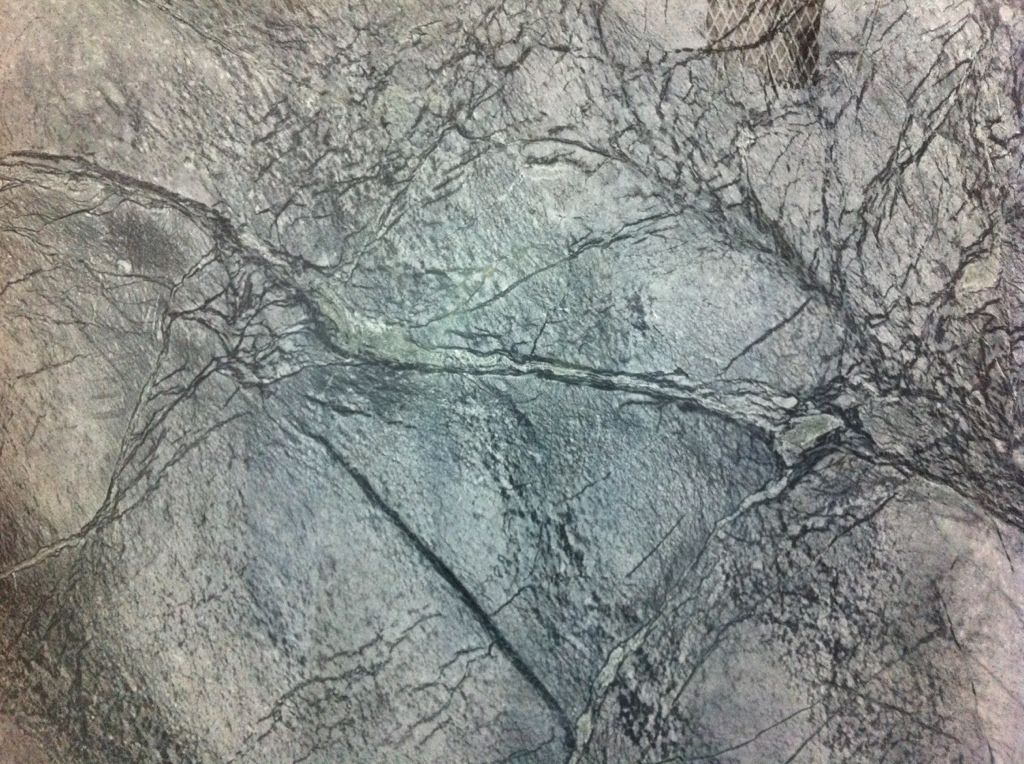 The main sink is 30in Rohl farmhouse in white.
Now the colors.. We are considering lighter green for the uppers and the darker green for the base cabinets.
Upper kitchen cabinets in #2144-30 Rosemary Sprig (low gloss/eggshell finish)
Lower kitchen cabinets in #2144-20 Eucalyptus Leaf (low gloss/eggshell finish) Refrigerator panel to match #2144-30
The floor is a Saltillo clay tile look alike reddish porcelain. The small deco tiles are in the same line. I liked it but a decorator acquaintance said it looks busy and will clash with the vintage tile. I like it but now am doubtful. The same tile continues in the landing and to the family room beyond.
Do you think it will looks too dark? My ceiling is wood paneled but I have 2 new skylights that are massive 3x3 structures. This is besides the banquette window with eastern light, and the French doors and the window and the Dutch doors which face south.
Here is the look of the rustic iron look hardware I am planning: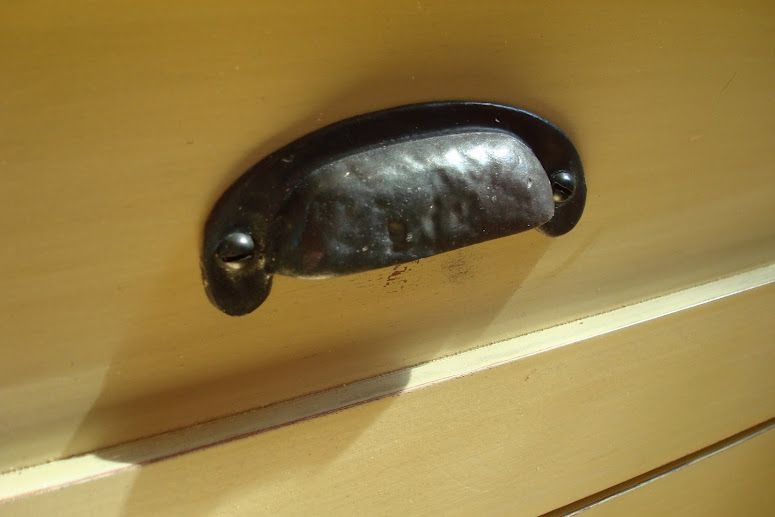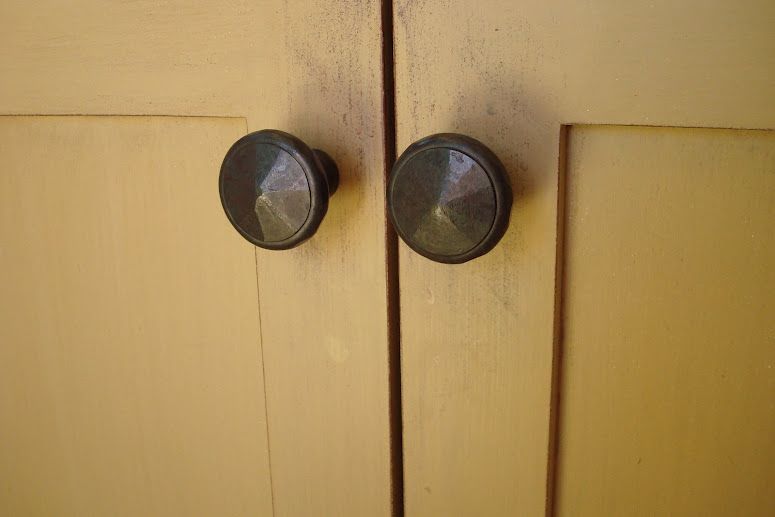 The lights will be classic school house lights hiding CA code compliant GU24 low voltage lights. The shades are a pale custard color and seem to make the color a bit warmer.. We shall see..
Finally, our Sweeby Test:
My kitchen feels cool and is a well-lit place for 2-3 people to work together. It is efficiently organized to cut down time for everyday tasks of prepping, cooking, cleanup, breakfasts, and lunch packing, as well as easy to work in, to make meals for a crowd. It looks timeless with clean lines and a simple palette that belongs with the simple, strong earthen look of my adobe brick ranch house. My backsplash is simple and blends with the adobe brick walls. My countertops have a well loved gleam and easy to see cleanliness. My equipment is accessible, looks clean and well used. There are interesting and useful items that add character and have a story to share. Fruits and vegetables add color. My family and friends find it welcoming for casual visits, hanging out, lending a hand and cooking together for impromptu get-togethers, special occasions, making jams, etc. We love lazy Sunday mornings in our sunny kitchen table with the paper, eating pancakes/eggs and looking out the window at the redwood trees and flowers. My kitchen has an easy flow to the courtyard for enjoying picnic dinners on summer evenings, or a quiet early morning cup of coffee, and to the veggie garden for fresh herbs and vegetables.
As many people have read thus far will recognize, my kitchen owes it's bones and soul to GW. A lot of material choices are ones I discovered and fell in love with here. Now to pull it all together.