Popcorn ceiling texture - is contractor's work acceptable?
I hired a contractor to, among other things, demo a soffit between KT and DR and patch the ceiling/popcorn texture to match. (The other soffits will be covered by cabinets/crown so don't matter).
Is this a good / acceptable job? I can sometimes be too detailed/picky so I don't know if it's just me. When we discussed this at his hire, he said he would get it "as good as it can". The ceiling had been recently painted so it's not a paint color issue. He also 'feathered' the texture into the kitchen and repainted the entire kitchen. What is visible seems to be result of slight differences in depth as well as some texture difference. I'll post a couple other photos following.
When I'm standing directly underneath the section, it's also visible, but what is most bothersome is to see this at a distance and have the ceiling seem marred (humble abode though it may be). They are 8' ceilings so a little more in field of vision than higher would be.
Thanks for any help from anyone, and also especially from any contractors/experienced with ceiling texture.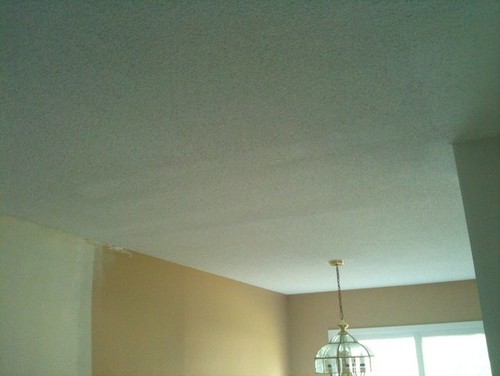 This post was edited by marg143 on Sun, Aug 17, 14 at 23:17