Kitchen Island Clearance Dimensions-Continued
Updates:
Links to old thread to see the kitchen design progress and other forums for background information about the overall build.
1. Previous thread
Kitchen Island Clearance Dimensions
2. Bath forum thread
Bath Layout Help
3. Building forum thread
Help with Elevations and Roofs- Will They Work?
Thanks! JF
----------------------------------
I have maxed out the number of posts (150) in my previous thread asking for layout help with the kitchen in my new build. I am really grateful for all inputs that I have received so far.
This is kind of embarassing as I am still trying different layouts.
New layout (ver13D)
1.I pushed the cooktop down and also relocated the sink with the intention to reduce working distance between fridge and cooktop and to encourage the use of the of the (instead of the ) as prep area.
2. I am labeling the different zones to see if we can get trained to use them as planned.
3. There is a concern about traffic to/from dinning/playroom cutting into the work triangle.
If this still does not look right, next I am going to try the idea of rotating the island 90 degree to make the island oriented along the direction of the long leg the L walls. That was the idea in the original 2 island layout.
Looking forward to your critical reviews. Any comment/suggestion is appreciated!
JF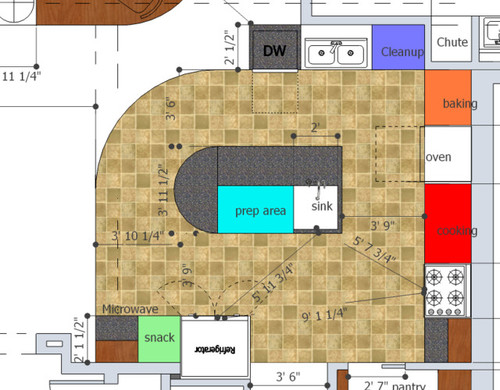 This post was edited by jeff2013 on Wed, Aug 7, 13 at 15:07