Help me find a backsplash?
I think I've changed my mind about my backsplash. I was sure I'd use a honed marble subway because it had a nice warm/cool balance and wouldn't fight with my granite. But now that my counters are in, they seem so peaceful and easygoing, I'm thinking the granite could play nice with something a little glitzier on the backsplash. I'd love to get a "water" look, with glass or marble and glass. I borrowed this sample from a model home and love the colors, but think it is too busy.

I love this one, but the squares are so small and there would be so much grout...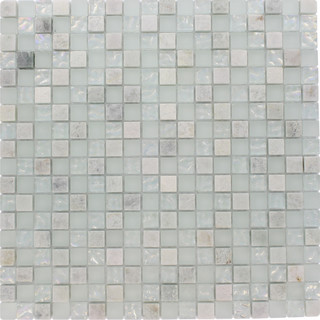 Tropical Bathroom Tile by Brooklyn Tile, Stone & Countertops Glass Tile Store
I realize the pictures don't look like the colors work, but I think they really do IRL. The granite has a lot of large, linear movement, so I think I need somewhat of a "solid" splash....maybe a subtle, water-y looking crushed glass?