Recognizing trendy and what will be dated (long, with pics)
Recently, I've become very aware of lamps. I've seen some really cool ones that will be perfect for particular projects except for one thing: They're cool now because they're a bit different but on the cusp of the trend. They're also pretty hideous if you look at them for long term design. Not just "will look dated". These very cool lamps are the "will ask what you were thinking" variety.
So many people here worry about what will become dated (e.g., subway tile, which is classic, but so popular right now it will be a date-identifiable feature, but it will never go ugly), I thought it would be fun to look at some more ephemeral things like the lamps to get a good idea of the difference between dated and you've gotta be kidding. :)
I loved this first one when I saw it in the Horchow catalog (I use catalogs as a short cut to knowing what's up commercially. Not sure if we'll be buying or creating for this space, but if we buy it'll likely not be from national catalogs), but it's a bit different than I thought. It's hard to tell online unless you go to the website and use the zoom. It's kind of perfect for the loft space I'm designing, but it's going to be so hideous I don't think it's a good value for the money ($2450). It's really hard to see in this picture, but there's a crystal chandelier with curliques and swags inside of a mesh drum shade, on a turned metal shaft sitting in a dish on a tripod made of overgrown hatpins. It's like a table lamp, a chandelier, a kitchen ceiling fixture from the '60's, a rabbit hutch and a Victorian photographer's equipment had a love child. In the catalog picture, I thought it was more of an industrial style tripod, like a surveyor's, but black and silver, which would have been cooler. (like this one from Restoration Hardware with the idiotic table lamp trapeze shade). The look for now, today is awesome even as it is, but boy oh boy is it hideous. :) And it's going to be impossible once the chandelier craze is over.
The latest trendy word is "steampunk", which they're bastardizing in order to capitalize (what's new?). Take a look at this steampunk eats chandy version of the chandelier on a stand trend from RH, named for Foucault: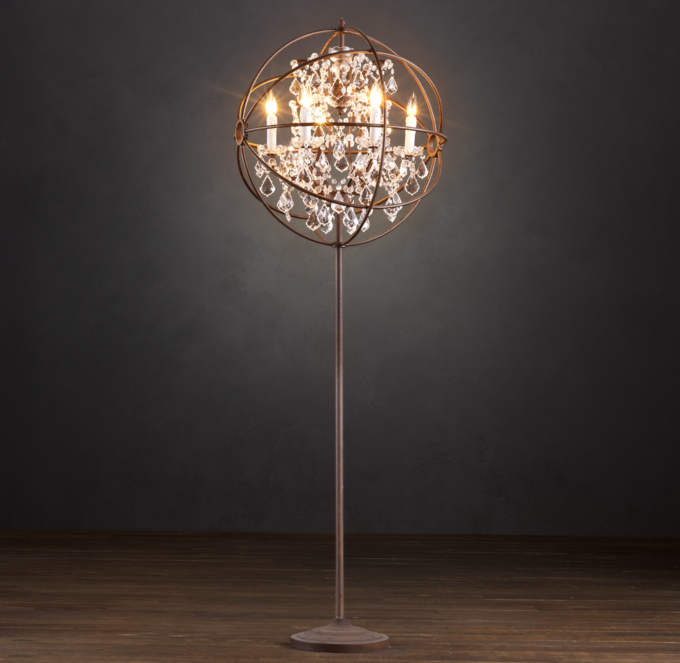 This one at Horchow is actually named "Steampunk" and is more authenically so in shape, but not in concept. It's pretty simple and I think it could last over time because of that.
This is another RH one that I really like the look of, but it's totally useless for the loft, and most other uses. It's very big for a chairside reading lamp, but with that downward cast, and metal shade, it's not for room lighting.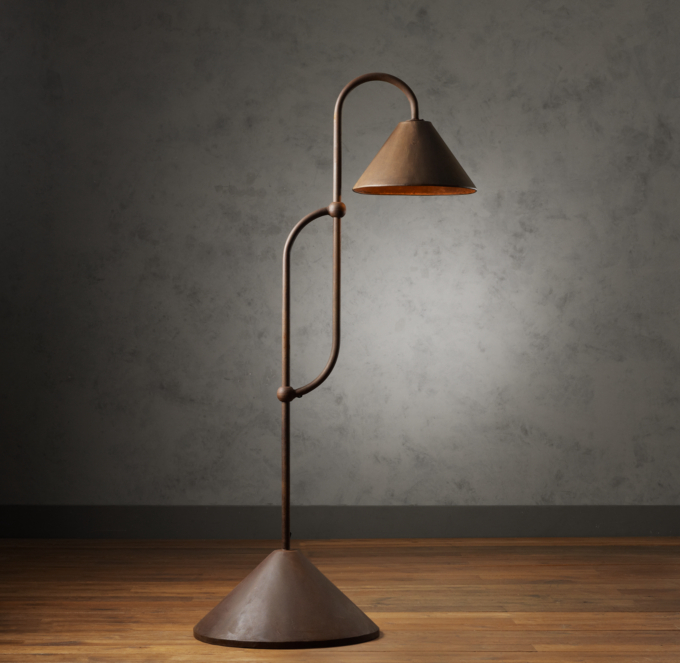 This one is the polyamorous marriage of three trends: Retro drum shades, retro industrial, and retro theatrical lighting. It's actually pretty ugly already with the shade cocked like that, but with it level it's quite interesting, and not as ugly as some of the ones that are better now will be. It'll be tolerable a lot longer. But it sure is weird!
One I think will make the cut is the "Spotlight" by Jamie Young also at Horchow/Nieman's. The link has a far better picture than below.
I like this one because it has that current vibe while having fairly classic proportions, and while it has some of the look of the currently shown stage style lighting, it has more of a residential feel. It doesn't have one of the forced style marriages which are interesting appositions when they're new, but tend to squabble and move to Reno for a quickie divorce once the infatuation is over. This one is what it is. The same kind of globe or gyroscope arms around the head as the Foucault surround a matching globular object, so it makes sense. And the light is positionable, making it useful, while the angle allows the light to spread, unlike the farmhouse or steampunk ones.
It's very hard to deal with trendy and stay away from fad. The kitchen was planned to be dark aubergine gloss lacquer. The overuse of purple in garments last year wasn't enough to disturb this plan, but the advent of all kinds of dark purple housewares, some in really sickly hues, this year is really bringing up the question mark. I've always tended to be in advance of the color trends. Occasionally, I'm sure, because I may have seen the leading edge, but I think also I'm reacting to the same stimuli that the trendsetters are so end up in the same place often enough for it to be a noticeable pattern.
This one, however, didn't come up because aubergine is trendy. When I flirted with ranges four years ago, I was looking at either the pale blue of the La Cornue Chateau in the local showroom, or aubergine. I tend to prefer aubergine to black. The client wants shiny, dark and warm, however, and doesn't like black or burgundy, navy is too cool, so I figured that left aubergine and she loved it.
Will aubergine be just too too 2012?