Journey's End - Final Reveal
gpraceman55
August 12, 2013
Well, our kitchen remodel journey is finally over. We bought our house last summer as a "diamond in the rough". After many minor fix-up projects, we were ready for a major one. We started demo on May 16 and we finished today (August 12). It would have been much sooner had our granite fabricator not miscut our island slab. We waited over a month for the slab yard to get more of our granite in (Crema Bordeaux). Friday they came and installed the island granite, so we were able to get our cooktop, vent hood and pendants in finally.
If you want to read through our journey, check out http://ths.gardenweb.com/forums/load/kitchbath/msg0513472324035.html
Below are photos of our old kitchen. Very builder basic. Honey oak cabinets with center stiles (DW hated the stiles). Small island. Laminate counters. Wasted space called a desk. Cheap appliances. Dated builder basic pendant over the kitchen table. Poor lighting layout. Pony wall that catches clutter. Only one way in/out of the kitchen.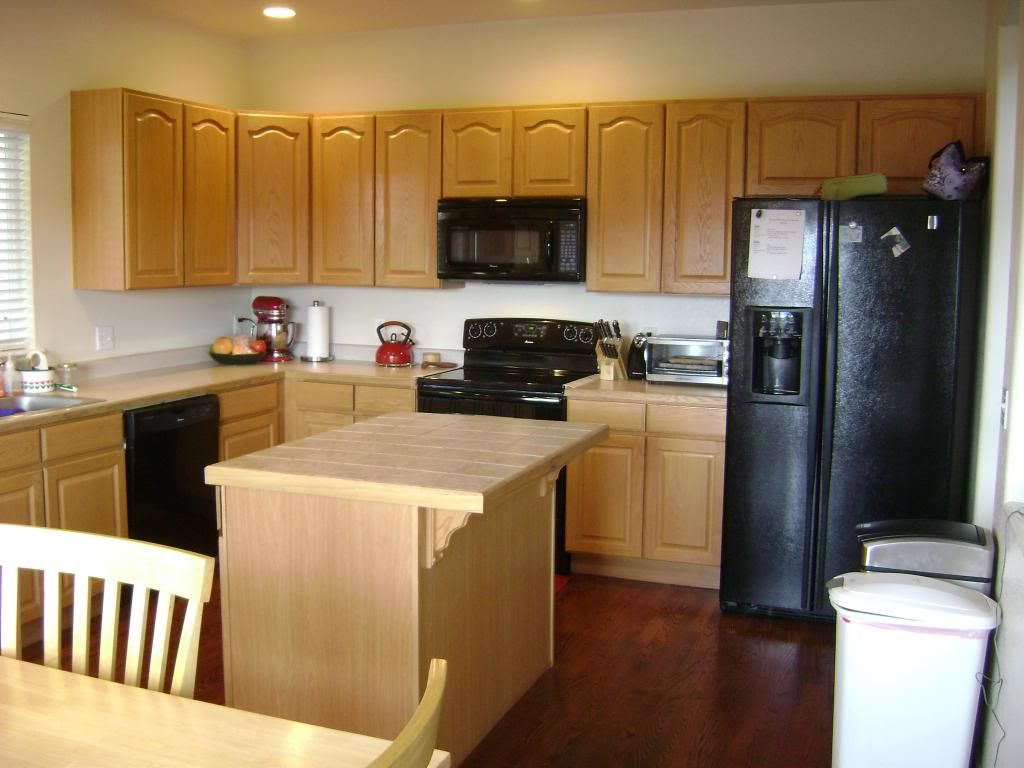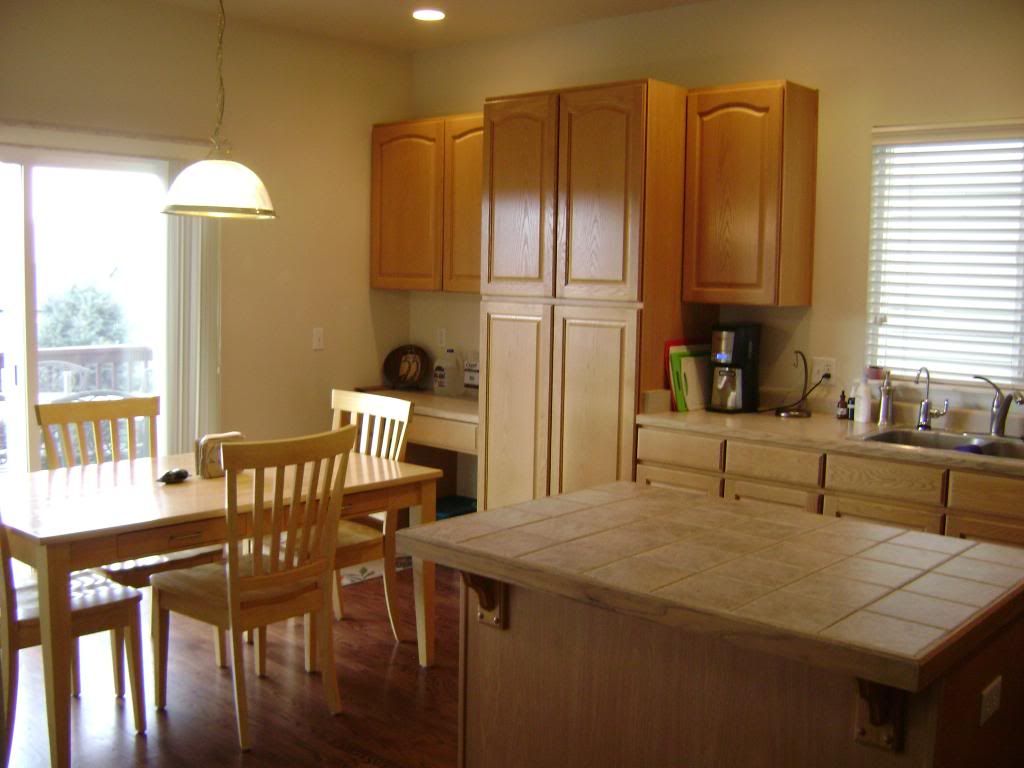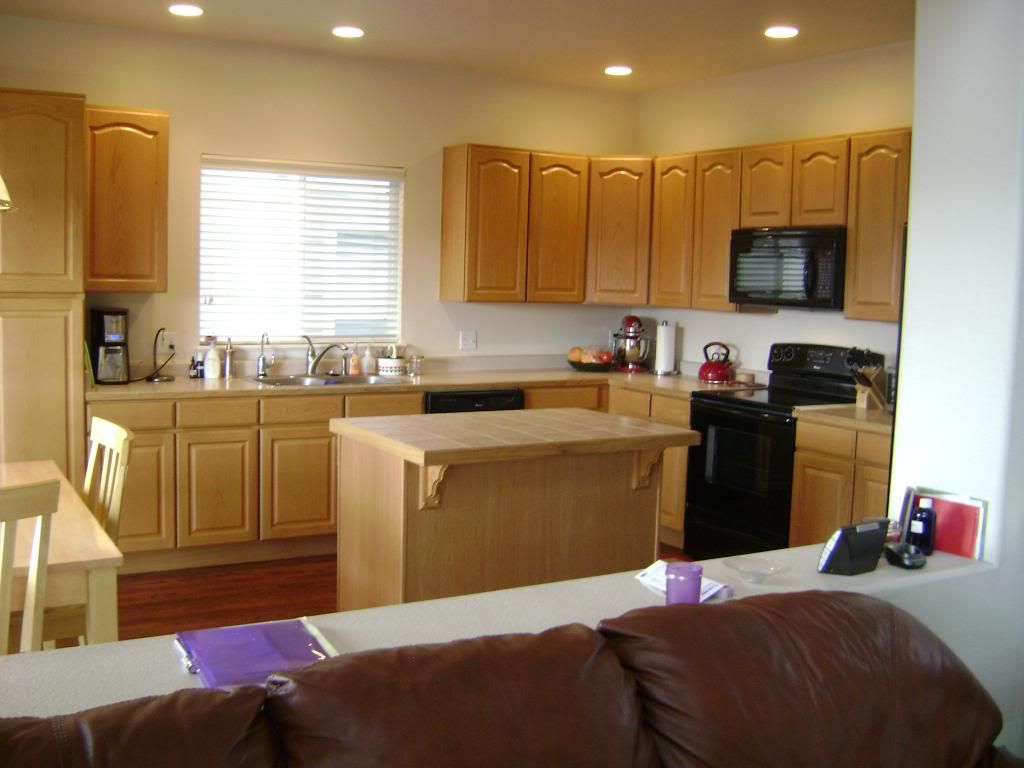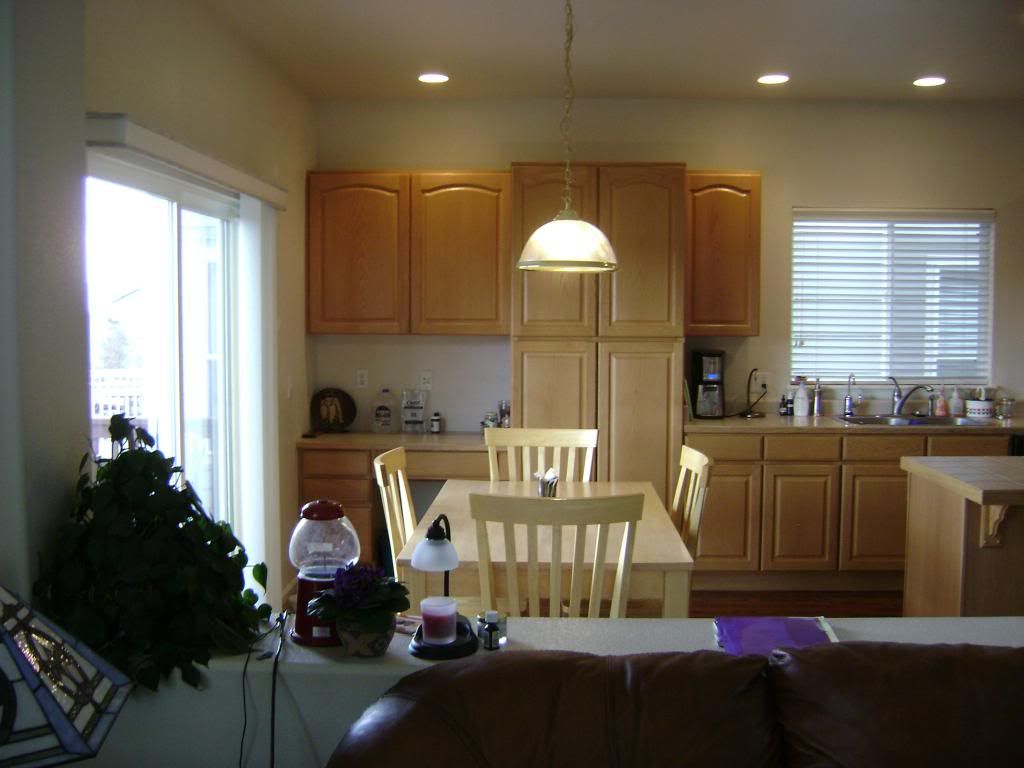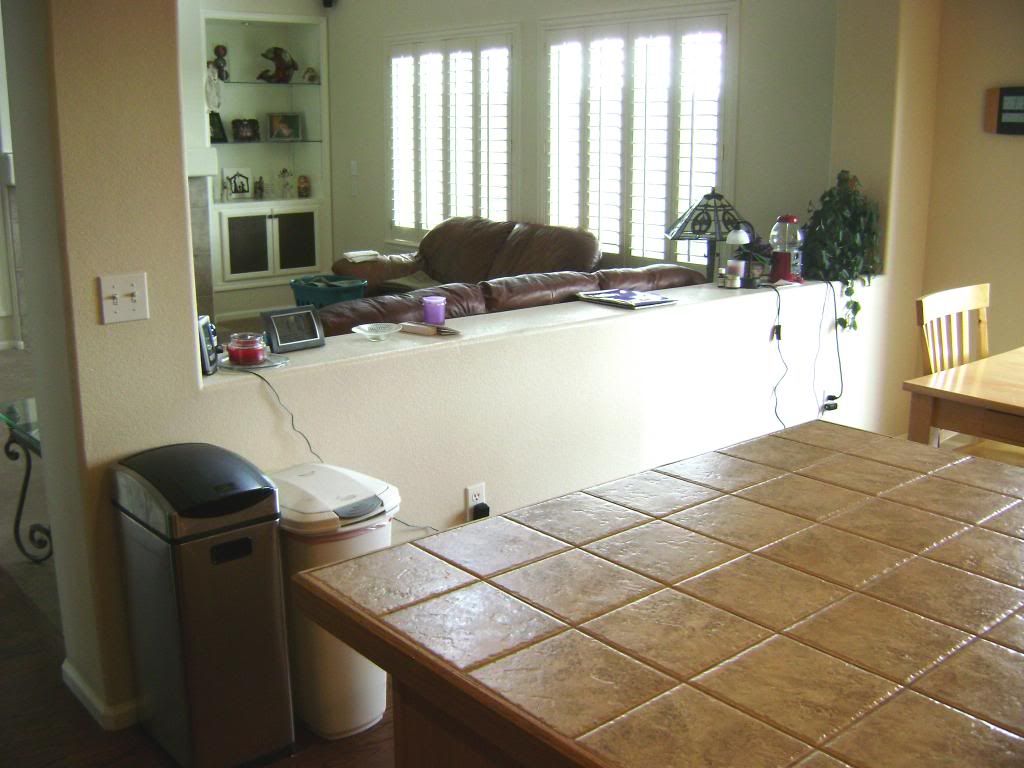 We removed the pony wall to open up the flow. The hardwoods were refinished to a lighter color and also were carried into the family room. The cabinets are custom, made out of Cherry, with a "Spice" stain. Soft close doors and drawers. They were made by Tharp Cabinets in Loveland, CO. Price-wise, they were comparable to the Kraft Maid quotes we got, but Tharp included installation. So, overall it was less expensive going with custom cabinets from Tharp.
Finishing the hardwoods, running the gas line to the cooktop, retexturing the ceiling, and granite installation were done by others but we (DW, two teenage sons and myself) did the rest. We did all of the demo, electrical, lighting, plumbing, drywall, baseboards, venting for the vent hood, appliance installation, painting, backsplash, and even installed some of the cabinet accessories.
We saved $1600 on appliances by sale shopping and that includes $700 in rebates from Lowe's and Bosch. Lowe's price matching came in handy. A lot of research went into the appliances, trying to find ones that fit our budget and were well rated.
The backsplash is a honed travertine in a linear mosaic. We didn't want the backsplash to compete with the Crema Bordeaux granite, but we did want it to have some interest to it. The only accents on the backsplash are the copper looking outlet covers.
If you want to read about our inexpensive DIY UCL, check out http://ths.gardenweb.com/forums/load/kitchbath/msg0620295110811.html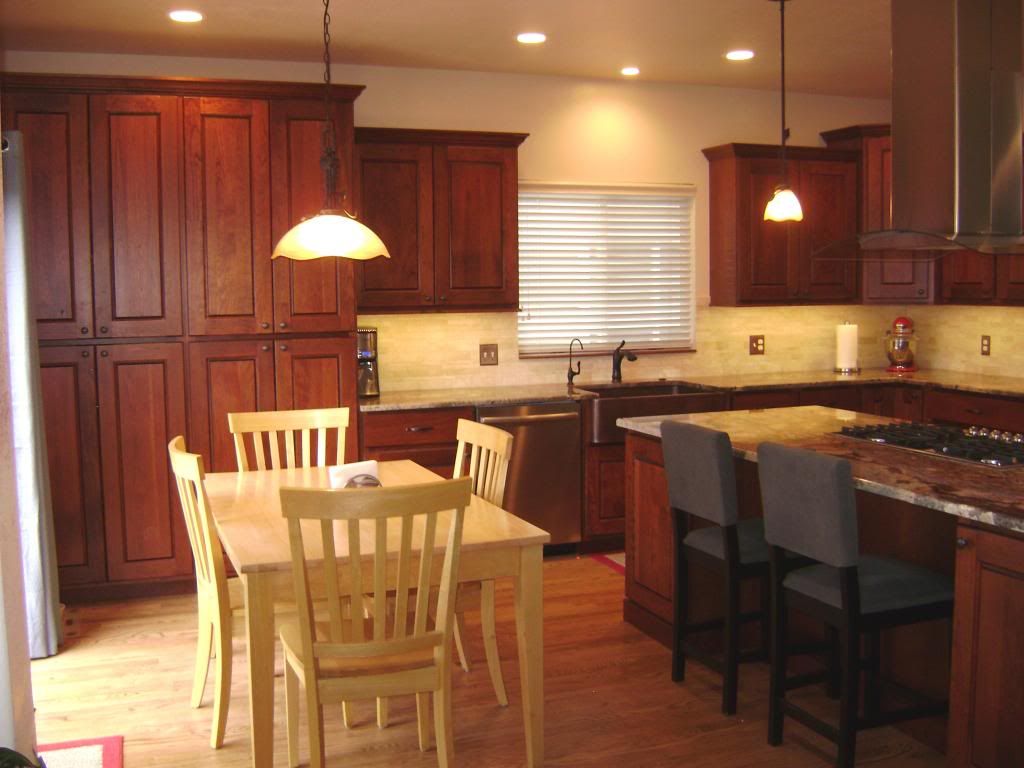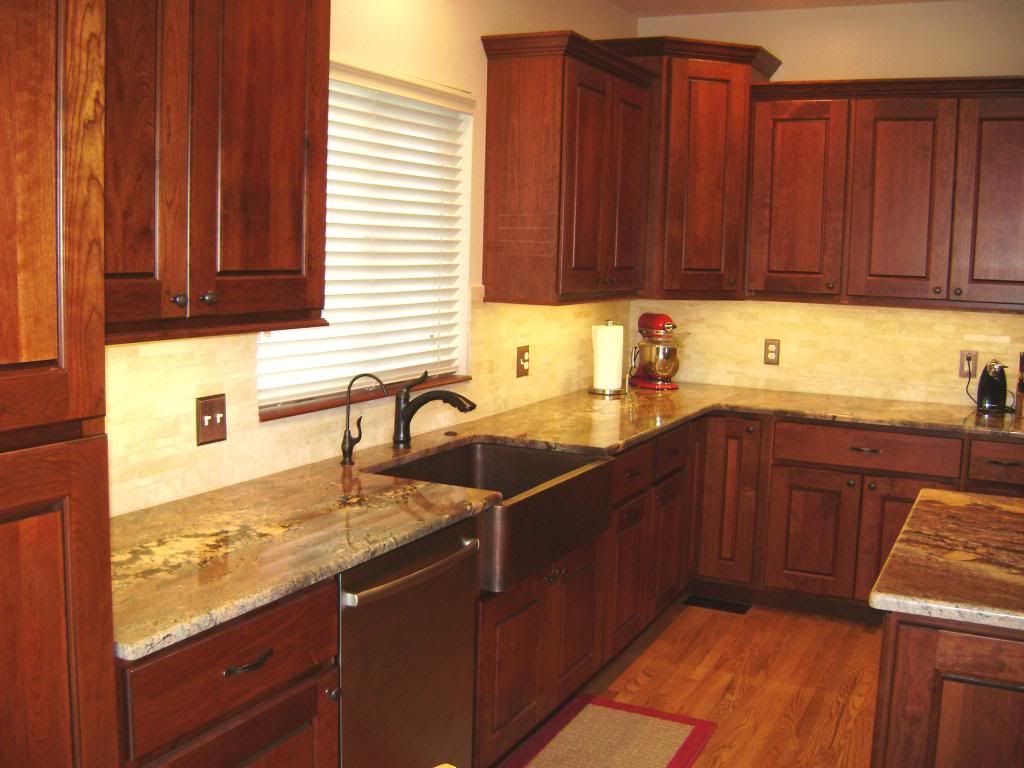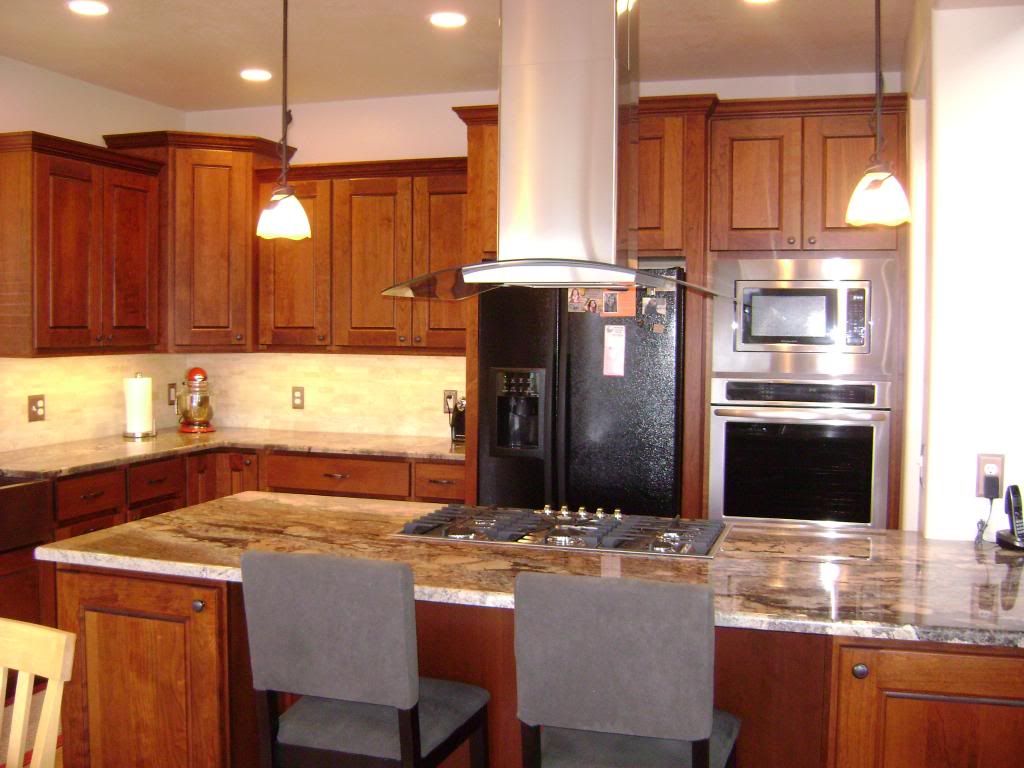 36" gas cooktop and 36" vent hood are Whirlpool Gold. We hated cooking on the electric range as it was so hard to clean and temps varied too much. We are glad to be back using gas. Big holes in the ceiling had to be made to run the vent duct out the side of the house.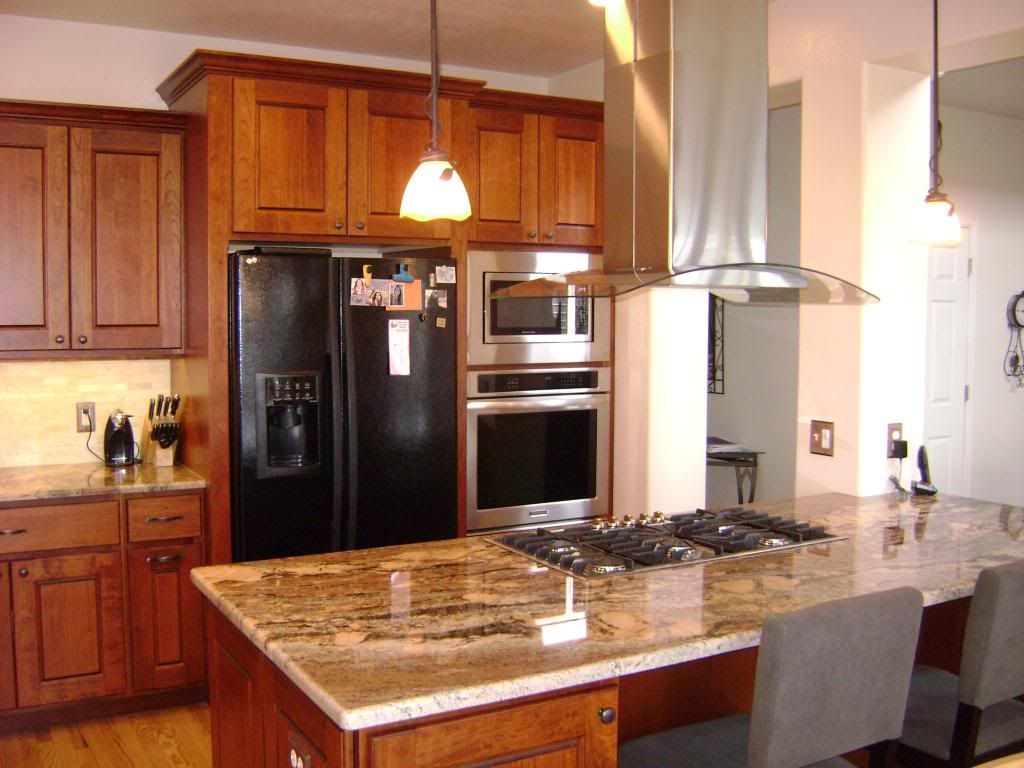 Eventually, we will replace the refrigerator with a stainless one. It wasn't in the budget to replace it now and it works just fine. Kitchen Aid countertop microwave with 30" trim kit above 30" Kitchen Aid convection oven. Extra tall drawer below oven for tall pots. Refrigerator surround extends 29" from the wall.
Regular shelved pantry for miscellaneous storage against the wall. Food pantry with pullouts next to it. Coffee and tea station.
Stools have too dark of wood, but for $25 each on clearance we'll live with them. We are really surprised at how much that seating area gets used. DS likes eating his breakfast and lunch there. DW likes sitting there with her laptop.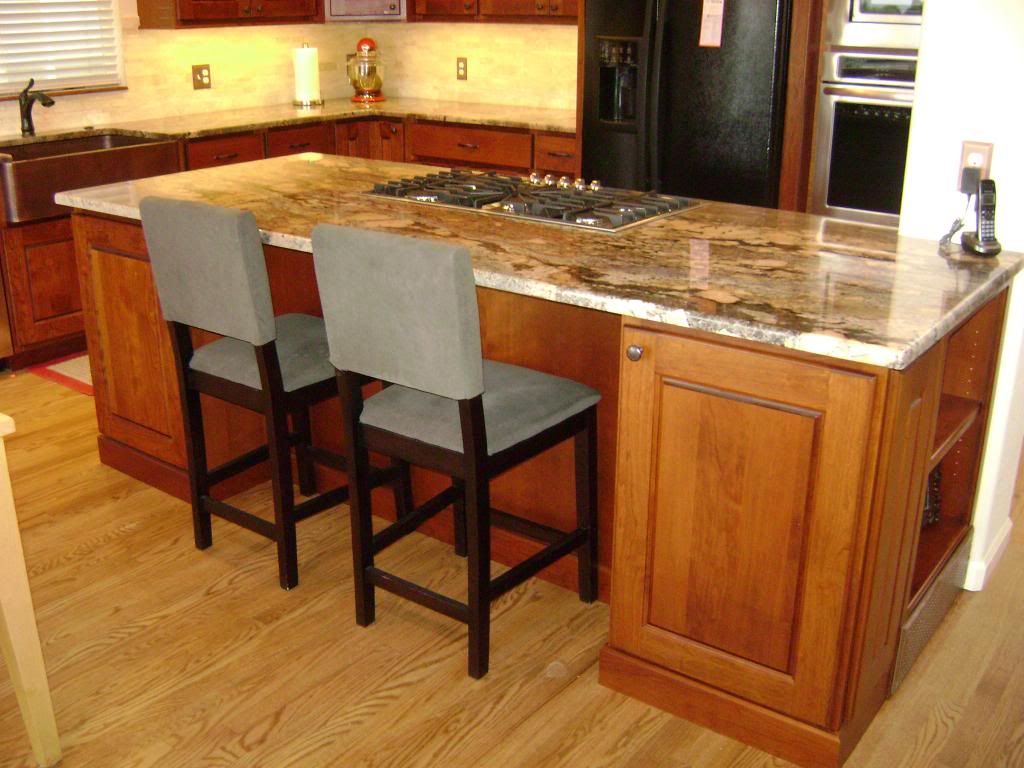 Decorative side panels. 15" deep cabinet for storage of table cloths and place mats. Baseboard molding wraps the sides and back of the island.
We went with all drawered cabinets for the front of the island, for easier storage of pots, pans, utensils, dishes, and so on.
Custom sized bookshelf with extra tall base. Vent grating at bottom of bookshelf was our solution for the air return that was in the old pony wall.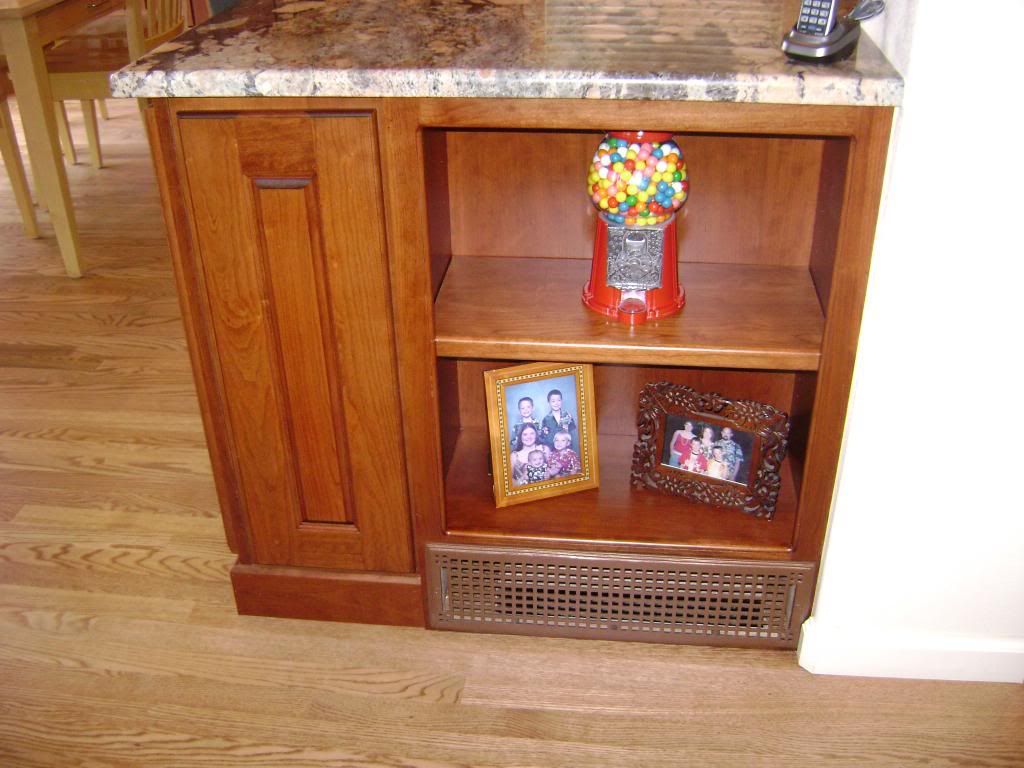 We found a lighting collection that we liked and replaced the fixtures in the nook, dining room, foyer and entry. Fortunately, the collection also had pendants. Here's a view of the light shade.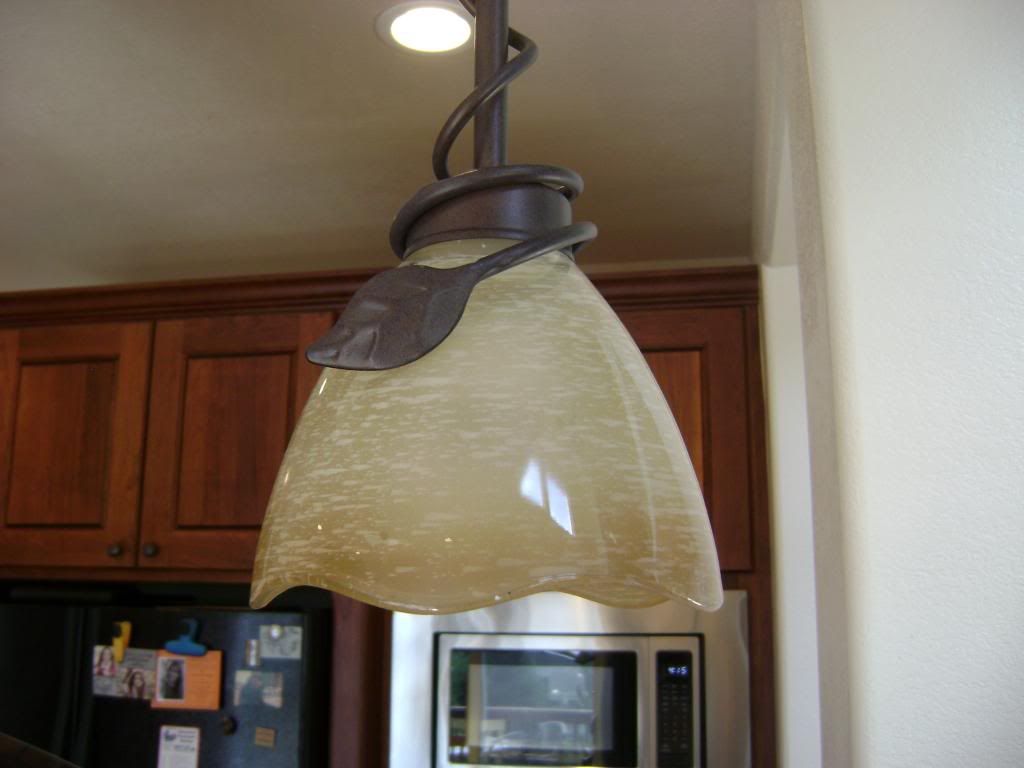 Shutoff valve for the gas cooktop is under the island granite overhang. "Hidden" granite support brackets under the overhang.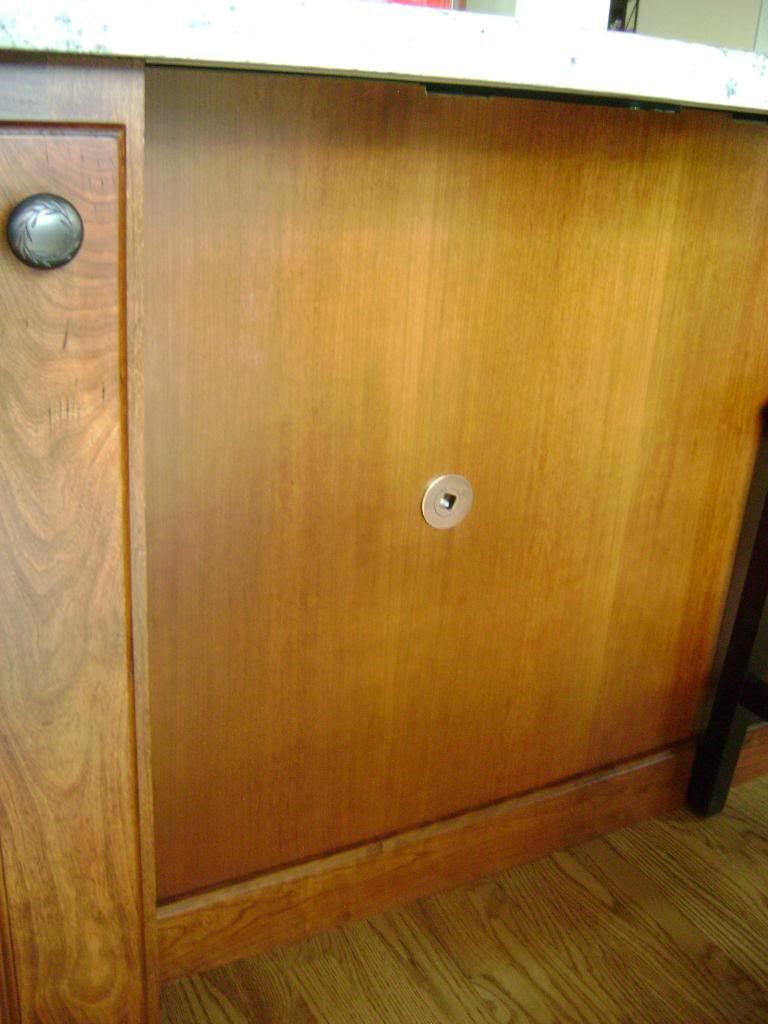 Recharging station in back right cabinet of island so we can hide away electronics when we have company.
We love our copper farmhouse sink. Our kids call it a bathtub. We got it from Menards on sale for $559, regularly $699, with free shipping to boot. Home Depot carries the exact same sink on their website. We also love the air switch for the disposer. The under sink filter system also supplies water to the refrigerator. The window sill was made from left over island baseboard molding.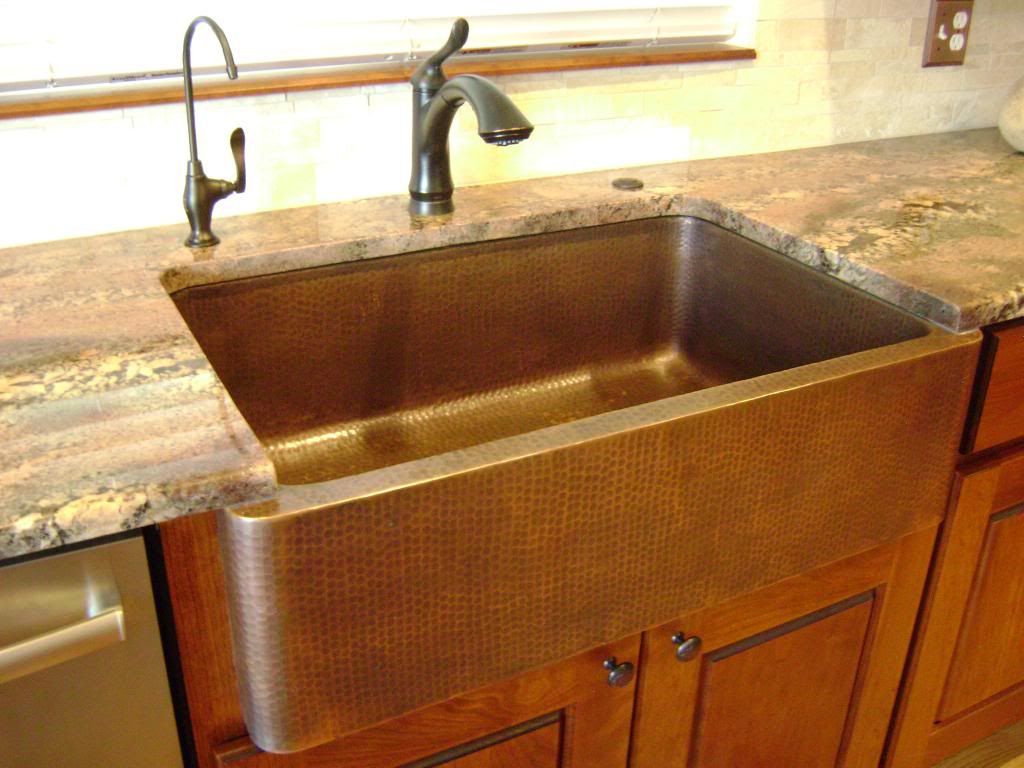 Towel holder from Rev-a-Shelf. It was under $4.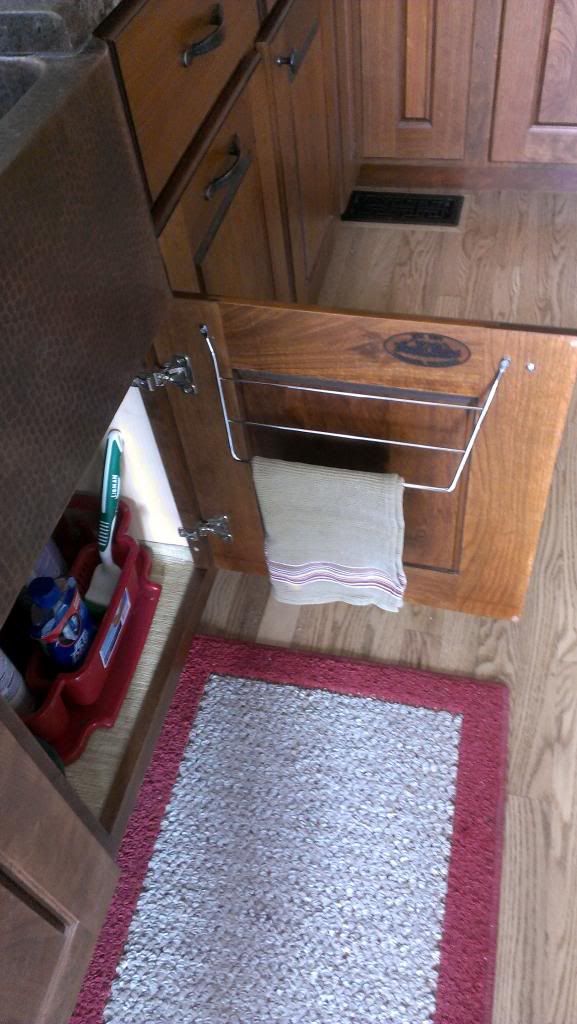 Bosch 800 Plus Series dishwasher. We love this dishwasher. 3rd rack for silverware is great. Extremely quiet and cleans very well.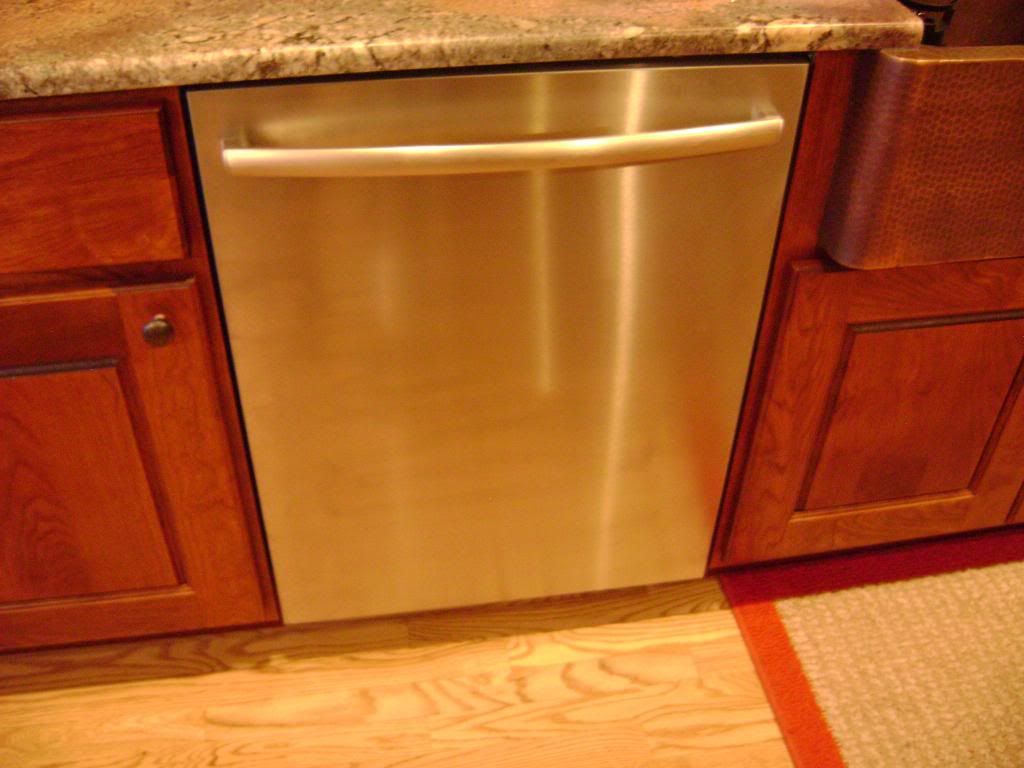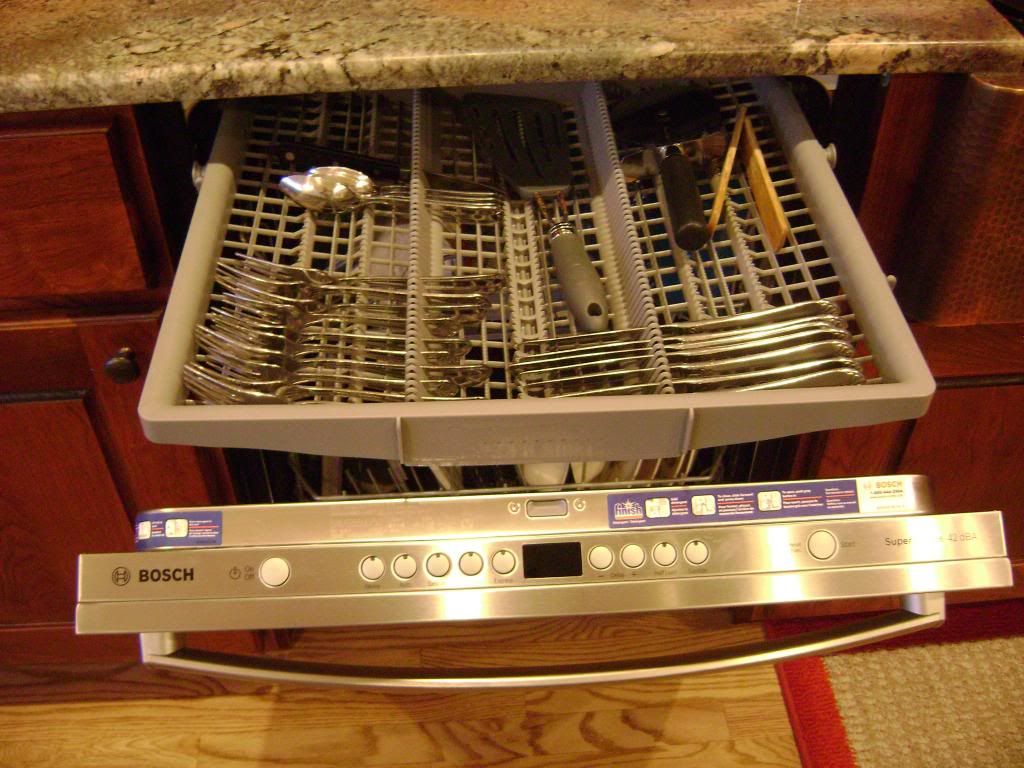 We have an extra pullout on order for the bottom section of our pantry, since DW wanted a pullout in the top section. She is on the short side, at 5'3".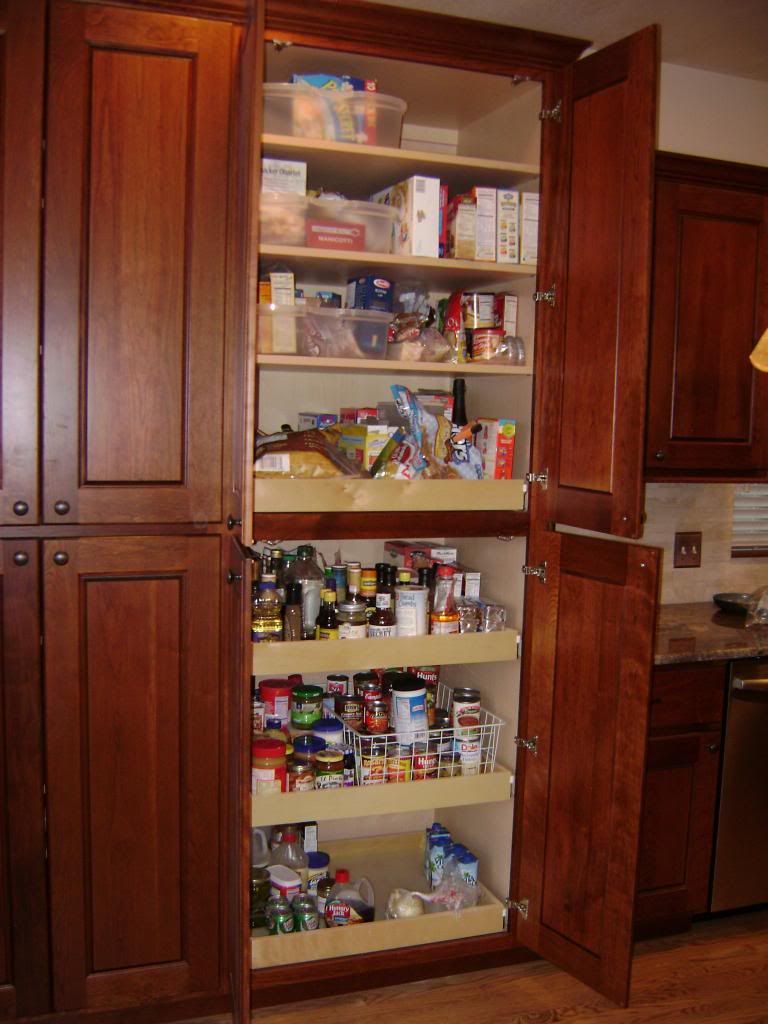 18" dual trash pullout with soft close from Rev-a-Shelf. Drawer above is used for trash bags. Our trash provider collects recyclables, so the back can is for those and the front for trash. I wish I could find a blue can for recyclables, as I know guests will want to put trash in there.
DIY cutting board holder made from leftover island baseboard molding.
Baking sheet pullout from Rev-a-Shelf. DIY install. We lose some storage space with this, but access is so much easier.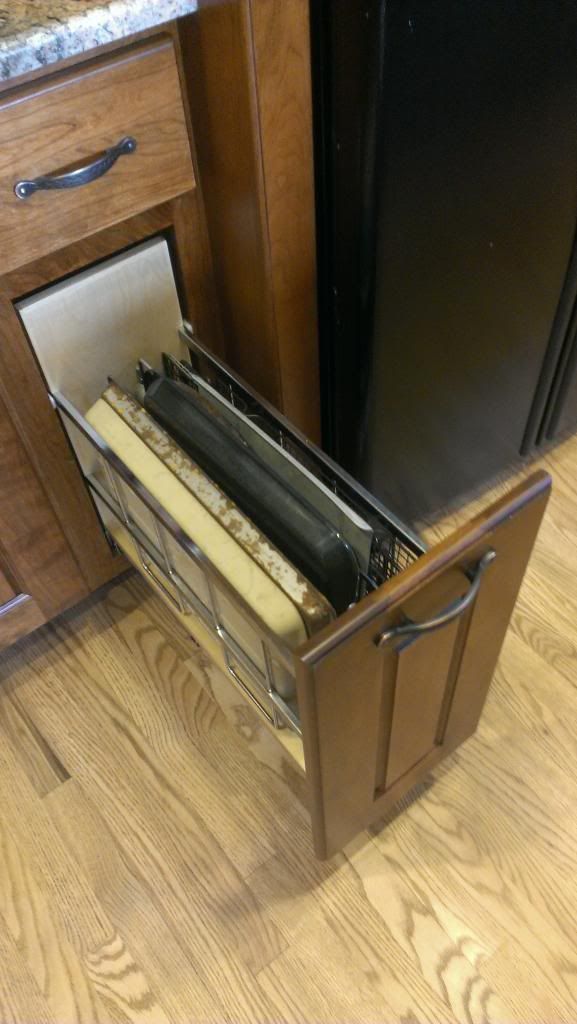 We couldn't afford to do all drawer bases, but we wanted one of the regular base cabinets to at least have pullouts for DW's Tupperware.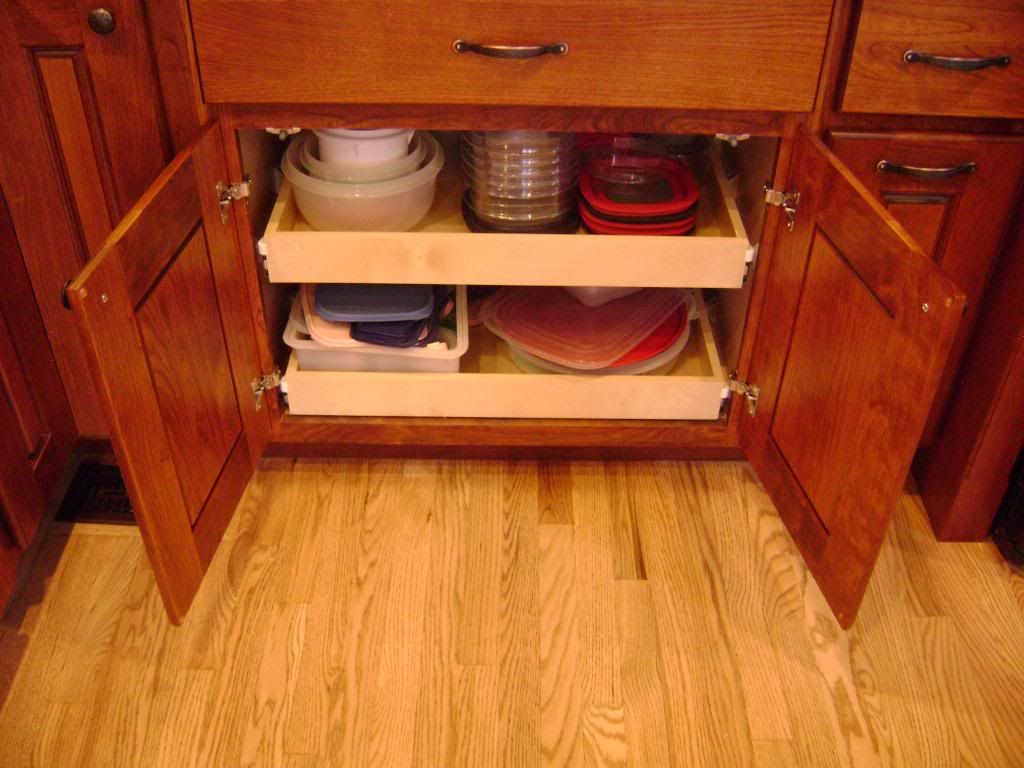 Super Susan serves as storage for small appliances.
Cooking utensils drawer. Drawer was scooped to fit under cooktop. It is also only 15" deep, to leave room for the gas cooktop connection and regulator.
Pots and pans storage under the cooktop.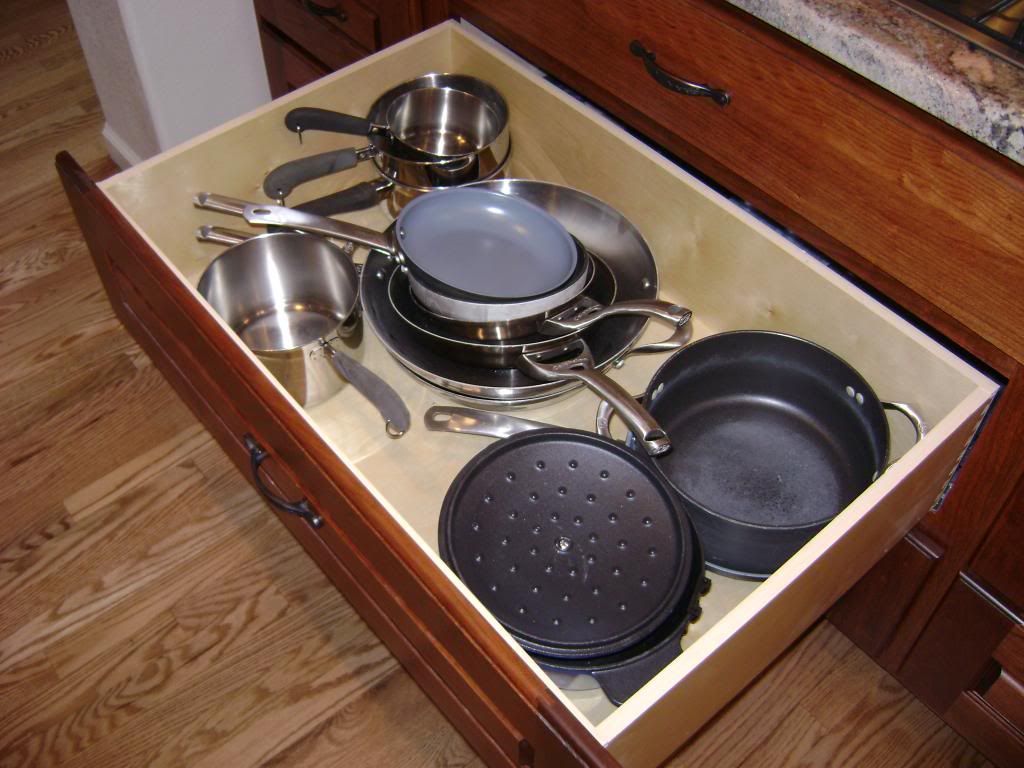 Cutlery Drawer. Custom insert from Wood Hollow Cabinets. If we didn't already have organizers for the other drawers, we would have gotten Wood Hollow ones for them as well.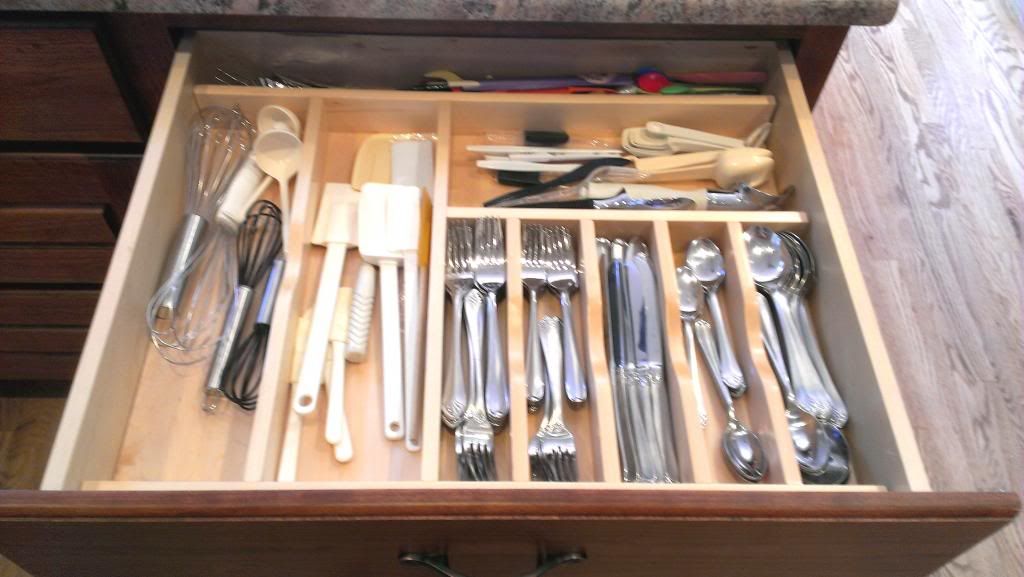 Dishes drawer. Racks are from IKEA. We had considered a peg board organizer, but these racks make it easy to pull out a whole stack of dishes for entertaining.
Rather overcast that day, but DW loves her view of the Rockies.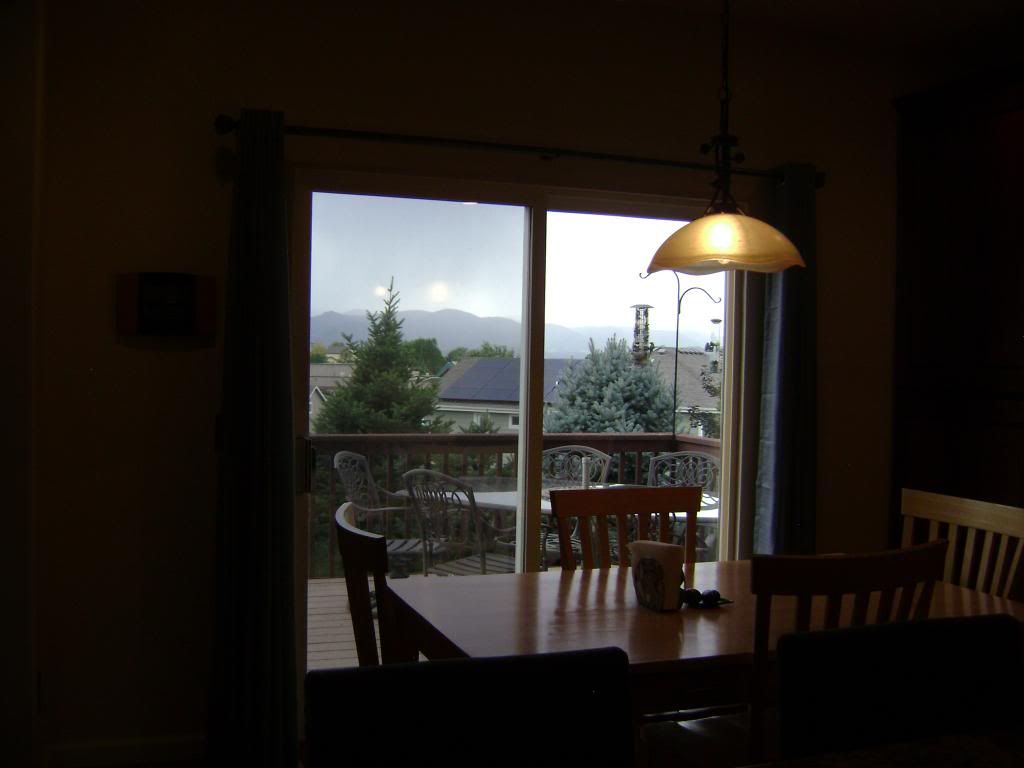 The scope of the project grew to include the Family Room. Since we were taking out the carpet and extending the hardwoods, I wanted to do something with the fireplace. I really did not like the tile used as the hearth and surrounded the fireplace. Here's the before photo: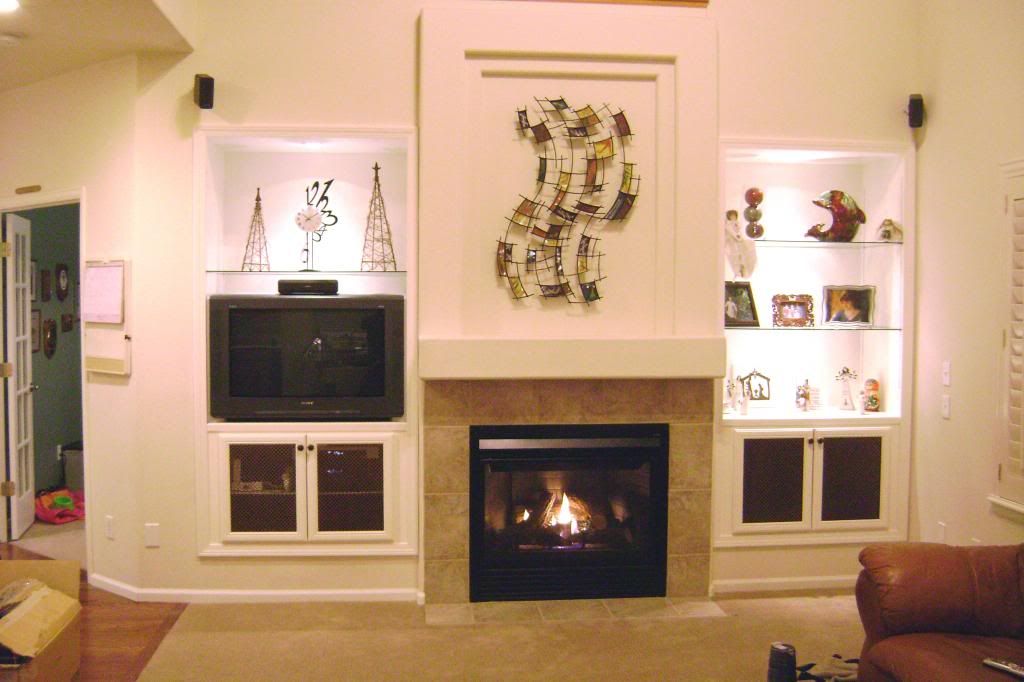 The mantel was big and clunky (drywall over a frame of 2x4's). So, that was all ripped out and I designed and built a fireplace surround. It is inlaid with soapstone and soapstone tile surrounds the fireplace. A soapstone slab hearth finishes it off. We had oiled it, but thought that we would let it return to the bluish grey color, that is why it looks splotchy right now. For some reason, the oil hangs around better on some of the tiles and not others.
We painted the wall a bluish gray to help coordinate with that color in our Crema Bordeaux granite. The built-ins flanking the fireplace were an earlier DIY project.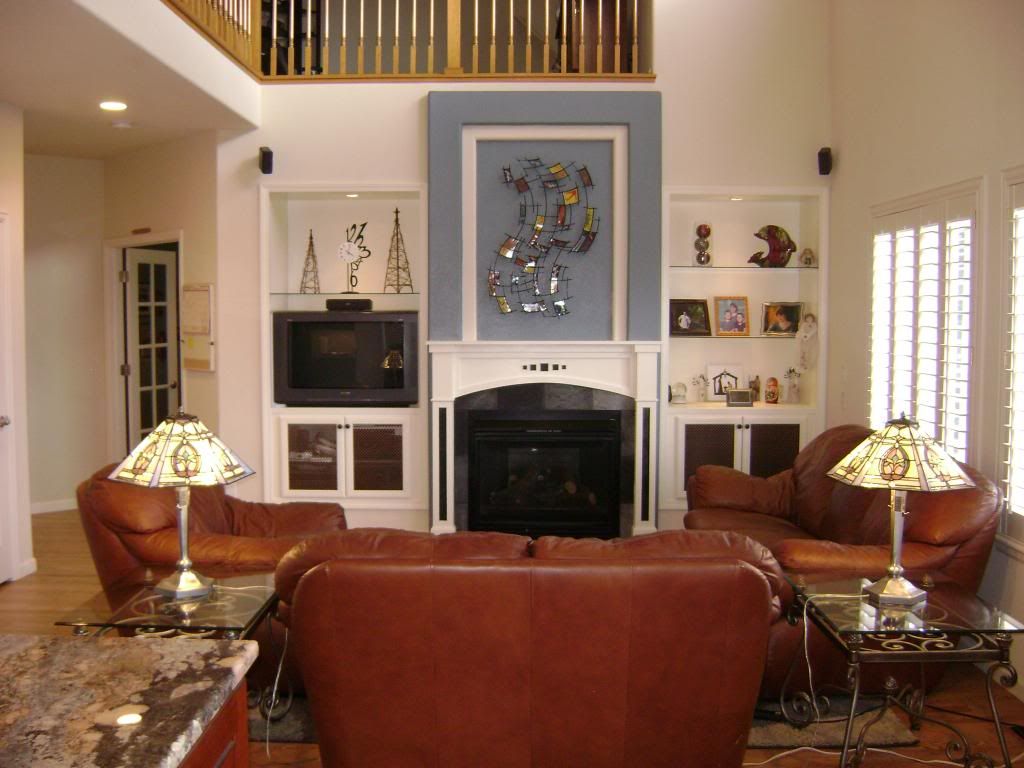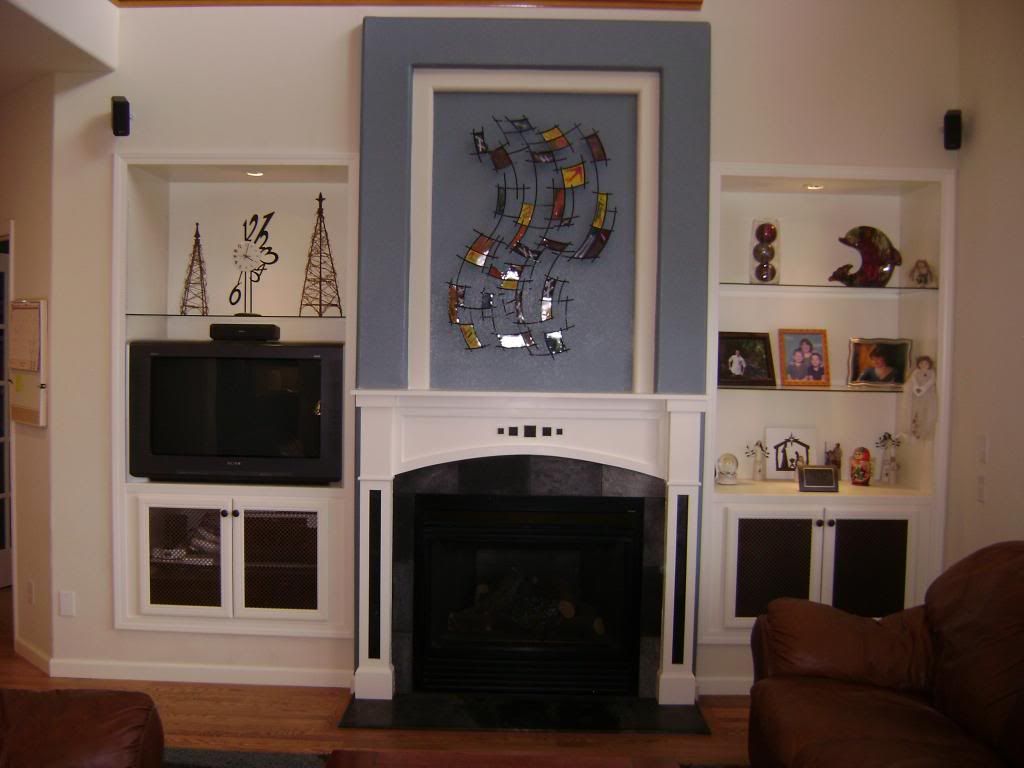 Well, the scope of the project grew once more to include the Powder Room. The hardwood floor guy asked me to remove the toilet so he could sand under it. Well, if the toilet was coming out, so was the pedestal sink that DW and I hated. So, we hunted around for a vanity that we liked. We found the one below but didn't like the top that came with it. So, I got another piece of soapstone slab and cut, shaped and sanded it. Soapstone tile is used for the backsplash. I saw that end profile on the web somewhere and just had to do it. I love how you can use regular woodworking tools on soapstone. The hammered copper sink is from the same company that made our farmhouse sink.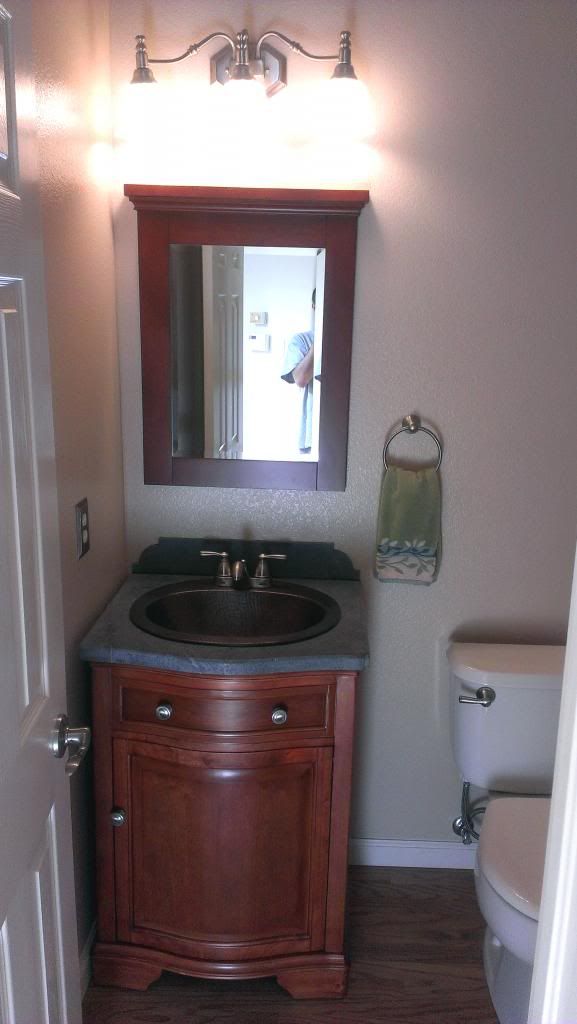 This post was edited by gpraceman on Thu, Aug 15, 13 at 1:52