Remodeling help needed!
heleneglucksman
August 21, 2014
Hi everyone,
We are in the early stages of planning a kitchen renovation for a house we recently moved to and I am hoping to get some help in creating a more functional space than what we currently have. The house was built in 1920 and has had a "remuddle" done about 12 years ago with design choices that don't fit the era of the house. In addition there are some functional problems, cabinets breaking, dishwasher placement (at a right angle to the sink), no defined zones, aging appliances, etc that we would like to change.
Background on our family- husband and me living at home, one son away at college, one son graduated and living "temporarily" with us, one son off on his own. Love to cook and experiment in the kitchen, one cook kitchen, husband helps with cleanup on occasion, many small shopping trips during the week rather than one big trip, a lot of business dinners at the house, like to cook for company, do holidays at our house.
Everyone hangs out in the kitchen/ family room. Micro used for warming up leftovers only.
Wants for the kitchen but don't know if any are possible:
* room to eat at peninsula (would love an island but don't think it works in this house)
* separate clean up & prep/cook areas- hopefully with another sink
* we have another breakfast area in the family room so we can get rid of existing table and use that space, maybe for clean up area?
* wall oven rather than oven under cook top
* more uppers but just don't see where they can go
* island on wheels?
Here is a floor plan of the kitchen as it is now. Plumbing & electrical can be moved/added, for proper ventilation the cook top needs to stay where it is, or at least on the outside wall. The A/C & ductwork need to stay where they are.
I am open to any and all suggestions and thanks in advance for your help,
Helene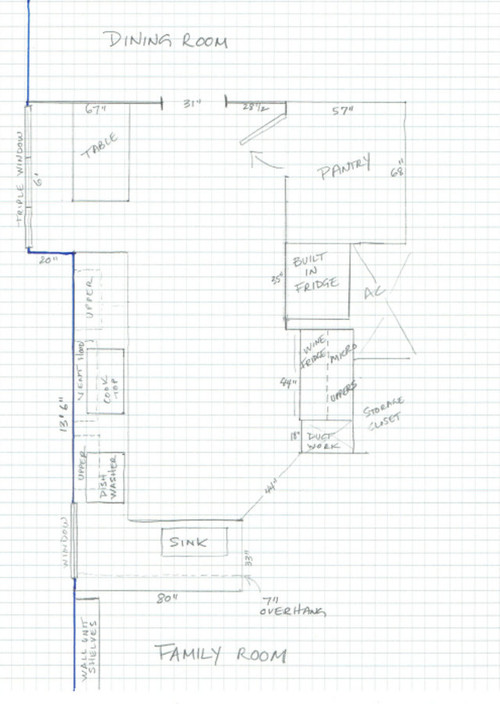 This post was edited by mykitchensdone on Fri, Aug 22, 14 at 7:48