Island fan
Hello,
I have an open-concept kitchen. I have the kitchen, breakfast nook (which we've converted to a full dining area) and the family room all in a line. I have a 37" (D) x 44" (W) island and 9' ceiling.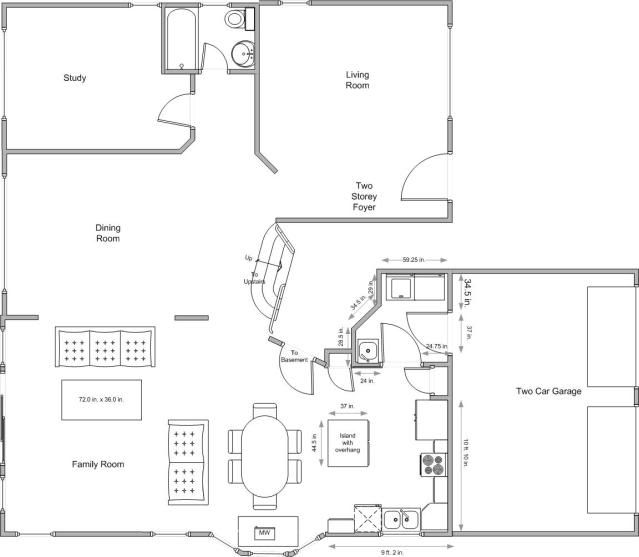 The kitchen gets very hot in summer while cooking. I'd like to put up a fan above the island. There is a light above the island which has been reinforced and wired for a fan/light combo.
The issues are:
1. At the end of the island (dining table side) the ceiling has a 14" high beam. From the center of the light fixture to the beam is 18"
2. The light fixture is not centered on the island - it's a few inches off.
3. I have a gas cooktop 4 feet from the island. I don't want to blow out the flame when the fan is on.
(Sorry, I tried many things but I can't seem to rotate the picture to show up the right side up. )
My options as I think are:
1. Get a small (no more than 32") fan that hugs the ceiling so that it does not hit the beam.
2. Get a slightly bigger (can't be more than 36" else it would be bigger than the island) fan on a downrod so that it clears the beam.
Both options will have downlights since this is my only prep area.
Which is a better option? How will it look from my family room which has a ceiling fan (on a 2-3" downrod) with light too, but a larger one. How will either option affect the gas flames?
DH prefers the hugger since it's not centered and he feels it'll look more ackward if it's hanging below the beam. I prefer the downrod one since I feel many islands have hanging pendants above them and this would be like that. And also not sure how much air can be moved if the beam will be stopping quite a bit of it if it's a hugger.
Please help me decide what kind to go for.
Thanks in advance.