My New Mexican Christmas (Lots of Pics)
lynninnewmexico
December 27, 2013
Although I was raised on the Great Lakes of Michigan, DH & I have lived out here in New
Mexico since we were married many years ago. But, as beautiful as they can be, I can still see the "foreignness" of our Christmases here and thought that you might enjoy seeing some of it.
New Mexico is a tri-cultural state, heavily influenced equally by Hispanic, Native American and Western/Cowboy cultures. And, the lines between them blur together frequently . . . which you get used to when you live here. We New Mexicans also love a lot of Oriental rugs and pieces you might pick up on travels to the Middle East. Seriously (LOL).
Anyhoo, here's the view out back:
and out front, in one direction:
Our walled garden, which keeps out the deer
, rabbits and coyote. I have tiny white lights strung through the trees out there:
Our front door:
Our living room, with our main family tree:
The mantel in there once the reindeer is wired onto it so that it won't fall off onto our brick floor. I also decided to take the 2 paintings that flank the center one down, as they're more summery and looked a bit odd to me with our Christmas
decs:
In a corner of the room, my beloved Western art chair gets a few rustic Christmas throw pillows. The sheepskin stays on it year round.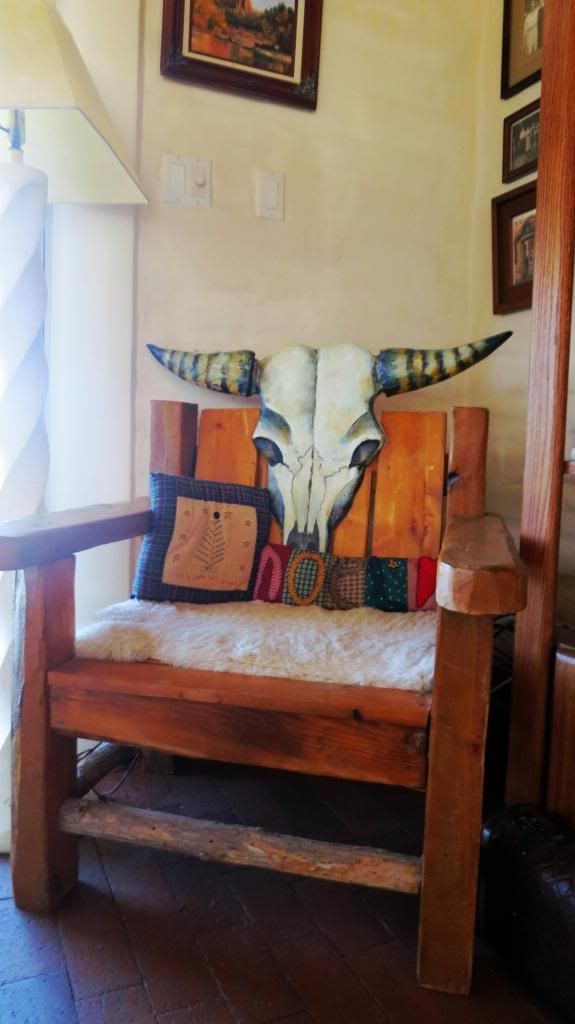 Next to it, our bookcase gets a greenery swag and a big pine cone. It's hard to decorate with this stuff!
Still in the living room, but on the other side is our Syrian inlaid game table (I told you so-LOL!), closed up and decorated for the holidays
. The chairs are antiques, hand carved here in New Mexico. I think they look very good together:
We also have 3 other fireplaces, all of which are NM kivas. I like them a lot, but they're a PIA to decorate, as their mantels are curved and very narrow, while their chimneys are very tall. This is the kiva in our family room. (BTW, they don't all come painted. I just painted the design on this one about a year after we had this place built.)
My little tree in there has a hand-carved angel on it:
The main foyer has all NM art,
. . . but I still put up the traditional Christmas village I made in my Western hutch there. I also sewed the crewel art above it, both back before I got married and moved out here,
The guest room has most of my collection of horse art in it, with this being the centerpiece (by wildlife photographer Phil Sonier) that everything is decorated around:

Sooo, here is my one theme tree, a Western tree for this guest room:
On the nightstand's lamp in there, I have a handmade shade we bought at a gallery in Taos. The old silver bolo tie is one of several I use around the house to decorate things. They stay on all year.
And the most comfortable reading chair in the world, also in our guest room. Love this chair! The doll, though, is there just for the holidays (LOL).
In our dining room, I decorate the wine cab (and elsewhere, too) with some of our collection of New Mexican Christmas books. These here are a few written by New Mexican author, Rudolfo Anaya, and illustrated by NM artist, Edward Gonzales. I love both of their work!
Sooo, this is where I've been cocooning these past two days. Relaxing and recuperating after our big Christmas Day
party here. Thanks for taking a peek at my home here in the mountains of New Mexico. The decorations are probably a lot different than what you're used to, but the Christmas Spirit
is still the same. Feliz Navidad!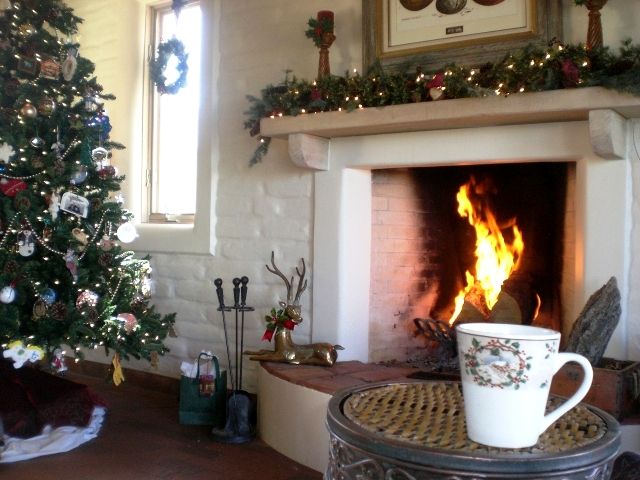 Lynn
This post was edited by lynninnewmexico on Fri, Dec 27, 13 at 20:11