Grouted Herringbone, the deed is done
After backsplashing in to the wee hours of the night Friday I got my sink wall essentially done. I had a discuraging few hours and thought I'd made a mistake with the direction I took with the BS. Nothing I had thought I would use as decor was looking good to me. Mind you I was short on sleep for two days, and it was after midnight. Dianalo put me on the straight and narrow earlier today when I was complaining on another post. Moral of the story is don't trust your thinking when you're in a "panic", that is panic with a little 'p'.
I still have to seal the grout Monday, and caulk the periphery.
Have a look:
Last night after grouting, YIKES! or HOLY COW! I just don't know if this was a good idea!!!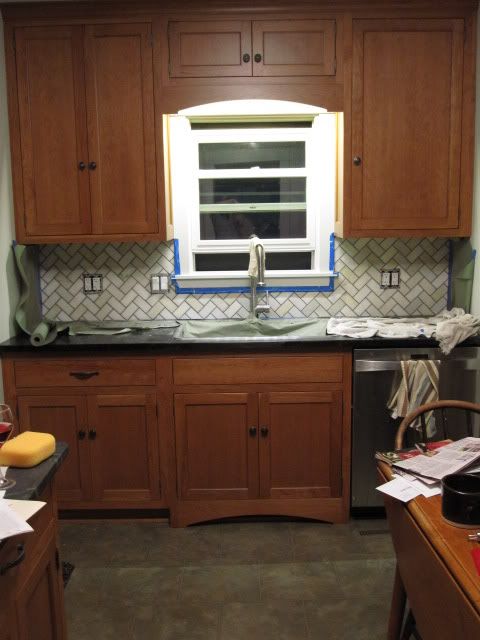 Closeup:
no matter what I do...YIKES!
Starting to like it, but this cute fabric isn't working for me:
This is the original fabric I invisioned several months ago, but that was before I went herringbone. Last night I hated it, today I'm thinking the dark is right. I might have to find another dark. I love the colors in the pattern, they ended up being my colors - unknown to me at the time! There's even purple in there amongst the oranges, golds. and greens.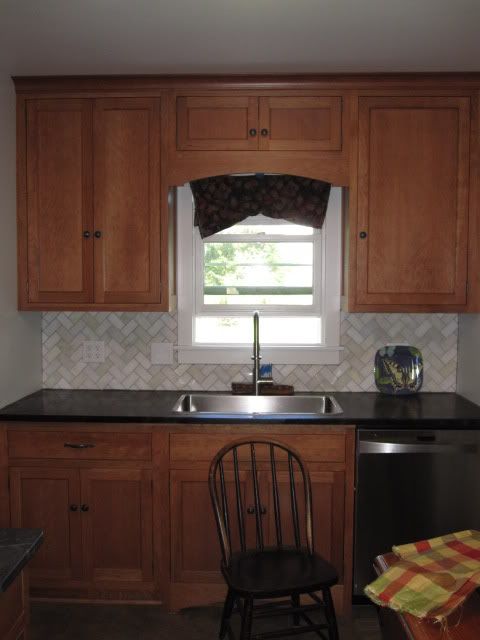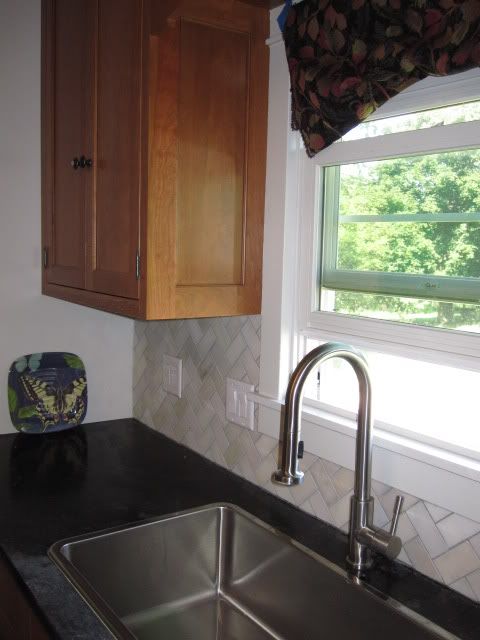 The grout formula I went with was going to be a 2parts "Natural"(dark gray) : 1part "Standard White". But, as is my style, at the last second I mixed it up as 3parts dark gray:1part white. I wanted to go for that stainless steel look in the color. My sample boards where starting to all look the same as the grout dried over the last several days. I was becoming comfortable with the grout. I asked opinions from the sales help at the tile store. They were no help as each of the 3 had 3 different preferences, and they were sticking with it.
Thanks for your help in selecting this grout with your comments on my other post.
Here is a link that might be useful: Samples of grouted herringbone backsplash, please give feedback