Remember this 'awful' kitchen?
queenofmycastle0221
December 28, 2010
I had posted asking for help a year or so ago and recently contemplated interchanging my kitchen and master bedroom but the dimensions of the master bedroom will not accomodate an island and that was what I was truly hoping for. I had saved the previous suggestions on my laptop but recently lost the hard drive so have to start over.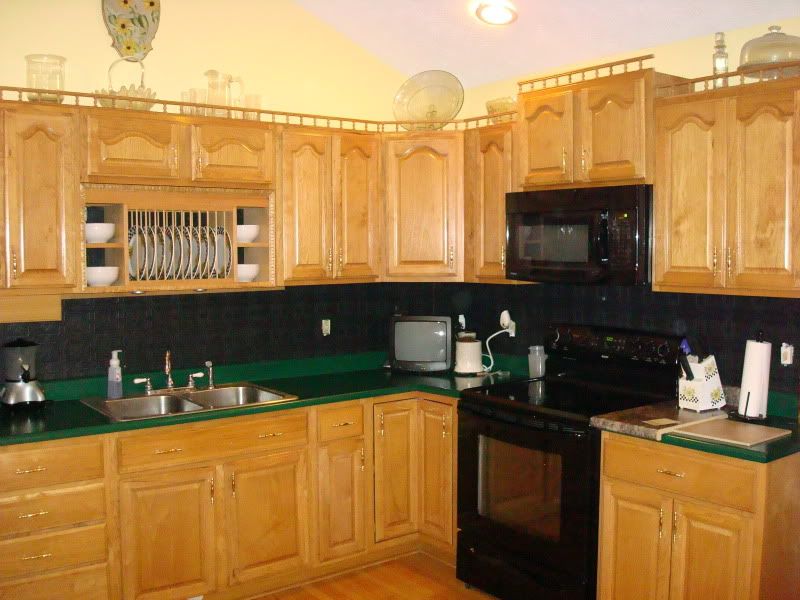 Cabinets are Honey Spice Oak and dh has "requested" that I not paint them yet because they are in good shape. Since this photo was taken I have added antique bronze handles.
I was thinking I could remove the trim on top of the cabinets and add a better moulding as well as move the corner cabinet up to match the one over the stove and fix a shelf for the tv under it.
I had told my dh that I wanted a new sink and faucet for Christmas and that sometime in 2011 I really wanted new countertops. I absolutely hate the green. I have removed most of the glassware off the top.
Then I got the surprise of my life when my MIL gave me the wonderful gift of cash for Christmas and my mom ordered me a new faucet. (A Rustic Bronze). DH is taking me to Bristol on Saturday to look at sinks. I had been adamant on a double bowl but am now thinking single bowl.
I can't afford granite nor would it hold its value in my neighborhood but do love the look of the Formica FX180. I was hoping some of you might give me ideas on what $1500 might do to bring this kitchen out of the grass.
Thanks so much!
Alicia