Remodeling kitchen / layout ideas
refrigeratorreplacer
August 3, 2014
Would welcome any ideas and input. Remodeling our good-sized kitchen, but yet feeling squeezed when it comes down to fitting in all of the desired appliances and having enough cabinetry - draft floorplan attached. Currently calls for
- 32" each all fridge / all freezer
- 48" cooktop
- 30" double wall ovens
- warming drawer (prob in island)
- microwave (prob in island)
- dishwasher
We are trying to open up the exterior wall to have all windows along the counter on that side (top of floorplan). Left wall will be all the tall stuff - fridges, ovens, an appliance garage. We are worried it might be too squeezed over there and hard to reach appliance garage. Also we will not have uppers anywhere, so wondering about where to put cups, wine glasses, etc.
A couple of alt ideas:
- get over the desire to open up more windows on exterior wall?
- borrow from pantry and make shelves/cabinets facing out to the kitchen along corridor (bottom wall in floorplan). This is what our architect recos (we'd orig opined that we prefer not to have cabs opening into the walkway, which is the only access to family room)
- consider a 48" range only instead of cooktop+ 2 full size ovens
- consider 30" refrig + 24" freez (don't want to go smaller than this). I do realize this pushes us into built-ins vs. the affordable "fake it" Electrolux set I have penciled in. (And yes I know that their reliability is questioned, as is whether or not built-ins are worth it.)
- make a "U" by adding a peninsula on the right coming out from top wall. Would shorten the island in this case. Hubby doesn't like this idea at all!
I'm running myself in circles thinking, on the one hand, that it seems silly to have to compromise on size of appliances given that the kitchen is relatively large, but on the other hand recognizing that we don't use the second oven very often anyway, nor do we really need all that cold storage when we can go to the super every week or more often if necessary... And on the other other hand, getting sucked into the appliance salesman marketing pitches about the fabulous new model/features on xyz brand like steam/convex ovens etc. Which would be yet another slot I'd have to figure out how to fit in!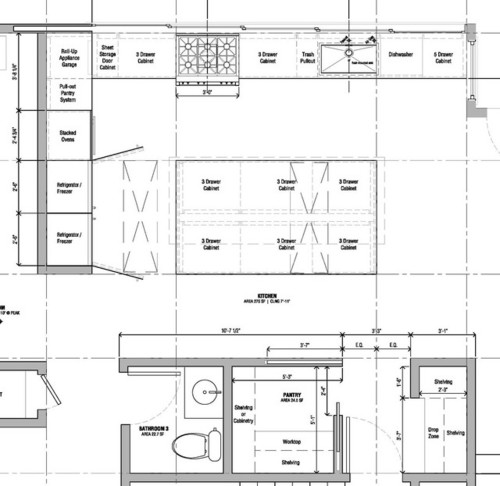 This post was edited by refrigeratorreplacer on Mon, Aug 4, 14 at 1:02