Sliding hallway doors for MCM
We need new sliding doors for a closet that stores the washer/dryer and a hot water heater (for now, until we go tankless). The opening is about 94 inches wide and in a rather narrow hallway leading to a bedroom. We'd prefer the doors to be metal in the event of a leak (they previously had old metal doors), but have not totally ruled out wood. The house is MCM style so we're not looking for anything traditional or barn doors.
I got a bid from the Sliding Door Company for 3 panel doors for about $2,000 (plus installation of about $200), which I thought was pretty high given that these are made in China and don't feel particularly sturdy and look a lot like the IKEA Pax wardrobes I've seen for a lot less money:
Contemporary Bedroom by Vancouver Doors The Sliding Door Company Vancouver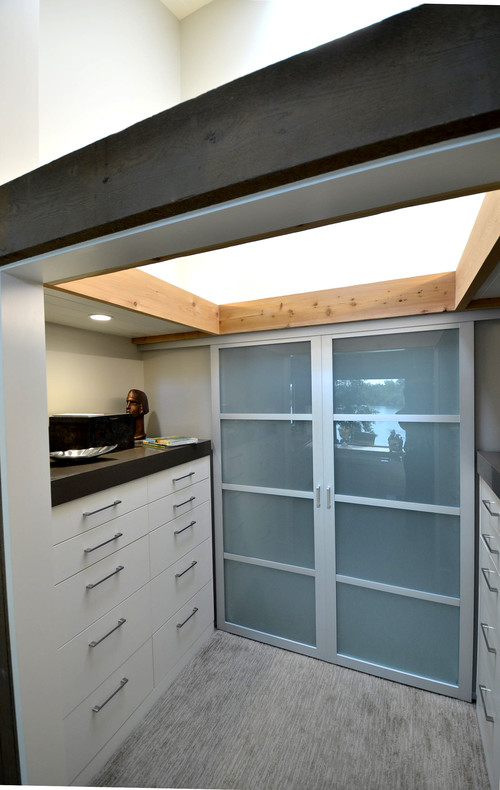 Contemporary Closet by Shreveport Architects & Designers Scott Payne Architect
The other option is something like this: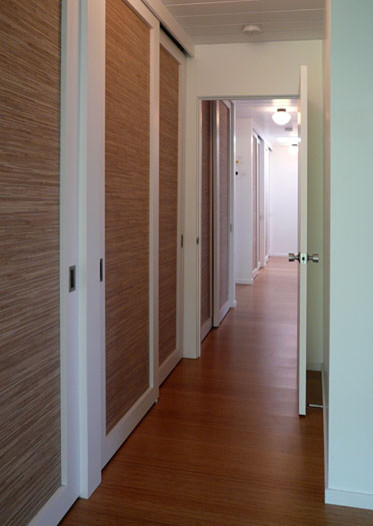 Midcentury Hall by San Francisco Architects & Designers Klopf Architecture
These are custom made and appear to be wood with grasscloth panels.
Two questions:
1) should we stick with metal or glass doors for this enclosure? If so, have others used Sliding Door Co and been happy with them? I've read online about the glass shattering. Not sure about the quality.
2) do you all have a preference for type of doors or have ideas for other kinds of doors that would work here? The floors will be mid-toned blondish wood. Here's the space in question (the trim still needs painted and we're figuring out what to do with the lighting still):