Layout advice for cozy galley kitchen
I've received good feedback from some of you when I've previously posted advice (on other topics), so I've coalesced that into my latest floorplan idea and need to finalize it now because we've got to get electrical and plumbing done.
This is a 1920 "worker's cottage" house that will be worth $60K when we're done fixing it up. Kitchen is 9'x13' with 3 doorways. The only thing set in stone are the doorways (which we're moving to center of the walls), window (which we're shortening), and an existing set of uppers that we're keeping.
Here's the draft floor plan.
Here's a photo showing the 1942-built cabinets that we're keeping. We're removing the scallop thing and drywalling the cut-out closed. Lowers are gone.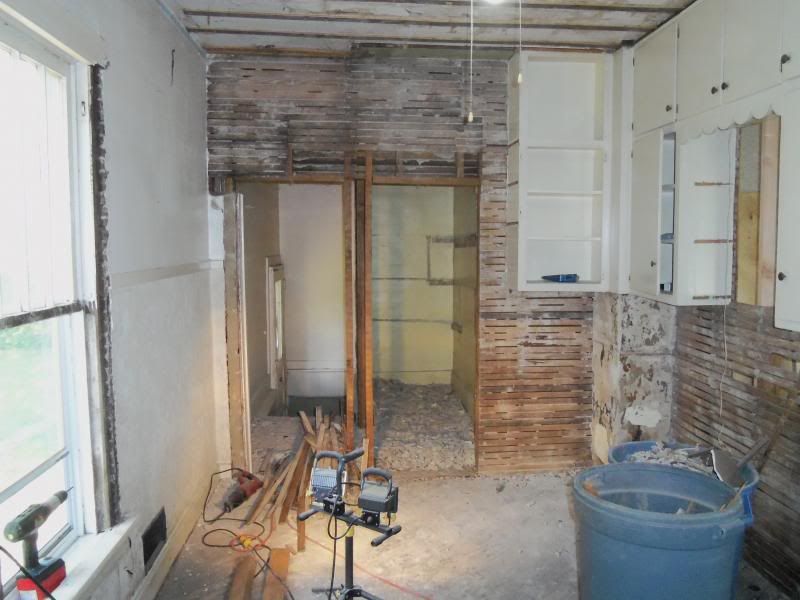 On the non-sink/stove wall, my thought was to put the microwave in that "hole" area. It's 30" wide, so not big enough for the fridge. The counter would also house small appliances (toaster, blender, mixer).
We're planning on all drawer lowers except the sink base, and standard uppers, with little jogs above the sink and range.
All advice is welcome, but here are some specific questions:
1. Trash: I know everyone here likes trash pull-outs. I've never had one, wouldn't mind trying one, but worry about losing a cabinet to it. OTOH, where to put our stainless foot-pedal one? It might fit ok on the floor in the corner with the chimney (below the upper on the side wall). Other ideas?
2. Sink: In an effort to reserve as much lower space as possible for base drawer cabinets, how small can it be and still be functional? We'll just do a single-bowl.
3. Ideas on how exactly to do cabinets around the chimney thing? It's 14" x 17".
Thanks for any and all advice.
This post was edited by weedyacres on Sun, Aug 4, 13 at 16:08